A desperate broadcaster -- charmingly bubbly and blonde -- grabbed me out of the line to Michael Haneke's new film -- and begged me to give a run-down of the festival for her television station. "Just there!", she said, pointing at a Eurovision sign across the Palais, in exchange for dinner on the Croisette (coquilles Saint Jacques in buttery cream sauce, Sancerre...)

Okay: the run-down. Jacques Audiard's The Prophet is the strongest contender for the Palme d'Or. Every journalist nods affirmatively, with no dissension: it's an original film, full of energy, fresh and tense, with the amoral universe of prison-life precisely delineated shot by shot. Jane Campion's film Bright Star has received praise as well for its sublime cinematography, although the fineness of the story bored quite a few as well. She might be up for best "direction."
Another favorite is Marco Bellochio's Vincere, the story of how Mussolini treated his mistress and son. While the first ten minutes are uninspiring (a run-down of the events leading to Italy's engagement in the war), the rest -- which focuses on the mistress's miserable life, played with extraordinary pathos by Giovanna Mezzogiorno, is riveting. Basically Mussolini got rid of the mistress by forcing her into an insane asylum, and then abducted their son. The son, however, is not abducted out of sentimental reasons, but to get rid of him as well: the dictator has him "incarcerated" in a convent. The cruel ending for both mistress and son (both end up mad) points a finger not only at Mussolini, but at all so-called charismatic powerful men (Berlusconi included) who ruthlessly destroy people's lives as they cheer on "Vincere!" (Win!!).
The most controversial film at the festival (see subsequent review) is Lars Von Trier's Anti-Christ, the story of a couple who struggles with their sanity after the death of a child. What begins as a psychological observation of mourning turns quite quickly into a sado-masochistic relationship between wife and husband, with perturbing shots of violence reminiscent of the Stephen King horror film, Misery. It is so relentlessly "sick", its unleashed cruelty so sadistic (the climax is a graphic clitorectomy) that the audience at the premiere booed and hissed. "How dare he expose us to this!" was a common response. "How misogynist," was another. The wife, it is suggested, may have been a perpetrator to the child's death, rather than an innocent mother. Indeed -- the film gets quite occult, set in a spooky woods -- she might be a witch.
I personally appreciated the film immensely for the same reason people hated it: for the rawness of its psychological twistedness. And it turns out I was not alone. Many journalists privately told me that the film got under their skin. "It's interesting," said more than a few -- drawing out the syllables of the word. Having interviewed Lars Von Trier previously, I also intuited that the film was not about the couple per se, but about his own inner demons: his anxiety attacks, repressed violence, and -- above all -- his anger towards his mother.
Hence, I rented an electric bike to find out more -- chugging the ten miles along the Riviera coast to Antibes, where Lars Von Trier hides out at the Cap de Roc hotel (where a glass of wine on the manicured lawns by the sea cost 35 euros). There, Willem Dafoe -- with his cheery smile and calm bright blue eyes (does he meditate? He is so calm!) -- told me that yes, this film is about the never-ending twists and turns of a relationship -- a pessimistic vision, but "we are all going to die", he laughed.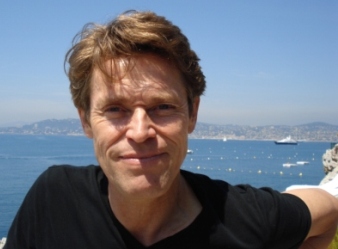 "But can we say that the little boy who dies while his mother is having sex -- is you," I said pointblank to Von Trier. ":Are you the little boy neglected by his mother?" After all, the film manipulates us to hate the mother in the opening scene: she has an orgasm as the son dies.
"Yes, that's it," Von Trier admitted immediately. "My mother took away my childhood. Perhaps it is my wish that she feels guilty."

Von Trier's openness in the interview is the same openness of the film: a raw look at the ugly psychic scars (misognyny included) that can lead someone -- "all my life", said Von Trier -- to have a twisted psyche and anxiety attacks. "We never knew when he would have one," Charlotte Gainsbourg told me. "We lived in constant tension that he would leave the set."
As for other films at the festival: some films have been frankly disappointing, such as Pedro Almodovar's "Broken Embraces", a flat comedy starring Penelope Cruz as the beloved mistress of a decrepit rich old man, courted by a more dashing film-director. Almodovar had once told me -- his eyes shining -- that he adores Penelope, but his own obsessive love for the actress -- who is fetishized here by the camera in every scene -- is certainly not enough for the audience, who needs more from a film than a pretty girl and a flaccid script.
A few crowd-pleasers remain: Ken Loach's bubbly comedy Looking for Eric with Eric Cantona, Ang Lee's Taking Woodstock (campy but forgettable), and the Ben Hur simulacrum Agora set in ancient Egypt with melodramatic scenes galore.
The verdict is still out on Michael Haneke's The White Ribbon. Its exacting black-and-white shots of a strange village in pre-war Germany are cold and perturbing. The mise-en-scene is probably too "cold" to win the great prize, but the director could very well be a contender for "best direction." It too remains under the skin.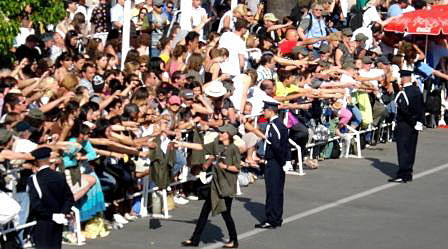 SUBSCRIBE TO & FOLLOW ENTERTAINMENT
HuffPost Entertainment is your one-stop shop for celebrity news, hilarious late-night bits, industry and awards coverage and more — sent right to your inbox six days a week. Learn more