Jessica Chastain, the winsome, fresh-spirited redhead who plays in two films at Cannes this year -- Terence Malick's Tree of Life and Jeff Nichol's Take Shelter -- is said to be the new rising star on the film scene. Not only has she made 11 films in the past four years, but in this latest Malick film, she plays Brad Pitt's wife and Sean Penn's mother.
"Working with Sean and Brad is wonderful," Jessica laughs effervescently, her thin hands at her bare legs, the opalescent nail polish cracked on one thumb. "They help you forget that they are Brad Pitt and Sean Penn, as the most important thing for them is the story."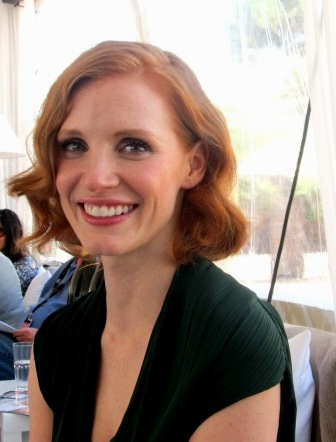 In Malick's film, Jessica plays the embodiment of grace as opposed to husband Brad, who, as she says, "stands for nature: the survival of the fittest, every man for himself." The film centers on their child Jack (Sean Penn) who, lost as an adult, has to decide which role model to follow.
Dressed in an evocative emerald green dress, with slits down the sides ("Stella McCartney," she confided to me), and gold bangles on her pale arms, thin and youthfully joyful, her eyes brilliant green under thick black eyelashes, Jessica exudes innocence, always leaning forward and peering earnestly when answering questions. She chatted on about missing a shuttle from a party the night before, so getting home by 5 a.m. (with absolutely no sound of wear that morning), and about how she enjoyed being at Cannes, the chance to wear all these fancy dresses: "costumes!" she said. "Just like in theater, when a character has to put on a costume and decide who to be that day."
Hence it was a surprise when this lovely young woman noted, with a bubbly giggle, that it was a challenge in this film to play grace personified. "I had to cultivate grace myself. Through a lot of meditation, looking at old movies, listening to how Lauren Bacall speaks, very slowly. It's not natural to me."
"Another challenge," she pointed out directly. "Was the section of the film that deals with grief. A week of solid shooting of grief! Hard. You shoot all day -- with the only break to reload the camera."
Throughout the interview, Jessica was full of loving, enthusiastic words about everyone -- from Terence Malick the director ("so kind! He walked a production assistant home one night, wanting to make sure she was having a good time!") to her mother and grandmother who celebrated her success back home in northern California. "I am so happy I am in these films now," she quipped, "Because before every time I would go home, my family would say, "Hey now what is it you are doing in LA?'"
Her most favorite line in the movie is equally sweet: "Unless you love your life will pass by."
"This means," Jessica said, with her fetching earnest smile. "That one day you will be eighty, and your life will be over before you know it, and it will be empty and value-less unless you spend your time loving. Loving every moment, and everyone around you."
"A bit scary of a statement!" I said.
"No," Jessica grinned eagerly. "I find it very uplifting."
SUBSCRIBE TO & FOLLOW ENTERTAINMENT
HuffPost Entertainment is your one-stop shop for celebrity news, hilarious late-night bits, industry and awards coverage and more — sent right to your inbox six days a week. Learn more