The clanking of the bells for pooja awoke me at dawn--right outside my balcony on the Ganges--while I was dreaming my usual stories of the men and women who populated, in their familiar forms, my inner life, provoking the same emotional responses----until I decided to just get up and join the ceremony at the river.
I sat on a curb in the dark, the sun not yet lifted, watching dozens and dozens of people sleeping on the concrete, some beginning to rise, the breeze fresh from the Ganges over their sleeping forms, while a cow stood with slow heavy feet and swung its tail, and a little street girl skipped over and sat down and joined me. "What's your name?" she said with a bright curious look.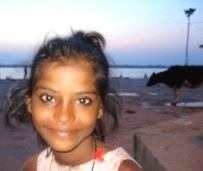 "Karin."
"Karin! Karin?" she pronounced it several times as if very interesting to her.
I took a picture of the sleeping pilgrims and showed it to her in the lens.
"Too dark," I said.
"Yes..." she nodded.

"You go to school?"
She grinned, with a pretty smile, cracked teeth, and said: "Yes, yes."
"Yes?" I said. "What time?"
"Seven!" she said, delighted.
I showed her my pictures of the cow.
"Not so good, no?"
She nodded.
"You try."
She took my camera and--within seconds--figured out what had taken me an hour in J@R Cameras: the way to stop the picture, to rewind, to pop the flash.
"Come," I said. And we walked together to the pooja ceremony, where a man was throwing fire.
"I take?" she said, carrying my camera.
She stood very concentrated, steadied the camera and took a picture of the pilgrims in the water.
"Now the man with the fire," I said.
She began taking a series of pictures, each time rewinding to check her work. Sometimes she rewound too much and came to pictures taken the day before.
"That you!" she said with a giggle. "And that's you!" I said--at another one, which I had taken of her.
My pictures of her were terrible, not my fault, but because each time she would stand primly, shoulders still, as if taught that taking a picture was a very serious thing.
We skipped down together to the water, and---she, my expert photographer--dared to come close to the pilgrim women washing the pots with clay and floating vases of flowers in the water and chanting mantras--and photographed them all--dressing, leaning, praying.
"Now I take you!" she said--making me move to the left.
"Stand," she added, when I kneeled.
I taught her to put more in the frame--not to cut off half-bodies--and she proudly showed me her next picture:
"See-- seven women!" she pointed, counting with her finger on the frame.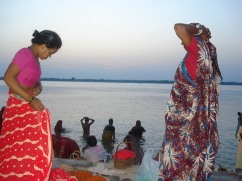 It was now about six am. I began to long for a coffee, maybe to go back to bed in my nice green veiled room, or order breakfast with room service in bed, but first I decided to meet the girl's parents.
"Will you take me to father?"
Her face fell. "Me father no have."
She repeated, embarrassed. "No father."
"Mother?"
Holding hands, we skipped along the ramparts of the Ganges, and around a road and onto a concrete platform, until we came to an enclosure on bricks--like a small open box--before the river.
Three naked children crouched on the concrete floor before it, one drinking from an old dirty plastic plate.
My little friend Punja kneeled with a smile and took a picture of her siblings.
They ran to grab the camera with their hands.
"Back," I said--instinctually protecting my camera.
Then I looked closely. The little brother drinking from the plastic plate was really a little girl. Her genital area was covered with big fat black flies. The stomach was extended with malnutrition.
"Where's your mother?" I said.
Punja looked embarrassed, and shook her hand to the left. "That way. Gone."
"So who is taking care of these babies? YOU?"
She nodded--pressing down the skirt of her dirty dress.
Then she pointed at them, and at me.
"You buy boy?"
"Take them away?" I asked, staring into her steady adult eyes. There was something urgent in them.
She nodded. "Money, buy." She pointed at her little brother and little sister.
I left before I burst into tears.