Surprisingly, neither of the two taxi drivers I asked to take me to the pyramids understood my destination--one calling a friend to ask directions, and the other taking me to a luxury hotel called "Pyramids--despite the fact that I would think these large stone edifices are a mainstay of Cairo tourism.
Nonetheless--an hour later through charming dusty city traffic (one quickly gets used to this as a staple of daily life in Cairo)--the pyramids rose, a bit disappointing in their stolid brown color, and yet impressive as a grouping of several triangles on a desert plain. Escaping camel hawkers and un-digging my high heels from small avalanches of sand, I arrived at last at Pyramid Number Two--the tomb of Khafre--where a long narrow tunnel slanted into its earthen belly, lined with a metal ladder which served--I understood, as I peered below--as a staircase.
I had seen this long slit into the earth before. Yes, in my nightmares.
"Do I really have to go down?" I asked the guard.
"Yes, yes!" he said. "In ten minutes you go down, and then..."
An Italian tourist, huffing, puffing and sweating, mounted up the hole, clutching her husband's arm.
"Don't do it," she gasped. "You die of the heat. So steamy! And it is so small."
Indeed the tourists descending into the hole, crouched perpendicularly.
As a hundred school children crowded before me (and I imagined that tomb room below, the size of a bath, stuffed with children and myself), I decided to opt for the café by the Sphinx.
The café was a treat. Not only did the waiter ask pleasantly to marry me (always a nice perk), but the Sphinx stared right before me, flanked by two pyramids, with his nose chopped off--and all this while eating a hummos salad. The Sphinx was quite silent when it came to responding to my questions though--not even a riddle--but a guide explained to me he had never indeed spoken, but rather priests had spoken in his stead.
And next to the Sphinx: a quiet valley temple, roofless and in columns, where the priests would pray to the sun god Ra ("See the two slits", a Swedish tour guide explained: "One for the ritual of the sunrise, one for the sunset"). The Sun God, she added, was worshipped throughout the ancient world, from Mesopotamia to Egypt.
I tried one more time to go into a pyramid--the Great Pyramid of Khufu, the numero uno of the three--but gathered courage to forego the experience by communing with a group of fellow claustrophobics sitting on the rocks. "This is good enough," said one.
An excellent choice as a minute later I found myself in an absolutely unvisited tomb, one devoted to a Chief Justice, with engravings of gazelles, crocodiles and women pouring water in vases on the limestone walls. I was all alone to rub my hands on the hieroglyphs--perhaps because the security guard--expecting a bribe--had led me in. Now he led me to what became my favorite room in Cairo: "the meditation room," he called it, where I was--he pointed to a stone seat--to sit and pray. "However long you wish," he said, leaving me to sit in the dark before a lit up wall of hieroglyphs.
Perhaps "the meditation room" had magical powers, because a minute later--outside the pyramid plaza--I had the surprise of a Christmas conversation.
I hailed a taxi a half-kilometer down the road, with a blink of the eye--a blink the driver honored, as he waved away a woman and a man who began to open the door.
I ran down and waved them back. "Do you want to share the taxi?" I said.
The woman--a well-dressed jolly French woman, in pearl earrings and a scarf, beamed in delight. "Why of course!"
"But I am going to the Egyptian Museum. Did you want to go there as well?"
"Why not?" she laughed. "We were going to go there eventually."
"First," she said, turning to me with shining blue eyes. "Merry Christmas!"
"Merry Christmas to you," I said. "And how long are you staying in Egypt?"
"48 hours! And you're coming all the way from Paris!"
"We do this every year," she said with a grin. "Ever since we lost our other son. 48 hours at Christmas in another place."
I assumed the young man in the front seat, a big gangly and handsome, was not her husband, but the other son.
"But what do you see in Egypt in 48 hours?"
"Oh we came to see the Sphinx," she laughed--while her son grinned and turned his head and concurred. "Our hotel is right there, where you met us, in front of the sphinx, so we saw him lit up at night when we arrived last night. Splendid!"
Her other son was seven, when she lost him: he died of cancer, she said, with a small grimace.
"Poor little boy!" I said.
"Yes, but he taught us so much."
"To be strong," she smiled. "You know kids have something. They don't know what is happening, but they just live, day by day."
Her voice raised in excitement. "I don't know if you believe in this--this mystery side of life--but it was quite curious, a month before he died, he said to me: Mother, I want to be christened. Out of the blue. And he asked me to find a cross with a Jesus engraved on it. 'I want to chat with Jesus,' he said, just like that. Imagine that. 'I want to chat with Jesus!' And where was I going to find a cross with a Jesus engraved on top that he could speak to?"
She fingered her pendant: there it was, Jesus in bas relief on a silver cross.
"He must have been a happy boy," I said.
"Oh yes, he was he a happy boy!" she said--and her eyes shone, a bit bright.
"How strange, though. Seven years! And then he is gone!"
"Oh yes it is so strange!" she smiled gaily. "What a gift! What a gift he was to pass through our lives!"
So every Christmas they had another country for 48 hours--last year Florence, and another time Venice, and right when he died--oh that time was Easter, she said--they went to New York.
Indeed, early in her conversation, she had extolled the Met for its original art exhibits, after I had said that the French do them best: we had both gone to the same "Napolean in Egypt" exhibit in Paris, the day before. She agreed: it was a fantastic exhibit, so focused: Napolean became famous for his expedition in Egypt, although--as few know--he had lost!
And it turned out we both lived in Paris, on opposite ends, although she was about to move, she said, right in the new year. A man she had taken care of once upon a time had surprised her by bequeathing her his Eiffel Tower view apartment when he died.
"Ah life has surprises!" she said--her face crinkling in a mixture of sadness and joy. "Sometimes bad, and sometimes good!"
"So you find life has surprises?" I said.
"But every day is a surprise!"
Indeed, we were taxi-ing over the bridge of the Nile, and our Egyptian taxi driver had just put in a cassette of South American salsa, quite an unusual Christmas moment!
At the Egyptian Museum, I complained that perhaps I had negotiated poorly for us, at 40 Egyptian pounds for the ride, as the meter read only 24.
"Oh, but look--our conversation was free! And that was the best part!"
We bounded out into the busy street-- "Merry Christmas!" we cheered--and off we went to look at the ancient pharaohs.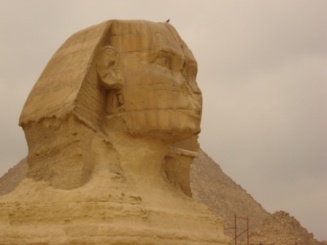 Amon Hotel, Luxor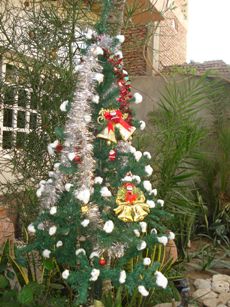 FOLLOW HUFFPOST