As someone who once spent eight months wandering from hotel to hotel in South America after three miscarriages and a painful break-up, I was immediately drawn into Lisa Langseth's new film Hotel, screening here in Marrakech, about a young woman who goes through a traumatic childbirth and, in despair, leaves her "real life" to check into a hotel. And then another hotel. And then another.
The originality of this script is that "Erika" does not do it alone. She invites her whole group therapy ensemble with her. They all leave their partners, families, "real identities" behind, to have the luxury of becoming someone new, in a gorgeous locale of marble lobbies and plate-glass windows.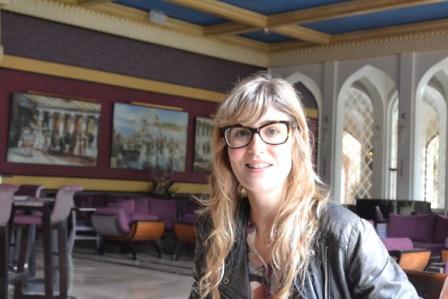 "I love hotels," Swedish director Lisa Langseth told me, as we sat on the comfortable purple couches of the swank Es Saadi Palace in Marrakech after the screening. "It is the only place I can forget about my normal life. For example, it is such a luxury to be here in this hotel, which is far more luxurious than where I actually live. Where someone cleans the room for me. The few days here will make me another person. Your personality is so much about your surroundings."
In her film, all the members of the therapy group get a chance to become a different person when they check in. The blonde girl who feels ugly, conditioned by too much bullying at school, happily dons a new pretty pink shirt once she slides her hotel key into the slot; later she parades in an orange bathing suit at a hotel poolside while the group cheers her on, telling her she is gorgeous. "I am popular and everyone respects me!" she repeats to herself, a new mantra.
The middle aged woman, with no family, who weeps that "she hates her body" and the "loneliness is killing her," has a chance to finally have sex, as she wishes, in a hilarious scene in a hotel bathroom (a scene which made the Moroccan audience clap loudly with delight). The man obsessed with Mayan torture turns one conference room into a make-believe torture chamber with ropes which the group helps pull. "I feel strong like a Mayan!" he says.
The film captures the elegance of the hotel experience: the respect given by the staff, the soothing sounds of the elevators, the turned-down beds. Above all, it captures the happiness that is possible when people decide to escape limits and re-invent themselves from scratch: one scene is a joyous mini-bar party, replete with pretzels.
The most interesting character remains throughout the young woman who has just gone through the traumatic childbirth. What makes her interesting is that she was decidedly not too interesting before. In the opening scene of the movie, Erika is perfect. She is beautiful, wealthy, young, with a great job as a designer, a handsome husband, her greatest concern being choosing the right changing table for her soon-to-be-born son.
"Your problem," the husband blurts out, over the phone, to his escaped wife in the hotel: "Is that you are damned self-centered."
We think he might be right: when the couple's child was born severely brain-damaged -- as a result of the traumatic labor -- she refused to hold it. Instead, she mopes in self-pity.
Or perhaps it is catatonic numbness.
But in the hotel, this self-contained young woman changes. She cradles the head of the man in the therapy group who had an abusive mother, as he swims into her lap in the hotel pool. She helps him pull a shirt over his head, soothing him like the mother he never had -- and the mother she has not yet accepted to become.
"When you go through something dark, there are three stages," the director told me, confiding that she wrote this film based on a dark period she herself went through. "First, the physical crisis. Then the identity crisis -- the question of 'who am I?" And third, you face the sorrow."
For a film with such a dark subject, Hotel is very pleasant to watch, full of humor and very bright. You detect the director's background as a theater director in one lively vignette after another, from a near-slapstick scuffle in a parking lot to a riotous scene at a wedding.
"I wanted this film to be a pleasant experience for the audience," Lisa explained gently, in a manner as modest and kindhearted as her film: "I wanted to make a story that is about hard problems, but harmonizing for the soul. This is why I chose beautiful colors for my shots, lots of pinks. The colors of the sofas, for example, match what my characters are wearing, to create this feeling of harmony. There is both pleasure and darkness in life. It is a pleasure even to be able to share a dark experience. I feel that you can go through very hard things and still survive."
As one of her characters puts it: "You must learn to bear what you feel."