A few years ago, film director Jane Campion spoke to me about the new film she was planning to make, after a long absence from the field: Bright Star, based on the love story between poet John Keats and Fanny Brawne. "I want to make a tribute to people who live with intensity," she said, in her very gentle way. "These people who live can light the way for others."

The film, which just premiered this week in Cannes, is in fact a tribute to the brimming thrill of "poetry". The camera lingers on the bare shoulder of a little girl as she sits in a drawing room with her pretty older sister Fanny, the sun streaming in on her skin. Another shot is a field of yellow daffodils, with bright chirps of spring birds in the background. Then there are the scenes of burgeoning sexual excitement: Fanny lying alone on her bed, before a window, a white gauze curtain billowing through as her legs, slightly parted, tremble under her frock.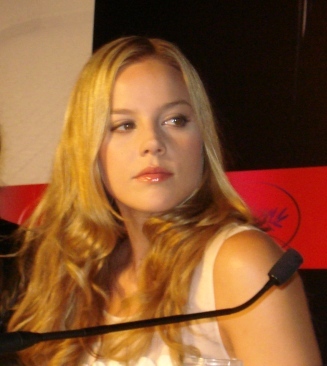 And like in Campion's earlier work, The Piano, the most charged meetings between the two lovers -- John and Fanny -- involve crossing a forest, the liminal zone of desire, as in a fairytale. We also have the classic Campion touch of peering through windows, emphasizing the voyeuristic quality of new desire.

Cameraman Greig Fraser, who did Campion's earlier short The Water Diary, does a masterful job capturing Campion's sensuous feminine aesthetic. It was this aspect of the movie that most impressed the crowd at the premiere, with audience members commenting on the beauty of the shots.

I myself liked the delicate rhythm -- nothing happens except Fanny's excitement about being in love.

I also liked the feminist subtext. Jane Campion is one of the few well-known world directors unafraid to use the word feminist to describe her work. "I don't think you can be a woman without being a feminist," she has said.
Jane Campion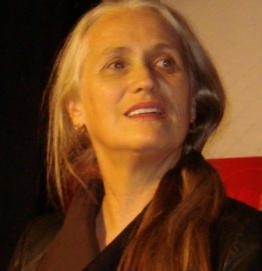 In fact, the first shot is of needle pricking white skin-like fabric, drawing in and out. This is Fanny's craft. Then we cut to Keats, writing his poems.
I asked Ms. Campion if the two domains -- the sewing and the writing -- were equal to her, whether she was saying something about female and male creative domains.

Her actress Abbie Cornish -- whom almost every journalist I met at Cannes seemed to want to marry -- answered instead: "Fanny is very concentrated on her sewing, as Keats on his writing. It is a place where she can go where she can be quiet. Sewing is the thread to the story. The movie begins with Fanny in white cotton and ends with her in black."
Campion added: "There was not much opportunity for women in the nineteenth century to express themselves. As the artist Louise Bourgeois noted, the role of women traditionally is to sew and wait."

It is this exquisite sewing, this continual arousal, that makes the movie an original experience.
And yet, it has the same problem of any fine romance that goes on too long -- like an elastic band stretched too far, it is bound to either snap or lose its tension. By the middle, one wishes for a bit more upset or darkness to offset the poetic paean -- or for at least for a few more taut moments (as we had in The Piano). Another issue is that Keats' poetry -- cited often -- does not connect deeply with the images; his own Romantic vision loses its zing.

Hence, by the end, the death of John Keats -- rather than a sorrow -- comes off as a redundancy. The web of the film, despite being finely spun, doesn't carry the weight.
SUBSCRIBE AND FOLLOW
Get top stories and blog posts emailed to me each day. Newsletters may offer personalized content or advertisements.
Learn more