If anyone has ever had a fantasy of being a rock star living in the south of France, with beautiful women, and sprees in drugs and fancy cars, this new documentary on the Rolling Stones' six month tax-evasion inspired sojourn on the Cote d'Azur will feed this fantasy perfectly. A bit too perfectly. Stones in Exile is a rock-star consumer's dream, offering just enough glamour and tunes to make it palatable and little new perspective on either the Stones as individuals or as musicians.
Introduced at the Cannes film festival, the producers promised that the film, geared towards television and timed with the new release of the 1972 record "Exile on Mainstreet," would say something about the context of the 1970s. Yet the film leaves the 1970s -- at least its real-world events -- outside the bubble of the pretty villa. As for the music, we learn just the tantalizing detail that, for this seminal album, considered one of the Stones' best, the musicians went "back to the roots of music" -- "a mixture of black and white".
Mick himself must have something more to say about that period and his music. In fact, I knew he did, as later I eavesdropped to him speaking rapid-fire,, about Nixon, bombing, blues, soul and Keith Richards, gesturing eagerly to a group of journalists on the rooftop of the Hotel Stephanie
As for the "darkness" of the drug use, passed over with baited breath in the documentary, neither Mick nor journalists addressed this directly.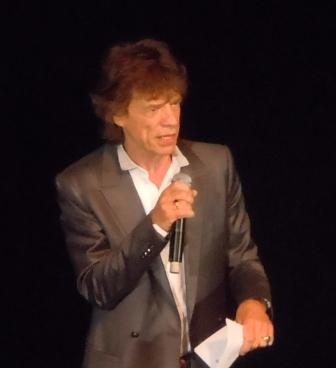 Another documentary exists, however, that does go into the untold story of those Villa months: Robert Frank's Cocksucker Blues. This film -- famed for its graphic images of heroin shooting and X-rated nude shots -- was suppressed by Mick Jagger, and cannot be seen.
Interestingly, this new anodyne promotional film is actually based on the archival material of Cocksucker Blues, which the director found stored in a mysteriously located vault in London.
Director Stephen Kijack, thrilled to have been chosen for this project by producers John Battsek (Passion Pictures) and Victoria Pearman (Jagged Films), told me that yes, he had left things out. "It's the day and age we live in," he said openly, speaking about what works for television in the US. "Also, Cocksucker Blues was loose and experimental, and for my film, we used a narrative."
For example?
"When Keith is jamming on "Happy" in the film, we found the footage of Keith messing around with the cleaning lady. We built up from the songs."
And what did the director personally learn about Mick?
"You realize why he is where he is today. He had to be as careful as he is, to let Keith Richards be on drugs. Keith was the human laboratory. Charlie and Bill were the straight men. Someone had to arrange all the business meetings, and it was Mick Jagger."