It is an idealistic situation to be at a documentary festival: one has the impression of being among a noble group of people actively reflecting on the world (and what makes it better, a world not their own: English filmmakers documenting Afghanistan, Swedes documenting Thailand etc). Indeed Thessaloniki director Dimitri Eipedes once imparted to me that the reason he started this festival thirteen years ago, one of the most significant in Europe, was his attempt to make the world a more connected place: "People live in their own isolated worlds, and yet it is a shame, as the world is so small now. It is the time to communicate. When people see documentaries, they have a chance to care about other people and see opportunities to make a difference."
Idealism aside, it is also quite a treat to watch these documentaries in a "palace" theater facing the Thermaic Gulf, in what was once ancient Therma, in a town named after Alexander the Great's murdered half-sister. Today's modern Greeks in Thessaloniki are the bulk of the audience during the screenings of this annual festival, and they cheer animatedly after the films that most touch them, which shows -- Eipedes noted -- that the documentary form is not only idealistic, but -- what really keeps me coming back to this festival every year -- entertaining.
The kinds of docs one sees these days vary from classic reports, such as the winning "audience prize" film Burma VJ (footage taken in secret of the 2007 uprising in Burma, for which, we learn, several journalists lost their lives) to investigative plot-driven journeys into justice, such as the Mexican film Presumed Guilty, about a man who once prayed to God to do anything to get out of an unhappy love affair -- even put him in prison -- and found himself in prison the next week for a murder he did not commit (seven witnesses saw him in another place), unable to get out because of the obtuseness of the Mexican justice system.
Three films were of particular interest. One, Vikram Jayanti's "The Agony and Ecstasy of Phil Spector," was an uneven doc about the celebrity rock producer, who may or may not have murdered the blonde would-be actress Lana Clarkson. The documentary intersperses clips of the phenomenal music Spector produced in his 40 year career, from "Be My Baby" to John Lennon's "Imagine", with close-ups of him in the courtroom, in yellow tie and cool wavy long hair, nervously tapping his fingers with a hawk-glare at the judge. We never learn if he is guilty or innocent, but we do know that director Vikram Jayanti is a passionate -- if not worshipful -- fan of the man, as the majority of the clips celebrate his music as manna from heaven. Indeed the music even invades -- the right word -- the murder trial, as a boppy soundtrack while witnesses point out how the woman's head was shot, angle up the chin.
While I found this documentary problematic -- it's hard to care about a dead woman while one is carried away by the rollicking lyrics of "Da Doo Ron Ron" -- and some of the editing choices immature -- i.e. typed captions spelling out what we should think of Phil Specter's traumatic childhood, as well as his songs, ticker-tape across the screen as the captivating narcissist speaks to us (about himself, himself, himself) from his red-décor mansion in California -- the questions the documentary raises are fascinating. When a man has achieved tremendous art for a public, should our appreciation exonerate him for possible evil? The movie clearly wants us to think Phil Spector's release is a near act of divine justice, with a moving discussion of Harrison's "My Sweet Lord" (produced by Spector) coming right before the announcement of the mistrial verdict.
The movie also raises a troubling version of the age-old question whether it is possible to have a just trial when the charisma and money of the defendant far outweigh that of the victim, in this case, the hapless depressive anxious Lana who was, her nasty friends at the trial note, often in tears. At one point, it seems as if it is the victim who is on trial, for having written too many dreary diary entries; and indeed, the prosecutor's closing speech has to remind us she is "flesh and blood." What is on trial here: our empathy or Spector?
The defendant's defense is also odd, more theatrical than scientific: Spector is let off, it appears, mostly because he was wearing a spiffy white jacket when he was taken by the police, a white jacket that should have been splattered with blood and tissue. The absurdity of this evidence -- wouldn't anyone have slipped on a clean jacket before welcoming the police (waving a smoking gun) into one's hall where a bloody body lay sprawling? The frivolity of this trial climax is highlighted by the fact that the movie so obviously wants us to believe in this striking white symbol of innocence, keeping up our nostalgic image of the American priest of rock.
While the trial is murky, one thing does become clear: no matter what perspective the director takes or what the form of the documentary, if the camera has a mesmerizing subject -- such as this rather mad genius, Phil Spector -- the result is riveting.
(update on trial: Spector convicted):
http://news.yahoo.com/s/ap/20090414/ap_en_mu/phil_spector
Another passionate documentary look at an artist -- the French sculptress Louise Bourgeois -- is more subtly and elegantly accomplished, and no less fascinating, again because of the subject matter. Marion Cajori and Amei Wallach's Louise Bourgeois: The Spider, the Mistress and the Tangerine is a chance to meet the woman behind the famous dark spiders, twisted uterii, and walk-in macabre installations replete with dark hanging bars and blown glass balls, all as intricately and beautifully composed as the artist's own personage: here, a ninety-year old woman in sequined base-ball cap and bright pink fur (indeed one of her later sculptures seems to be made of the same bright pink fur), who commands the screen with her sharp philosophical pronouncements.
"An artist is privileged," Bourgeois tells us dramatically at one point as she tours us around the tortured composition of a "bedroom installation" (the parents' bed is red, she explains, because "red" denotes pain -- and what else is one's childhood?). "Privileged because the artist is in touch with his or her unconscious, and this is really a gift. It is the definition of sanity, the definition of self-realization." And what more could any human being want?
We detect the adoration of the filmmakers for the subject here as well. The film seamlessly puts together virtual visits of Bourgeois' installation art with shots of the artist speaking about her memories, process, and philosophy, all to an engaging soundtrack that goes from Mahler to Laurie Anderson. We learn that the spiders, for Bourgeois, symbolize the mother; and that her twisted white sculptures originate from watching her mother wring tapestries in a river in rural France. We also learn -- as Bourgeois, in her controlled haut bourgeois manner, peels an enormous tangerine -- that her cruel father once did the same, peeling a tangerine to make a girl's shape, which -- at a public dinner -- he raised high to compare favorably to his own unaccomplished daughter.
Filmed between 1993 and 2006, this film was the idea of art critic Amei Wallach, who teamed up with cinematographer Marion Cajori to make it. What drew Wallach initially to Bourgeois, she told me over coffee at the Electra Palace, was Louise Bourgeois' "incredible authenticity": the truth and vulnerability of her emotions. At the same time, Bourgeois is a performance piece in action: "she is a dramatic figure, a Bunuel character." Only she, we learn from her grown son, would throw a lamb roast out the window of her Chelsea apt when learning that her father died. The lamb roast was magnificent, the son repeats several times; it was he who rescued the lamb from the street, wiping off the gravel and washing it in the sink for the family to eat in silence.
One of Bourgeois' more chilling (and humorous) pronouncements: "Life is like a spiraling line. One must ask oneself." she says, drawing a curve. "What I have I done with it, from point A to Z. Now do I ask myself this question?" the nonagenarian woman adds. "Yes, I have begun to do so. Last year."
By the conclusion of this documentary, one has two strong impressions: of how art was vital for Bourgeois, helping her to triumph from the pains of her past, and how this raw process of turning the "mother" into spiders, childhood into shadowy pulleys, and pregnancy into wide-bellied headless marble, is vital for the spectator as well: for the fans that gave Bourgeois credence (Bourgeois' spiders are now in plazas all over the world) as well as the film directors who devoted thirteen years and hundreds of hours of footage to filming the artist speak.
---
The magnificent and super-human is not the only powerful subject for a documentary. Acclaimed Dutch director Heddy Honigmann bequeaths us with yet another of her beautiful paeans to the modest and humble of our world: in this case, the Peruvian underclass (the predominant class in Peru, it seems). Her film Oblivion begins with a bartender waxing about the virtues of a Pisco Sour drink -- making this foaming white wonder as he speaks -- a drink he regularly serves to the ruling elite of Peru in his swanky downtown Lima café. The film then turns to the man teaching a new host of young servers about the virtues of service: how to make his upper-class clients feel good.

All of the people in Heddy's film are in some way in the service industry: from the street-girls who entertain traffic with awkward cartwheels to a devoted tailor who loves to repair what people worry is beyond repair. Each gives his or her all -- for very little it seems. The waiter's own indigenous wife has never sat down to eat in the swank café: she has never had the pleasure of feeling a white tablecloth, even though her husband has served there thirty years. The cart-wheeling girls might gain a few coins for their efforts, but they lost their sister when a car went through a red light.
Interspersed in these clips of the expressive poor are shots of each new Peruvian president (some call "dictator!" from the public) swearing to God and the apostles as he takes office, while draping a medallion-banner around his torso. The juxtaposition between the politicians' self-satisfied stance and the frustrated state of the Peruvian underclass does not need any words.
And yet despite sadness, resignation and inequity, the poor have dignity -- and happiness -- evident in the way a mother hugs her three homeless daughters on the curb, a waiter clutches the hand of his devoted wife sitting proudly next to him on a bed, and a street vendor lovingly makes a blended drink with frogs for a little dark-haired school-girl, so the frogs can help her "memory."
"All my films are about surviving," the modest director told me after the screening in her film, giving me a gentle hug. "With love, irony and a bit of humor. As a Greek friend once told me, it is because love exists, that we can share pain."
The last line of her film, a quote from the poet Jose Wantabee: "Surrounded by horror, I permit myself this silent film."
Honigmann's next film -- a fiction -- will be about the importance of caring for the one next to you.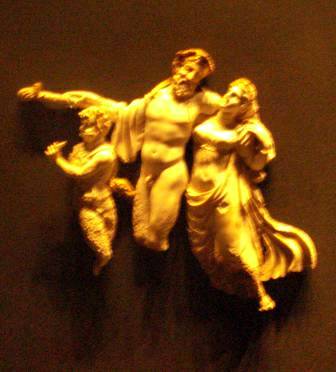 Dionysus in Macedonia
SUBSCRIBE TO & FOLLOW ENTERTAINMENT
THE spot for your favorite fan theories and the best Netflix recs. Learn more