Eva Peron's Brooch a Highlight of Christie's "Magnificent Jewels" Auction
I don't have an extra $300,000 to $500,000 lying around waiting to be spent, but if I did, I'd give some serious thought to bidding on a piece of history: Eva's Van Cleef & Arpels diamond-and-sapphire brooch, up for auction at Christie's in New York on October 15.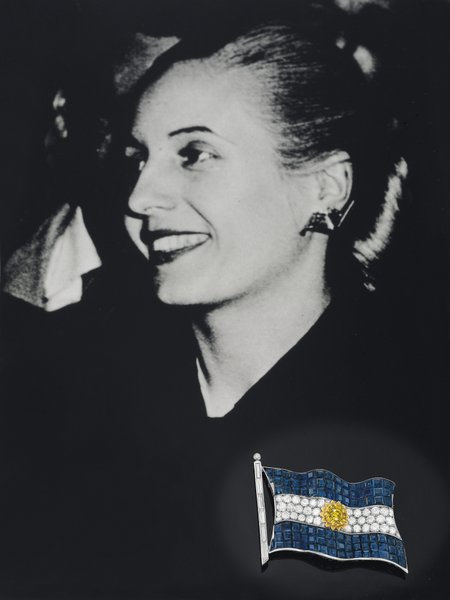 The woman nicknamed "Evita" by her worshipful public wore this brooch, its white and yellow diamonds and sapphires forming the shape of an undulating Argentine flag, to express her love for her country (not to mention fancy jewelry).
This exquisite brooch is just one of 400 exquisite lots of jewelry soon to be auctioned off at Christie's. During a recent auction preview for media at Christie's in Beverly Hills, I was fortunate enough to speak to Leslie Roskind, Senior Specialist, Jewelry Department and Senior Vice President Christie's Americas, to find out which piece in the collection she finds the most remarkable. "The pink diamond ring is the most unusual and rare piece of all the jewels we're auctioning in October. At 8.77 carats, and with such an intense pink shade, it's a truly unique piece."
Some exquisite and rare Art Deco pieces are also among the items to be auctioned on October 15. Amongst them are a swoon-worthy Art Deco chloromelanite jade and white gold bracelet dating back to 1925 and signed by Jean Fouquet, and a 1927 Cartier brooch set with diamonds, aquamarines, and tourmaline. It's easy to imagine Daisy Buchanan or a prominent star of the era, such as Gloria Swanson or Louise Brooks, in either of these rare, unusual pieces.
"Magnificent Jewels" also features a number of extraordinary colored diamonds and classic 1960s and 1970s David Webb pieces owned by the Honorable Noreen Stonor Drexel of Newport, Rhode Island. The auction takes place on October 15 in New York at Christie's in Rockefeller Center, but non-New Yorkers can bid online at christies.com.
<
Top Picks at Christie's New York
This geometric Art Deco Cartier brooch features aquamarines, diamonds, tourmaline, and enamel set in platinum and 18k gold. This luxurious piece was created in 1927.

This Mystery-Set brooch, made of diamonds, sapphires, and colored diamonds, mimics the shape of the Argentine flag and features a superimposed yellow-diamond sunburst.

This magnificent, rectangular-cut fancy intense pink diamond ring is 8.77 carats. It's rare to find diamonds of this quality, thus justifying the $5.5m-6m it's expected to fetch at Christie's.

Mounted in platinum, this diamond necklace features marquise-cut diamonds, graduated baguettes, and circular-cut diamonds.

This rare Art Deco bracelet, designed by Jean Fouquet, is made of chloromelanite jade and white gold links and dates back to 1925. It's expected to fetch between $80,000 and $100,000.

This 3.81 carat cushion-cut blue diamond ring is estimated to sell for between $2.5 and $3 million.

Each surmount signed "Winston for Harry Winston," these rectangular-cut emeralds are nestled within pear and marquise-cut diamonds and are expected to fetch between $450,000 and $650,000.
>