It's the most wonderful time of the year... to eat truffles! When it comes to truffles, it's a simple matter of black and white. Some people swear by the white truffles, even organizing magnificent pilgrimages to hunt for them in Italy and then eat them atop of, well, almost everything. This great privilege was once reserved for pigs, the four-legged kind, but they got fired for eating too many truffles (smart pigs) and the honor of digging up these pricey fungi went to the dogs. I have always told myself I would run off to Italy one December and go truffle digging like a love crazed puppy; and when I do it will be with the venerable Italian restaurateur Tony May of SD26, who personally escorts his truffle hunters on an annual voyage. When it comes to eating truffles, I personally prefer the earthier, more flavorful, black variety. While the white are significantly more costly and certainly offer an intoxicating aroma, I find them pale in flavor compared to the black truffles, which turn any simple dish into an arousing love potion. Simple food is key when it comes to eating truffles because you want them to be the star and to enhance the dish, not get lost in it.
As truffles are truly mushrooming all over NYC restaurants (pun intended), not to mention all over Europe, I have been having a veritable truffle orgy and am happy to report that in this particular case, too much of a good thing is never enough. As with all seasonal delights, it is best to over indulge when they are in season and then look forward to them the following year -- if we could eat truffles and caviar everyday wouldn't life be a little less exciting?
I was recently in Nice visiting the legendary Nicole Rubi, owner of the highly celebrated restaurant La Petite Maison, to do a tasting of her signature Provençale cuisine. Among the many marvelous menu items, Rubi has a black truffle section on her menu with what I like to call, destination dishes. I mean that literally, as some patrons fly to Nice from all over the globe, just to savor her eatable treasures and then return home the next morning. Imagine fluffy French-style Scrambled eggs that are whipped to perfection until they are light as air, covered in fresh black truffle shavings and al dente penne pasta tossed in sweet French butter and crème fraiche, also covered in black truffles. But the piece de resistance is Rubi's ultimate black truffle sandwich, worth the flight all on it's own! When I was there I saw the mayor of Nice with other officials savoring these perfectly toasted warm ciabatta rolls dressed with nothing but sweet French butter, fleur de sel and an obscene amount of shaved black truffles. When eating such things it is perfectly acceptable to moan and groan at the table, you won't be the only one. Luckily, La Petite Maison is opening in New York City this month with the same menu (sans the Truffle sandwich that is only served when Nicole Rubi is in the house).
On a recent visit for a truly heavenly meal at Villa Pacri, formidable chef Fabio Trabocchi came to our table with the largest black truffle I have ever seen (pictured here). Niçois native, Alain Allegretti, consulting chef of La Petite Maison NYC, took one look at the massive gem and tried to make a run for it (well almost). The standout dish of the evening, although there were several, was his Risotto Milanese with slow cooked veal cheeks Osso Bucco style. The luscious veal cheeks were so tender you hardly needed teeth to eat them and the amber colored saffron risotto, finished with a touch of aged balsamic, offered the ideal balance of agrodolce and smooth texture, further enhanced by the earthy black truffle, which was an unexpected treat.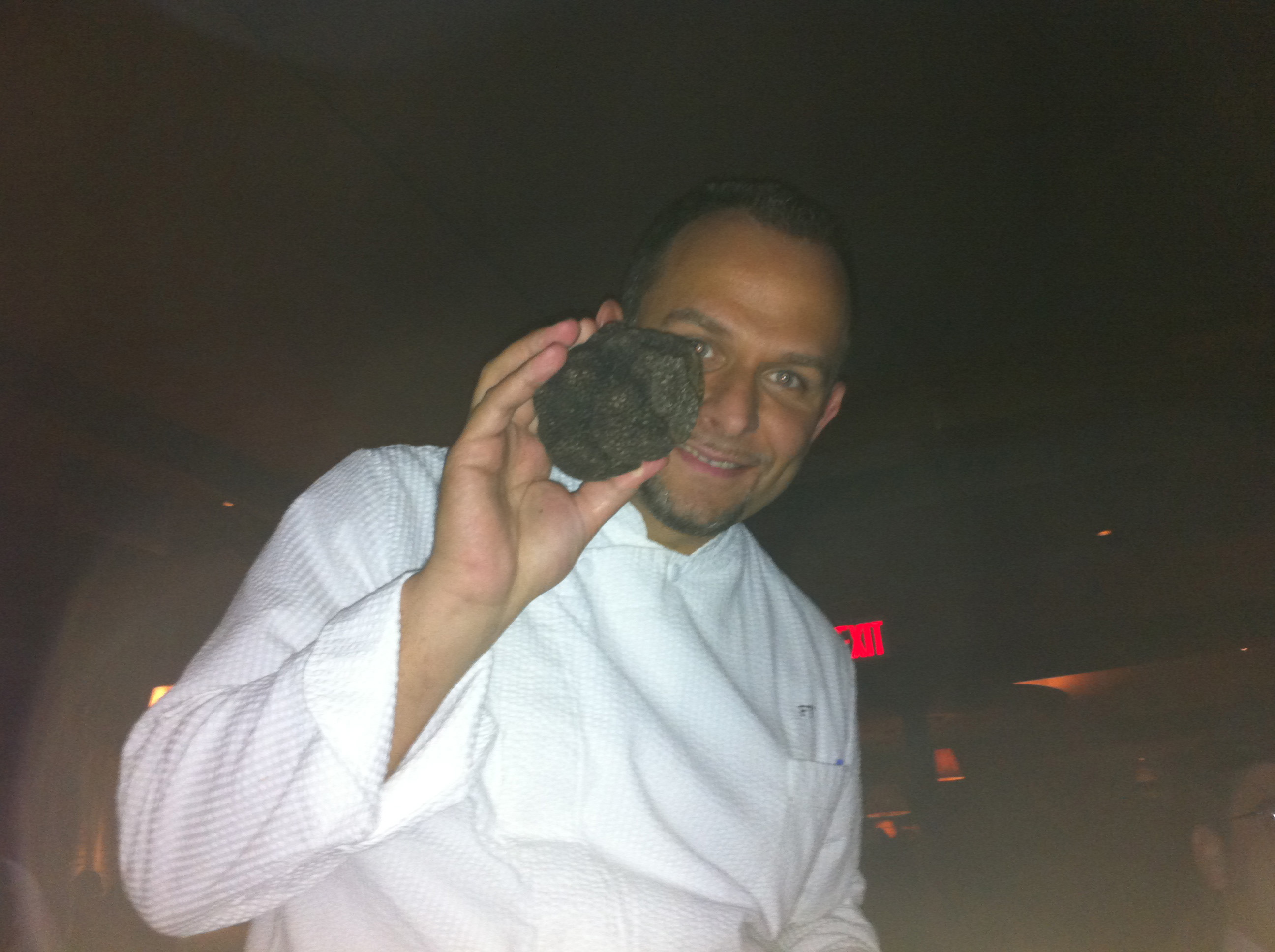 I often wonder (why I have no idea) what I would choose as my last meal before being executed in front of a firing squad, and any, or preferably all, of the dishes mentioned here would suffice for me to die in blissful satiated peace. The last and final dish on my bucket list would be the Gnocchi à la Parisienne from Bagatelle's chef Nicolas Cantrel. These petite, airy little pillows, freckled with black truffles simply melt in your mouth so quickly you just can't get enough of them. I always order them when I go to Bagatelle, and what's more, I dream about them when I am not there. I must recommend, however, that if you go and plan to order this, you may want to order a large portion, as the forks of your dining companions will inevitably start invading your plate. It won't be their fault, they will simply be under the spell of that ol' black truffle magic.

FOLLOW HUFFPOST