Is it becoming a cliché to say New York is the culinary Capital of the World? Cliché or not, in my opinion it is more so now than ever before! From the myriad food neighborhoods we have to choose from, not to mention the recent Food Truck Revolution and gourmet markets like Chelsea Market, FoodParc, and Eataly among others, New Yorkers and visitors can indulge their culinary curiosity without having to travel far at all. If you're anything like me, your motto is So much to eat, so little time!

I have had several dining spots on my radar for far too long, like Roberta's in Brooklyn for their famous pizzas. But as I understand from my many friends who have been, there is always an hour or two wait to get in, and, well, I just don't have that kind of time. So imagine my delight and extreme exuberation when a new dining concept hit my Flatiron neighborhood. Only three blocks from my office, on 23rd and BWAY, a coterie of restaurants have set up pop-ups around the square just across from Madison Park and I was told Roberta's was among them.
I grabbed two of my colleagues and made a mad dash for "Madison Square Mark't." It was a bright sunny Thursday afternoon around 2pm and we were famished. Let's try it all, I squealed, or at least as much as we can possibly eat. Our first task was to secure a table, which can be challenging; we prevailed and made a B line for Roberta's and their magical pizza oven. I say magical because the individual pizzas come out light, fluffy, and piping hot in five minutes. We ordered the Fun Guy with taleggio, cremini, speck and thyme and the Mamma Treat with tomato, guanciale, chili, red onion and pecorino. It was just hot enough, the dough firm yet chewy and the toppings enhanced rather than overwhelmed the signature dough. I'm so happy I can actually come eat this every day! As a matter of fact, I could eat there for breakfast, lunch, and dinner if I wanted, with the mark't open from 11am-8pm seven days a week through October.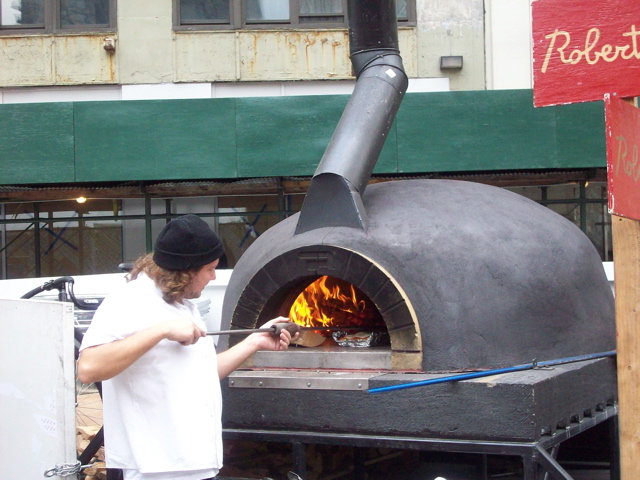 Roberta's may have been the draw but that's not all there is in this culinary oasis. After we indulged in our pizza we made the rounds, in the interest of research of course, and proceeded with reckless abandon. Next stop, Fatty Crew, which was offering none other than its namesake "fatty" brisket sandwiches with chili jam and cabot cheddar, among other delicacies. We went for it; the brisket was tender, juicy and was not lacking Fatty's signature kick.
There is something to be said for the smell of fried chicken and biscuits that recalls the compelling draw of the pied piper. We followed our noses and stood on a short line for this decadent comfort indulgence from Pies & Thighs. It was too big and bulky to eat as served in a sandwich form, but we divided and conquered, eating the components in small bites, finding the biscuit flaky and buttery and the chicken crispy and well seasoned. We were at peace and smiling at how lucky we were to be sitting outside enjoying this culinary frenzy while gazing at the iconic Flatiron building as a backdrop. We're sharing everything!, I told the gals in a meek attempt to justify the seemingly obscene quantities of food we were hoarding. Suddenly my eye caught a sign where the Resto pop up was serving Boudin Noir Tart (blood sausage pie), a Pig's Head Sandwich and a Sloppy Goat Sandwich. No way! I need those immediately... and we can't forget the crêpes at Bar Suzette. "Oh, Oh, we know that look!", said the gals, and up we went! We ordered the Peking Duck Crêpe with greens and Hoisin Sauce -- totally out there and delicious! And for dessert...? Is there any room left in our stomachs? Well maybe just one bite. The classic Banana Nutella crêpe would do the trick and was worth every sinful calorie, I'm in heaven!
We rejoined our table with our second round of flavorful treasures. I was thrilled to see my accomplices really liked the blood sausage pie; it was well seasoned and brought me right back to Paris where I used to order a crêpe with Boudin Noir and Apples at least once a week at a tiny bistro near my University. The Bar Suzette owner, Troi Lughod, happened to be passing by and asked us how we were enjoying our food and our crêpes. He saw the Blood Sausage Pie and asked what it was, I'll tell you after you taste it, I told him and gave him a bite. He loved it and thus I shared my memory of my Parisian. He promised he'd try it out and maybe even put it on his menu. The New York food scene just ROCKS! I've always loved street food but I really dig NY Street Cuisine.
SUBSCRIBE TO & FOLLOW THE MORNING EMAIL
The Morning Email helps you start your workday with everything you need to know: breaking news, entertainment and a dash of fun. Learn more