Lincoln Film Offers Opportunity to Take a Deeper Look at Aspects of Lincoln's Presidency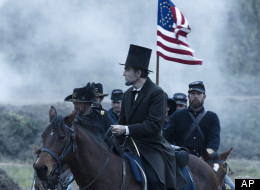 For Americans, the mere mention of "Four score and seven years ago..." brings to mind President Lincoln giving the address he delivered at Gettysburg 149 years ago on November 19, 1863.
But what else do we know about the occasion?
Just as Steven Spielberg used his just-released film to explore Lincoln's effort to abolish slavery, each facet of Lincoln's presidency could be better understood by examining the surrounding details.
The Importance of the Gettysburg Dedication--to the Union and to Lincoln

The Soldiers' National Cemetery at Gettysburg was the first federal cemetery ever to be established--pre-dating the Arlington National Cemetery by several years. The need for the cemetery at Gettysburg, of course, was because of the astoundingly high number of dead from the three-day battle that took place July 1-3, 1863. Casualties at Gettysburg totaled 23,049 for the Union (3,155 dead, 14,529 wounded, 5,365 missing or unaccounted for). Confederate casualties were 28,063 (3,903 dead, 18,735 injured, and 5,425 missing or unaccounted for).
Pennsylvania governor, Andrew Curtin, requested that local attorney David Wills develop a plan for honorable burial; Wills bought 17 acres of pasture to turn into a cemetery and formulated a plan for it to be a national cemetery for the Union soldiers who died at Gettysburg. (While a few Confederates were mistakenly buried in the Union cemetery, most of them were interred on the battlefield where they fell; later some of the bodies were moved to cemeteries in the South.)

Lincoln Invited to Give "Remarks"
President Lincoln accepted very few speaking commitments, notes historian Allen C. Guelzo, in a recent interview at his office at Gettysburg College where he serves as Director of Civil War Era Studies. To travel outside Washington to address a group required a major investment of time away from the Capitol for a president in the mid-19th century. (Compare that with President Obama's unrelenting travel schedule.)
When President Lincoln accepted an invitation to provide a "few dedicatory remarks" at Gettysburg, he clearly very much wanted to come.
According to Guelzo who has authored several books on Lincoln including Lincoln's Emancipation Proclamation and a forthcoming book, Gettysburg: The Last Invasion (Knopf, 2013), Lincoln had been mulling over when and how he could present to the American people a statement on the larger significance of the conflict and to explain why the enormous sacrifices were necessary.
Lincoln saw Gettysburg as the perfect opportunity for his statement. The 272 words he ultimately presented as the Gettysburg Address had been percolating in his mind for some time.
The morning of his departure, however, Lincoln had to reaffirm his commitment to attend. Son Tad, age 10, had awakened and was too ill to eat breakfast. Since an older son, Willie, had died just over a year ago, this greatly upset wife Mary, and she begged Lincoln not to leave her. The President, however, was fully committed to seize what he saw as an important opportunity to speak to Americans.

Lincoln Not the Main Speaker
Though Lincoln's words are the only ones that live on, Edward Everett, a well-regarded orator of the day, was to be the main speaker for the dedication of the cemetery. Everett had served as Massachusetts governor (1836-40) and U.S. senator (1853-54) and as president of Harvard University (1846-49), and he enjoyed a great reputation as an orator, and would have drawn a good crowd even if the President was not expected to appear.

Simple Trip from D.C. to Gettysburg Required Major Effort
When members of the president's staff realized Lincoln intended to go to Gettysburg, they arranged a special train for him that would leave at 6 a.m. on November 19 for the 12 noon speech.
Lincoln, however, was fully aware of the realities of traveling during war time. The fact that at least ten thousand people were expected to descend upon Gettysburg for the event only added to what would surely be a day of delays.
When told of the plan for a morning departure, Lincoln responded: "I do not wish to so go that by the slightest accident we fail entirely, and at the best, the whole to be a mere breathless running of the gauntlet."
Plans were re-formulated for a day-before departure. Accompanying Lincoln were several members of his cabinet including Secretary of State William H. Seward, Secretary of the Interior John Usher, and postmaster general Montgomery Blair along with some members of the diplomatic corps. In addition, Benjamin B. French, who had composed the hymn that was to be sung at the ceremony came with the group, as did Lincoln's secretaries, John G. Nicolay and John Hay as well as Ward Hill Lamon, Lincoln's friend and the U.S. Marshal for the District of Columbia. Lincoln's valet, William Johnson, a free black man, also was part of the traveling party.
As it was, the 80-mile trip to Gettysburg took six hours and involved transferring
trains in Baltimore and Hanover Junction. If Lincoln had followed the original
plan of a morning departure, he likely never would have given the Gettysburg Address.
The Dedication Ceremony
At the dedication, the crowd listened for two hours to Edward Everett before President Lincoln
spoke. Everett was known for carefully crafting his remarks, and he researched the three-day battle in order to be explain it to his listeners; he was famous for being able to re-create the emotion of the experience, and it was reported that those who were close enough to the podium to actually hear the speech were moved to tears.
While the speech Everett gave is remembered for its length--he spoke for more than two hours---this was the speaking style of the day. Everett would have been expected to give that type and length of an address.
Lincoln's address lasted just two or three minutes.
We often hear quoted the opening lines of the speech, but his conclusion is particularly meaningful in light of the times:
"...The world will little note, nor long remember what we say here, but it can never forget what they did here. It is for us the living, rather, to be dedicated here to the unfinished work which they who fought here have thus far so nobly advanced. It is rather for us to be here dedicated to the great task remaining before us--that from these honored dead we take increased devotion to that cause for which they gave the last full measure of devotion--that we here highly resolve that these dead shall not have died in vain--that this nation, under God, shall have a new birth of freedom--and that government of the people, by the people, for the people, shall not perish from the earth."
There is no photograph of Lincoln giving the Gettysburg Address. Photographers assumed that he would speak for at least ten minutes, and because photographs of the day required time for the exposure to be complete, the photographers did not have the opportunity to capture the moment.
The Reaction

Afterward, Lincoln was not certain that the speech had been successful, saying to his friend Ward Lamon, "that speech won't scour!" [wasn't effective].
Newspaper reports devoted most of their coverage to Everett's speech, but several papers took special note of the president's remarks. George William Curtis, editor of Harper's Weekly wrote that "The few words of the President were from the heart to the heart." The Chicago Tribune said, "The dedicatory remarks by President Lincoln will live among the annals of man."
And Edward Everett himself wrote immediately to note the brilliance and "eloquent simplicity" of the President's brief speech: "I should be glad, if I could flatter myself that I came as near to the central idea of the occasion, in two hours, as you did in two minutes."
Lincoln sent an immediate and gracious response: "In our respective parts yesterday, you could not have been excused to make a short address, nor I, a long one. I am pleased to know that, in your judgment, the little that I did say was not entirely a failure."
Returning to the White House

Lincoln's humility was part of his personality, but his opinion may also have been colored by how he was feeling. He left Gettysburg that afternoon, and by the time he arrived in Washington he was suffering a fever. His doctor diagnosed him with varioloid, a mild version of smallpox. He spent the next three weeks, quarantined at the White House, but he did recover.
Lincoln's well-loved valet William Johnson (1835-1864) was not so fortunate. He, too, became ill from the disease and died after lingering for two months. Lincoln paid out of his own pocket for Johnson's burial costs.
Walking in Lincoln's Footsteps in Gettysburg

To walk in Lincoln's footstep in Gettysburg--from the David Wills house where Lincoln spent the night, to the Soldier's Cemetery where he gave the address--is now possible through Gettysburg Town Tours (American Stories Historic Walking Tours). The same high level of mastery of history that is required of the battlefield guides is also required of the town guides, who are prepared to talk of Lincoln's visit as well as all of the issues that affected the citizens who were inadvertently in harm's way when the town was overrun by the Battle of Gettysburg.
The Gettysburg Tours are part of the Journey Through Hallowed Ground Partnership, which helps raise awareness of the historic, natural, and cultural landscape within the swath of land from Gettysburg to Monticello.
For more stories about Gettysburg and other aspects of America, visit www.americacomesalive.com.
Follow Kate Kelly on Twitter: www.twitter.com/AboutAmerica