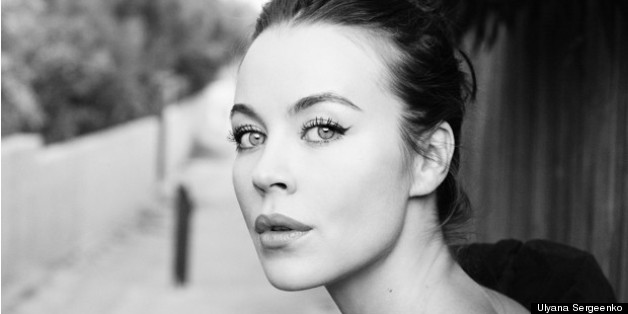 Regardless of your level of interest in fashion, if you've gone anywhere near a glossy, The Times style section, or a computer for that matter, there's little doubt that Russian street-style superstar cum designer, Ulyana Sergeenko, has found her way into your line of vision. European Fashion Week coverage is peppered with thumbnails of her statuesque figure gliding along the Place Vendôme, or swiftly navigating a sea of awestruck shutterbugs in Milan. Then there's her blossoming career as one of Russia's few couturiers -- the sole Moscow-based label showing at the Fall/Winter 2013-14 Paris haute couture collections, to be exact -- a passion fueled by a childhood spent revamping the scattering of hum-drum dresses available to her with guidance from her crafty, sewing machine-wielding grandmother.

Combine these already impressive professional accolades with the fiercely photogenic nature of her alabaster complexion, and those bewitching baby-blues, it's really no wonder she's left a lasting impression on casual observers and fashion loyalists alike. With her clique of perpetually stylish, oft-photographed compatriots, Buro 24/7 editor Miroslava Duma, quirky designer Vika Gazinskay and leggy model Elena Perminova, firmly by her side (collectively, they are warmly referred to as the "Russian Fashion Pack"), Ulyana has firmly solidified her place as the official, unofficial face of the post-Soviet-era tastemaker -- a concept that was virtually non-existent up until a few years ago (save for the occasional supermodel of Slavic descent).

I spent my formative years in Odessa, Ukraine, when it was still part of the USSR, then immigrated with my family to the U.S. when I was a wee, seven years old. As an expat of sorts, I feel a sense of pride -- a kinship, almost -- not just because a girl from the motherland is making it big in the nearly impenetrable industry I adore so much, but because to a large chunk of the world, Russia and its population are largely associated with ruthless movie villains, questionable political practices and an insatiable thirst for Vodka. Using her inspired creations as a vehicle, Ulyana shines a light on facets of a deeply rich and storied culture that oftentimes take a backseat to its unfavorable, if not entirely inaccurate, portrait.

Much like the dizzyingly glamorous range of ensembles she dons in public, seasonal collections -- ranging in theme from native nursery rhymes to American literary classics (think Scarlet O'Hara's floor-sweeping gowns, à la Russe) -- border on the theatrical, in the best possible way. Borrowing heavily from such culturally relevant elements as punch embroidery, whisper-thin lace, vibrant florals (closely resembling the vintage lacquer heirlooms my grandparents lovingly transported across several continents) and the corseted damsels illustrated in the classical fairytales of my childhood, she's breathes relevancy into folkloric elements that were on the fast track to extinction.

Ulyana's maidens are a stark contrast to the widely accepted image of Russian femininity: The meek, frumpy caricature of a hunched over peasant woman, or her desperately repressed bleached blonde counterpart, has transformed into a graceful, sophisticated, pinup version of herself. Even the requisite "babushka" scarf, re-imagined as a charming headdress, plays a part in helping the cause.

It's easy to write off this couture-clad, seemingly overnight success story as a black card slinging, nouveau riche dilettante, but the lady is no stranger to hard work. Yes, her billionaire husband's (insurance tycoon, Danil Khachaturov) fortune was instrumental in funding her creative ventures, but she came from modest beginnings and therefore, has a visceral appreciation for maximizing on what you've got. A small town girl at heart (originally from Ust'-Kamenogorsk in Kazakhstan), she's tapped into an endless source of inspiration within her heritage. Ulyana made it a point to cultivate her empire on home soil, opting to house her atelier in Moscow, forgoing a ritzy space in the more established Paris and investing even further in the fledgling local fashion industry by producing her wares exclusively in Russia. Sure, her couture creations are accoutred with astonishing price tags -- and even if you had the funds, you can't get your hands on them outside of Europe just yet -- I'm keeping an eye out, I have a feeling this icon-in-the-making is just getting started.
Beso.com is the site devoted to shopping.