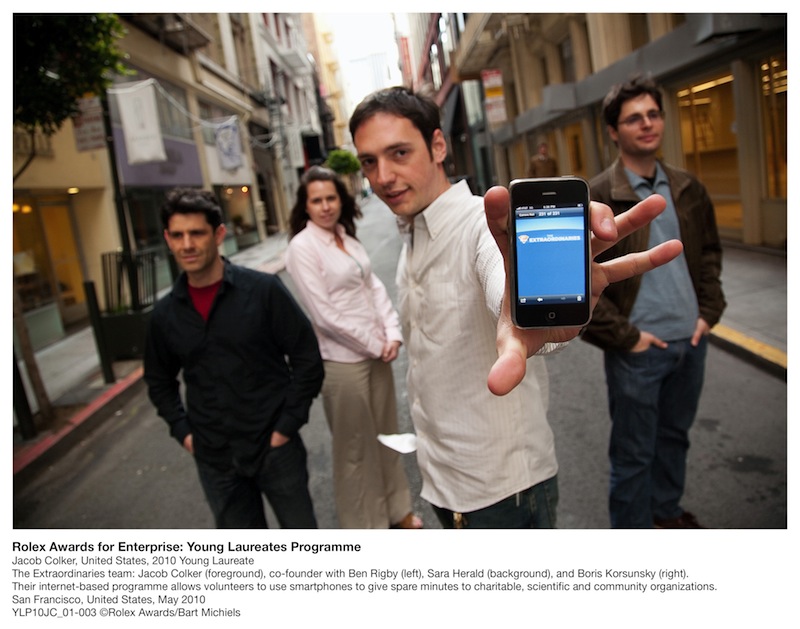 Chances are you'd like to do volunteer work, but you don't. Maybe you don't have time or don't like commitment. While many Americans intend to volunteer, only about a quarter of us actually do it.
But what if you could help in a spare moment -- while riding the bus or waiting in the dentist's office? Jacob Colker, 27-year-old social entrepreneur and pioneer of the concept of "micro-volunteering," has figured out a way for would-be volunteers to make good on their best intentions in life's extra moments.
"I might not have $500 to donate to an organization, but I certainly have four minutes," Colker told VolunteerMatch. The Extraordinaries, the San Francisco-based organization Colker co-founded, developed a tailored smartphone application and is building an online network called Sparked to match nonprofits with micro-volunteers.
Started in 2008, the network now includes hundreds of organizations, over 40,000 volunteers, and volunteer requests running the gamut from designing marketing graphics to writing website code to translating documents.
While his army of do-gooders has been busy making a difference, Colker has received increasing attention for his work, winning a fellowship from the nonprofit Echoing Green, a United Nations World Summit Youth Award and a community grant from the John S. and James L. Knight Foundation.
Then, yesterday, Colker was awarded a two-year $50,000 prize as a member of the inaugural class of the Rolex Young Laureates Programme, an extension of the prestigious Rolex Awards for Entrepreneurship. The new program, which will recognize five social entrepreneurs under 30 every four years, aims to encourage a new generation of innovators to transform the world.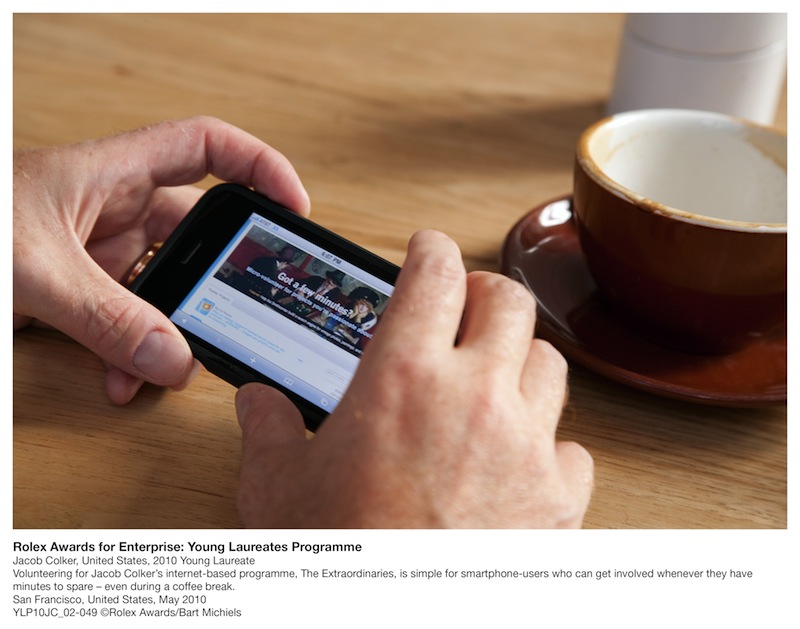 For Colker, the key to positive change is finding ways to engage people using digital media. "Technology is changing the game on a lot of things," he told me yesterday when I sat down with him shortly before the Young Laureates Awards ceremony in Lausanne, Switzerland.
Serving as field director for Peter Franchot's successful campaign for Maryland Comptroller in 2006 gave Colker his first inkling of social networking's potential for mobilizing action. He became the first field director in the country to use Facebook to recruit volunteers for a statewide election, demonstrating how one person with a computer and a will to engage could really make a difference.
One of his favorite demonstrations of that principle is the story of Jackson, a Masai tribesman in Kenya who, working with a UK-based organization called AVIF, posted a request on Sparked for advice on how to build a well in his village, where the nearest fresh water is miles away. An expert on Third World water issues in San Francisco shot back a reference to a relevant local organization, which is now helping the community build a well.
The benefits for nonprofits go way beyond advice, however. Colker tipped his iPad toward me to exhibit a volunteer exchange featuring some engaging logos a designer had made for a cash-strapped organization. "Sometimes the best way to fundraise is simply to save money in the first place," he said. Most nonprofits in the United States will spend between $40,000 and $250,000 this year to outsource work to consultants, costs that can be vastly reduced with the well-placed help of volunteers.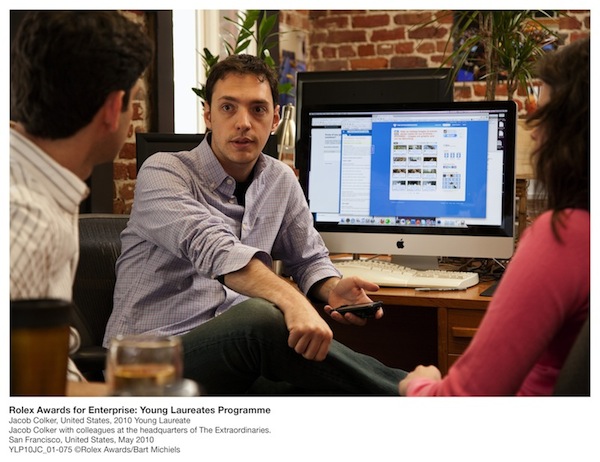 Despite its charitable focus, The Extraordinaries is for-profit, though in the process of registering as a B-Corp, or a company that officially prioritizes the social good as much as the bottom line. B-Corp shareholders agree to sacrifice some financial profit in exchange for the flexibility to pay attention to ethical issues. As part of his business plan, Colker is cultivating relationships with major corporations such as Kraft, Google and SAP, which encourage their employees to offer their expertise over the system as a way of giving back to the community, building positive company culture and projecting a constructive image. Volunteers on the system can publish notes about their efforts to Facebook, thereby broadcasting their company's charitable efforts over a wide, trust-based online network.
"We are a for-profit that is entirely focused on using the power of business to have an impact," Colker told me. And with the right technology connecting the right people, the impact has the potential to be enormous. "It's a big world with a lot of problems," he said. "If you have an idea, try it." All you need to do is log in.
 
This post originally appeared on Tonic. Photos courtesy of Rolex Awards/Bart Michiels.
FOLLOW HUFFPOST