In the wake of the devastation wrought by hurricanes Rita and Katrina, a team of architecture, engineering and design students at University of Louisiana at Lafayette hatched an ambitious idea: they would design a house for the future of the Gulf Coast — energy-efficient, hurricane-proof and Cajun-style. What New Orleans needed, they figured, was an ultimate answer to the FEMA trailer.
Their creation — the BeauSoleil Home — was among 20 solar houses on display last week in Washington, DC, as part of a rollicking-fun alternative-energy event. The Solar Decathlon set up on the National Mall, and people came thronging — public viewing was open through Sunday — to get a glimpse of the homes that have pitched their roofs on the nation's front lawn to compete for the title of "most attractive, effective, and energy-efficient."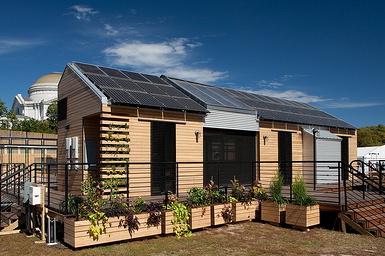 The Decathlon is an annual contest hosted by the Department of Energy in which teams of university students design, build and compete solar-powered homes. The teams are judged on ten elements, including architecture, market viability, engineering and lighting design. New this year is the net metering contest, which measures how much excess energy the houses can create to contribute to the electrical grid.
The Decathlon's overall winner, announced Friday morning, is Team Germany, which also took first place in 2007. They created a house shaped like a two-story cube and entirely covered, walls and roof, with solar cells that can produce twice as much energy as the house needs. The interior, one big, multifunctional living area, is kept at a comfortable temperature by custom vacuum insulation panels, phase-change material in the drywall and automated louver-covered windows.
The BeauSoleil Home — named winner in the category of market viability — was one of the most notable domiciles along the Decathlon's temporary rubber boulevard on the Mall. It's no wonder that the judges think the house is saleable. The design is just what people need for life in a place like New Orleans. It's storm-resistant, energy-efficient, affordable and built for the good life.
One of the requirements of the contest is to respond to local conditions, and for the team from the bayou, this means facing down the weather.
"This house is designed specifically as an answer to the experiences of Rita and Katrina," said Tom Norton, a team representative I bumped into outside the structure on a windy day before the start of the competition as the students put the finishing touches on their masterpiece. "It is a survivable house first and foremost. Wind resistance is built at 140 miles per hour."
Not only that but the house has a full kitchen (unusual in the contest's homes) and a convertible indoor-outdoor breezeway-cum-living space called a dog-trot.
"The Cajun culture is dedicated to food and good living and entertaining and that's what this house reflects in many ways," Norton said.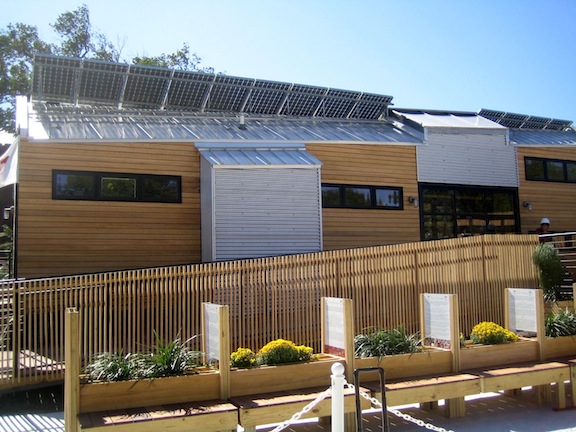 The house will eventually be mass-produced and marketed at $120,000 to $150,000 a pop. For Decathlon Director Richard King, this is a major point of the event; the contest is in part aimed at getting new designs and technology out into the public square.
"All these houses go back and go to permanent spots" to serve as educational tools, King said. "Some of these teams go on and start companies. They work with private industry so some of these technologies are just being tested. The industry will push them further once they see how well they work."
Another key goal of the Decathlon is raising public awareness about green building and alternative energy technologies.
"We're trying to educate our future energy leaders," King said. "They have the most vested interest; they do want to straighten things out for the Earth they've inherited. They certainly see this as their future. And yeah, hopefully when this country gets on its feet again out of this recession, the green technologies are going to really start growing."
Christopher Leger, a second year graduate student in architecture and the BeauSoleil team's Health and Safety Officer, is looking forward to that bright possibility. The best thing about the project, he said, was "getting exposure to design in a way I think will be the future of the market."
King agrees that we should be setting our sights on green energy. "We've got to find a way to live more sustainably," he said. "Obviously the vast experiment we've been running here the last hundred years of living on fossil fuels is not necessarily the right way to be doing things."
But can a better way really work on a large scale? "We're proving it right here," he said. "There are certainly ways you can live more sustainably on the Earth and not sacrifice the lifestyle and modern conveniences that we all cherish and certainly want to keep."
On the Gulf Coast, for instance, you can be safe, satisfied and sustainable in a cozy, Cajun-style solar home. Sounds like a plan. Laissez les bons temps rouler!
SUBSCRIBE AND FOLLOW
Get top stories and blog posts emailed to me each day. Newsletters may offer personalized content or advertisements.
Learn more