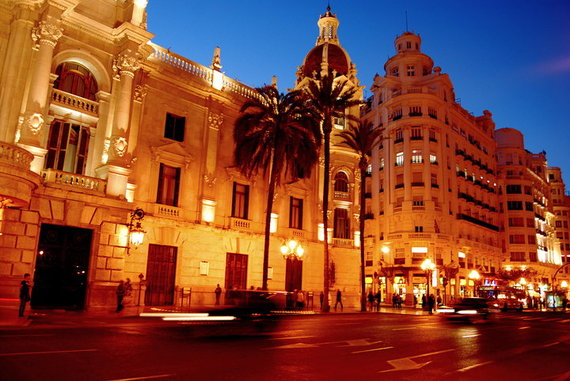 If good things really do come in threes, then Valencia -- Spain's third-largest city after Madrid and Barcelona -- perfectly completes the trifecta. Nestled comfortably on the Mediterranean western coast, Valencia is the perfect mix of classic and contemporary that has come to define some of Europe's most attractive, cosmopolitan cities. So alluring is it, in fact, that Ernest Hemingway saw it a fitting locale to begin The Sun Also Rises, and later chose it as a base when covering the Spanish Civil War.
In the present day, Valencia smoothly retains its prowess. There's the huge City of Arts and Sciences, which spans 350,000 square meters, and is comprised of an opera and music palace, an interactive science museum resembling the skeleton of a whale, and L'Oceanogràfic, the largest aquarium in Europe. You can also bike -- or party -- along the city's seaside promenade, throw tomatoes and participate in the world's largest food fight, or attend a riotous week of city fires, explosions and parades. And let's not forget about the food.
To call Valencia a culinary capital feels almost like a slight. Go seaside for garlic and eels, try Agua de Valencia with fresh Valencian orange juice at Cafe Infanta, and remember that the city is the undisputed capital and originator of one of the country's informal national dishes -- paella. Though Hemingway haunt, La Pepica, is more popular, one of the city's best versions of a true paella Valenciana with chicken, rabbit and beans can be found at El Bodegó de la Sarieta, with all ingredients sourced locally. Once you've found yourself impossibly full, relax at a horchateria with some pastries and horchata, a historic drink made of water, sugar and tigernut. One of my favorite spots to do this is opposite the Iglesia de Santa Catalina in the picturesque corner of Plaza de la Reina, where you can sit and drink in the history -- literally and figuratively.
Valencia remains one of Katherine's favorite cities -- can't you tell? She recommends a ratio of three servings of paella to every historic site.
SUBSCRIBE AND FOLLOW
Get top stories and blog posts emailed to me each day. Newsletters may offer personalized content or advertisements.
Learn more