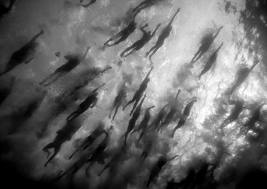 The Ironman Triathlon World Championship, to be held this year on Oct. 9, tests the body's physical limitations as few other endeavors can. Swimming through 2.4 miles in the ocean with 1700 other flailing athletes often unnaturally stacked -- lending the sensation, at least momentarily, that drowning might be more possible than you imagined -- starts the day. Desolate lava fields and fierce winds that can whip a carbon bike off the road with a sigh engulf the next 112 miles and many hours. The final 26.2-mile marathon run, which begins in the heat of the afternoon when asphalt temperatures soar to 106 degrees, takes the concept of endurance to the edge.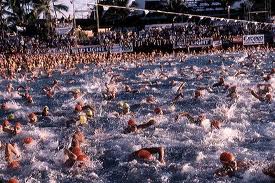 But everyone knows about anguished muscles, screaming joints, headaches, nausea, profound fatigue, and skirmishes with temporary insanity. It's the spiritual potential of the event and the power of the Big Island that remain hidden for many Ironman competitors obsessing about personal performance. I know because I became one of those people. Needless to say, the island quickly humbled me.
"Moku O Keawe (the Hawaiian name for the Big Island of Hawaii) is constantly creating more of herself," says Elizabeth Kapuuwailani Lindsey (pictured below), a filmmaker, anthropologist, and the first Polynesian Explorer and female fellow in the history of the National Geographic Society. "She's filled with fire. But she's not an easy island. She tests people in many ways."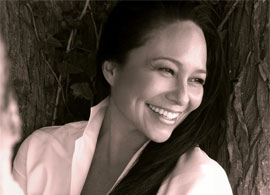 The problem is that most people stop at the superficial. "They think they've been swimming in the ocean when they've only dipped a toe in the water; they say they were there, but they weren't really there," she notes.
"What they see are miles of lava rock. But there's a sacredness, strength, power, and deep and abiding mystery about the island. If people allow the island in, they will start to experience something deeply profound."
At one time, I touched the corners of this idea before I let it slip through my fingers. Gratitude framed my first Ironman in 2007. I felt fortunate to participate, and smiled and cheered for others throughout the event. The next year, after qualifying in two different races and receiving some press (so minor; why all the fuss in my hamster wheel brain?) predicting a top age group finish, it became too much about the training, performance, speed, results. I lurched to a 6th place finish after spending much of the day vomiting, fighting nausea, or recovering from it. Afterward, I burst into tears and swore I'd never do it again. The sheer agony of the effort dismembered my emotions.
Two years later, here I am, still humbled but grinning again, with six weeks of minimal training behind me and a perspective that places the event where it belongs -- near the bottom of my priority list. And I'm ready to begin a journey whose meaning, I remember now, does not lie in its conclusion.
Lindsey, filled to the brim with ancient wisdom, claims she is always a student of this magnificent island. Lacking any sort of wisdom at all, I asked how to open my soul to its powers, to become a more conscientious pupil.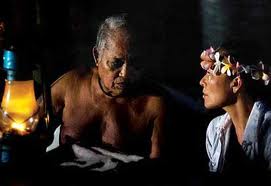 "There is a need to walk tenderly upon the land," says Lindsey, who was raised by Hawaiian elders. "Be highly sensitive and be really present about where you are and about wanting to learn. Look for the hoailona -- the signs and symbols. Smell each fragrance. Pay attention to the wind when it's blowing hard. Ask what lessons you are meant to be learning. If you really listen, you will know the answers instinctively."
Feels like a different experience already.