Ok. I know this is supposed to be a column about entertaining, but to be perfectly honest, having a party is the last thing I feel like doing right now. I'm suffering from a holiday hangover and I can't bear the thought of making one more canapé, creating a flower arrangement, setting the table, or cooking an elaborate meal. Don't get me wrong, these are all things I love to do, just not right now. I need a break. Some "me" time. You can call me antisocial for the time being, and it won't even hurt my feelings.
After months of "planning ahead," spending countless hours shopping for gifts, cooking in advance, and throwing several holiday parties, I've just given in. For the past week, my evenings have consisted of three things: sweatpants, DVR, and take-out. My refrigerator looks like a deli case packed with half-empty plastic containers filled with leftovers I'll probably never eat.
All of this junk food and unsociable behavior is so out-of-character for me, but I'm kind of enjoying it. So instead of giving you advice on how to throw your next fabulous dinner party, I'm going to share my favorite take-out spots and a recipe for a make-your-own take-out at home.
1. BLT Burger (470 6th Ave. 212-243-8226) - Chef Laurent Tourondel is known in foodie circles as one of the greatest French chefs in the U. S. After opening several successful high-end restaurants, he's taken his hand at an American fare that's very near and dear to my heart, the burger. I usually order the restaurant's namesake, but I've also come to love the chili and the farmer's salad. Waffle fries and a chocolate shake are a must.
2. Taim (222 Waverly Place 212-691-1287) - This closet-sized falafel and smoothie bar usually has a line out the door. I'm absolutely obsessed with the falafel and the variety of salads they serve up, especially the spicy Moroccan carrots. Taim is Hebrew for delicious, and the food certainly lives up to the name.
3. Westville (210 10th St 212-741-7971) - A tiny West Village gem, known for its diverse selection of farm-fresh vegetables, Westville is a true stand-by. I go for the codfish po'boy with a side of veggies.
4. Kona Bistro and Coffee Bar (31 West High St. Oxford, Ohio 513-523-0686)-- I worked my way through college in this restaurant and I always crave the grilled chipotle three-cheese sandwich. Since I obviously can't order it for take out, I've started making it at home. Serve it up with tomato soup, and you've got take-out/take-in.
Kona Grilled Cheese Sandwich
Ingredients

* 1 slice Monterey Jack cheese
* 1 slice swiss cheese
* 1 slice sharp cheddar
* 3 slices Roma tomato
* 1 slice purple onion (sliced very thinly)
* 2 slices bread of your choice (the original was made with white but we also love it on a good sourdough or whole wheat country loaf)
* butter for cooking
In a frying pan or griddle pan over medium heat melt a small amount of butter. Spread the chipotle puree on one slice of bread then place it in the pan and let cook until butter just soaks in, about one minute. Place the three slices of cheese on top of the bread along with the tomato and onion. Once the cheese begins to melt just slightly, place the second piece of bread on top and flip the sandwich over to cook on the other side. The side now facing up should be golden brown. Watch for the cheese to melt completely, check the underside of the bread and remove once the second side is also golden brown. Plate and enjoy!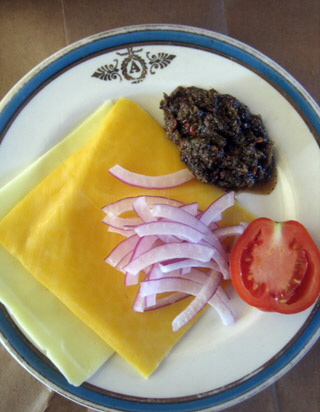 This will make enough for more than one sandwich
* 2 smoked jalapenos
* 1/2 cup olive oil
* Salt and pepper
Place all ingredients in a food processor or blender and puree until smooth.
FOLLOW HUFFPOST