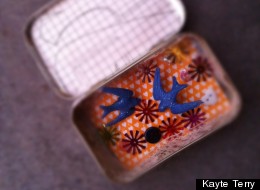 I'm not the easiest person in the world to plan a bridal shower for. I've had strong opinions since I could talk and everyone knows it. So when I found myself engaged to a similarly unconventional man in an equally unconventional way (we proposed to each other and gave each other matching recycled silver engagement rings stamped with the words "love forever"), I knew I would have to enter into some uncharted territory. I didn't want a white dress so I sure as heck didn't want a boring shower, and letting other people plan an event for me makes me a little queasy.
Luckily I have good friends who know me well and they threw me the least boring shower imaginable. They found a bar in my neighborhood in Brooklyn that would open early on a Sunday just for us.
They made dozens of paper pom-poms and scattered them throughout the bar. They made cookies shaped like rabbits, carrot cupcakes and a delightfully boozy punch. And the activity? No shower games -- they planned a craft! My friends set out piles of papers, trims and glitters and we made shrines from used Altoid tins, filling our little tins with hopes and wishes for the future. Mine had a swallow on the cover (hey, give me a break! This was years before "put a bird on it") and two lovebirds inside, an (admittedly cliché) statement of my independence, even in marriage.
I remember my shower as one of the best parts of the wedding extravaganza, a perfect Sunday afternoon of crafts, cocktails and the best friends a lady could ask for. Making things has always been a great joy in my life and that's probably the biggest reason why I write craft books: to share that joy with other people.
Doing it DIY is a perfect way to add some fun to the oft-mocked tradition of the wedding shower. By the time the shower date arrives, let's face it, some tensions are running high: The bride is stressed, the family is stressed and the bridesmaids are annoyed that they had to drop $300 on a teal taffeta dress. What better to ease the tension than an afternoon of crafty bliss?
If you want to host a crafty shower for a lovely lady, pick a project that appeals to a lot of age ranges and skill levels. Choose a project that people can finish in an hour or two. Also, think about materials: you don't want anything too messy -- nothing puts a damper on a shower like Aunt Hilda spilling oil paint all over her favorite summer dress. A few great ideas for shower crafts: paper pennants, origami boxes, block printed tote bags, mini shrines, embellished t-shirts or paper flowers. Minimal mess, maximal awesome craftiness.
And don't forget about the decorations! Paper pom-poms are a perennial party favorite. They are so fluffy and magical! So are pretty paper flowers and garlands and banners. When you make it yourself, decorations are so much easier to customize: make flowers in the wedding colors, spell out "hooray" or "happy shower!" on a banner or cut the bride and grooms silhouettes out to make wall art. Is the bride a writer? Make risers for food out of old books. A painter? String hundreds of paint chips up. Like I said, crafty = custom made.
I still have that Altoids tin shrine that I made at my shower. I keep it in my craft room displayed on a shelf, a reminder that sometimes my wistful romanticism really does pay off and fairytales, even ones that don't include Disney princesses, come true.
Click through the slideshow below for inspiration for your next bridal shower.
Make a special paper fascinator for the bride-to-be. Use papers with meaning -- an old love-letter, pages from her favorite book, a newspaper clipping of their wedding announcement -- to make it extra special.

Add a whimsical atmosphere to any party with these tissue paper pom-poms. Hang them from the ceiling or use them as centerpieces

Decorate the party with custom-made banner. Spell out phrases like 'hooray,' 'happy shower,' 'love never fails' or the bride and groom's names for a personal touch.

For a book-loving bride, try a riser made of a well-worn book. This literary marvel is a great way to showcase a cake or a framed photo of the couple.

Use pieces of wallpaper or wrapping paper to create silhouettes of the bride and groom. The happy couple can keep it as artwork after the shower.

Dress up any venue with a cardboard chandelier decorated in custom colors and designs. Whether it's lit or not -- this project will add a touch of environmentally-friendly class.

These origami boxes are perfect for party favors. Pop a few of your favorite candies in each for a sweet way to say thanks!

It was a beautiful Sunday in April so we basked in the sun as we all got down to crafty business.

Jenn and Lorelei, the shower hosts, show off the goods at the "Crafty Buffet".

My Altoid tin shrine still sits in my studio, a reminder of a fantastic day with the bestest of friends and family.

These two blue swallows were a perfect fit for the inside of my shrine. What a find from the "Craft Buffet"!

Instructions for all of the projects in this slideshow can be found in Kayte's new book, "Paper Made!"
Follow Kayte Terry on Twitter: www.twitter.com/loveforeverblog