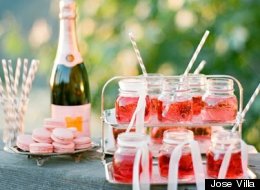 1. Make it a display shower.
We're all about making this not-so-common tradition more popular! The guest of honor doesn't open her gifts at a shower because the guests bring them unwrapped (though often arranged in a cute way, or with a bow on top). Once opening gifts is no longer the main activity and form of entertainment, it gives the bride an opportunity to do something more important: hang out and chat with all the people she cares about. We love any wedding tradition that allows for more time with loved ones.
2. Invite men too.
Rather than turning it into a "couples' shower" where everyone feels like they need to bring a date, why not keep it a bridal shower...where you invite men
and
women? While you definitely don't need guys to have a good time, the ladies-only setup can feel very old-fashioned. Surely the bride has brothers, male friends, and maybe even a groom whose presence would make the day more fun for her. There's really no reason to keep the guys she loves most off the guest list.
3. Serve drinks.
Given that most bridal showers take place during the day, booze is often not on the menu. But many ladies who lunch enjoy
cocktails
with said lunch, and a little bit of alcohol can go a long way in helping everyone relax. And we'd love to see what kind of advice the bride starts getting once the older generations have had a few drinks. That's the kind of bonding moment the bride will always remember.
4. Ditch the word "shower" and make it some other kind of party.
The implication is that a shower is all about the gifts, something that makes a lot of brides feel awkward. So make it a luncheon and use word-of-mouth to let people know it's more about their presence than the present. Or take a cue from the bride and plan a day she'd love: if she's a foodie, bring in a chef to do a cooking lesson; if she's a workout buff, arrange a private class for everyone at her favorite studio. And don't underestimate the power of a good spa day. Champagne and pedicures surrounded by her nearest and dearest? Sign us up!
Follow Kellee Khalil on Twitter: www.twitter.com/loverly