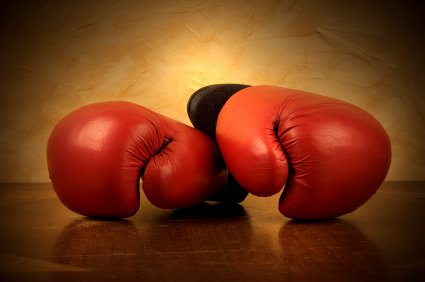 My appreciation for the sparring skills of Today Show host Matt Lauer hit heavyweight status this morning as I watched him man-handle The Coulterrgeist with pugilistic poise.
After eight long years of fixed fights and TKO's, liberal America can finally hit back hard against the vitriol diatribes of the radical right, claiming our place on the top of the fight card. Lauer maintained such composure in the ring. He was a true joy to watch. Every time Coulter threw a jab, Lauer blocked and hit back twice as hard. He took her to the canvas on her hypocrisy in regard to her use of Barack Obama's middle name, clearly exposing her method of twisting truth as a vehicle for hate. She took an eight count and tried to fight on, but Lauer held control.
Coulter battled her way into the big leagues during The Bush Administration, using a technique of out-shouting her opponents and refusing to let them speak, mixing it up on the airways with a flurry of fancy footwork, half-truths, and out right lies. This form of dirty fighting is favored by others of her ilk like Bill O'Reilly, Sean Hannity, and Mike Tyson, but Lauer was ready. With the grace of Muhammad Ali he danced like a butterfly and stung like a bee, never once running out of gas or allowing the rabid writer to bite his ear.
The judges have marked their score cards. The bell has rung, and Coulter is out cold on the canvas. This woman's boxing career is over.
LADIES AND GENTELMEN!!!!!! We have a new heavyweight champion of the world: Matttttt Lauerrr!!!!
FOLLOW HUFFPOST