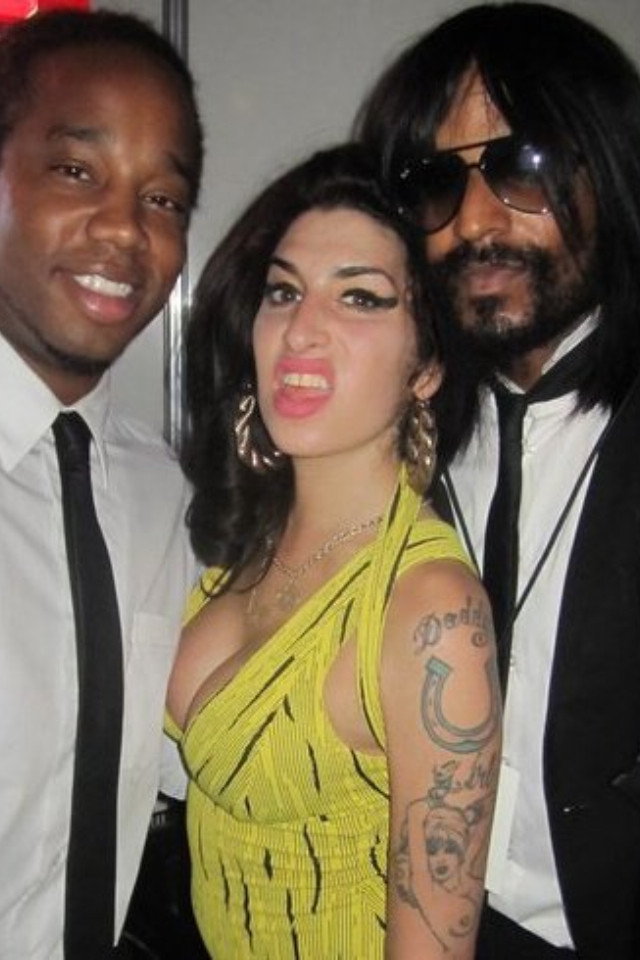 It was an honor touring with Amy Winehouse! We toured Brazil, and I was enthralled with her voice! However, I remember the first couple of shows would come and go without us getting to meet her, so Lance, the trumpet player for Janelle Monáe, asked Sam, Ms. Winehouse's keyboardist, to bring Amy to meet us. Well, to my surprise, he came through! At the end of the night Sam brought Amy to our dressing room. I was blown away! That totally made my day! She was so petite and beautiful! Everyone in our camp had previously left for the hotel except Isis (one of Ms. Monáe's dancers), Lance and me. That's when Isis took our photo together!
The final show of the tour was in beautiful São Paulo, Brazil. After that performance Amy was gracious enough to hold an after-tour celebration with us and her band. It was at a very sexy club somewhere in town (I don't remember the name). I remember talking with Ms. Winehouse about how shy Janelle Monáe is, and Ms. Winehouse replied by telling me that she, too, is very shy. So I insisted that she approach Ms. Monáe first to break the ice, and she did. They confessed to each other that they are both very shy! It was so sweet to see this exchange of two amazingly gifted and beautiful singers.
That was the last time I saw Amy Winehouse.
FOLLOW HUFFPOST