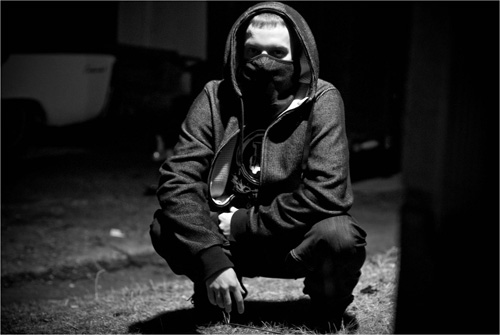 "DETROIT, are you ready for the loudest sound system you've ever heard? All ages this Saturday at the Fillmore. We're bringing 100,000 watts of BASS!!!" A message from Excision, posted on his Facebook page this week in excitement for his show this Saturday, April 14th at the Fillmore in Detroit.
With one of the final stops on his 55-date The X Tour, Excision has become one in a line of top electronic music artists that not only rock the house at the Filmore with wild, energetic music, but have an electrifying stage show to accompany. Like he said, laced with 100,000 watts of massive sound courtesy of Canadian-based PK Sound, along with his X-Vison visuals, Excision is bringing more power than your average dubstep show that even Tim "The Tool Man" Taylor would growl in approval (what a old Detroit reference there!).
Excision toes the line of an emerging dubstep artist that has successfully synergized the heavy metal energy to not only his music, but also his live shows. As dubstep has gone through its massive growth over the past few years, it's mutated into all sorts of flavors, both melodic and hardcore. Dating back to 2006, British DJ/producer Tony F. Wilson was able to mixed both dubstep and death metal into his club night called Dausteg (Norwegian for "Death Step") shortly after he moved to Oslo, Norway. Then, the likes of Skrillex or Bassnectar have brought the crowd-surfing/moshing frenzy to all points of the globe with their music, but they still have an apparent club influence to their records.
With Excision, he's almost the antithesis compared to the rest. It's the darker, hard-hitting side of dubstep that chooses attitude over fantasy. Albeit heavy, he takes you on a ride with the energy of metal but with the style of a DJ. There's always a youthful edge to it all, like someone who grew up on gangsta rap and heavy metal, especially when he remix's Dr. Dre's "The Next Episode" or Slayer's "Raining Blood" that sends the crowd off their feet.
Excision is no stranger to Detroit and it's always a fun time. His set at the annual Movement Electronic Music Festival in Hart Plaza in 2010 had the Red Bull Music Academy stage going wild, and his opening set for deadmau5's Meowingtons Hax Tour last fall at the Royal Oak Music Theatre had more energy then the famous headliner. If you are not yet sure if this is your sort of fun, check out his annual Shambhala mix series and make the decision.
Opening the night at the Fillmore is Detroit's own Matt Clarke of DetroitDubstep.com, along with tour support in the way of electro from Lucky Date and dubstep/drumstep from Liquid Stranger. For those that are over 18 years of age and don't want to go home after the show, mosey on over to The Works (1846 Michigan Ave) in Detroit for the after-party titled Bass Ritual with dubstep from Nostalgia (from Minnesota) and Bold Equation (from Ontario) along with a host of local support.
(Press photo courtesy of Excision)