Words From a Father to His Daughter (From the Makeup Aisle)
Dear Little One,
As I write this, I'm sitting in the makeup aisle of our local Target store. A friend recently texted me from a different makeup aisle and told me it felt like one of the most oppressive places in the world. I wanted to find out what he meant. And now that I'm sitting here, I'm beginning to agree with him. Words have power, and the words on display in this aisle have a deep power. Words and phrases like:
Affordably gorgeous,
Infallible,
Flawless finish,
Brilliant strength,
Liquid power,
Go nude,
Age-defying,
Instant age rewind,
Choose your dream,
Nearly naked, and
Natural beauty.
When you have a daughter, you start to realize she's just as strong as everyone else in the house -- a force to be reckoned with, a soul on fire with the same life and gifts and passions as any man. But sitting in this store aisle, you also begin to realize most people won't see her that way. They'll see her as a pretty face and a body to enjoy. And they'll tell her she has to look a certain way to have any worth or influence.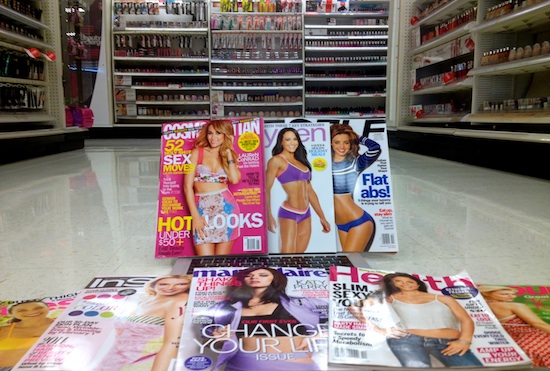 But words do have power and maybe, just maybe, the words of a father can begin to compete with the words of the world. Maybe a father's words can deliver his daughter through this gauntlet of institutionalized shame and into a deep, unshakeable sense of her own worthiness and beauty.
A father's words aren't different words, but they are words with a radically different meaning:
Brilliant strength. May your strength be not in your fingernails but in your heart. May you discern in your center who you are, and then may you fearfully but tenaciously live it out in the world.
Choose your dream. But not from a department store shelf. Find the still-quiet place within you. A real dream has been planted there. Discover what you want to do in the world. And when you have chosen, may you faithfully pursue it, with integrity and with hope.
Naked. The world wants you to take your clothes off. Please keep them on. But take your gloves off. Pull no punches. Say what is in your heart. Be vulnerable. Embrace risk. Love a world that barely knows what it means to love itself. Do so nakedly. Openly. With abandon.
Infallible. May you be constantly, infallibly aware that infallibility doesn't exist. It's an illusion created by people interested in your wallet. If you choose to seek perfection, may it be in an infallible grace -- for yourself, and for everyone around you.
Age-defying. Your skin will wrinkle and your youth will fade, but your soul is ageless. It will always know how to play and how to enjoy and how to revel in this one-chance life. May you always defiantly resist the aging of your spirit.
Flawless finish. Your finish has nothing to do with how your face looks today and everything to do with how your life looks on your last day. May your years be a preparation for that day. May you be aged by grace, may you grow in wisdom and may your love become big enough to embrace all people. May your flawless finish be a peaceful embrace of the end and the unknown that follows, and may it thus be a gift to everyone who cherishes you.
Little One, you love everything pink and frilly and I will surely understand if someday makeup is important to you. But I pray three words will remain more important to you -- the last three words you say every night, when I ask the question: "Where are you the most beautiful?" Three words so bright no concealer can cover them.
Where are you the most beautiful?
On the inside.
From my heart to yours,
Daddy
----------
Like the last letter I wrote to my daughter, I wrote this first for her and the day I'll eventually read it to her. But I also wrote it for every woman who needs to hear the words of a father. Women, no one else can define your beauty for you. But they'll try.
My daughter is 4 years old now. If her awakening to the makeup aisle comes at the typical age, I figure we have about five years to radically alter the arc of history and the subjugation-by-image of the female gender. We've got a lot of work to do. And it begins in the heart of each and every woman.
----------
This post originally appeared on DrKellyFlanagan.com
Also on HuffPost:
Loading Slideshow
Emmy and Zoe

Della and Sully

Jackson and Mickey

The love between this dog and this boy is as pure as pure love comes! Jackson and Mickey Dog. Best friends forever!!!!!

Julia and Dad

These two pictures are of our daughter Julia (9 months old) "talking" to her Daddy over Skype while he was deployed to Afghanistan.

Gavin and Riana

It was taken two years ago by our friend. It was actually not planned and she just caught the shot as I was stealing a kiss.

Talya and Sam

Love at first sight! This was taken 2 days after she was born.

Melina and Avi

This photo is from September 2010. I had just shaved my head for St. Baldricks in honor of my son Levi, pictured. He was diagnosed with stage 4 brain cancer (Medulloblastoma) in 2004 when he was only four. Surgery to remove the tumor left him mute, paralyzed and incontinent. He relearned all his life skills while undergoing multiple surgeries, chemotherapy and intense radiation. He is my hero.

This photo is at our wedding day, our daughter ran up to be with us at the alter.

Angie Ray

My 6 year old Lucie with her then 5-days new little brother Eliot. Her expression was not posed, I had wanted her to look at the camera but he did a little sigh in his sleep and she said "aww" and turned her head towards him and closed her eyes. I teared up as I clicked the shutter, so magical.

Baby brother's first haircut

Julia and Chloe

Evan and Lexi

Logan, Marci and Lily

This is my definition of love. Sister love.

Nathan and Danielle

Emerson, Savannah and Tanya

Here are my two "everythings"-kissing me!!!

My 9 yo and Kira. A rescue from the Austin Humane Society.

Samantha, Lucy, Parker and Simon

Taken at the homebirth of my daughter, Lucy Nova, on 1/9/09 with her brothers Parker and Simon present and eager.

This is my son and his new born baby sister

Petra and Ivan

The attached photo is of my 3-year-old twins, Petra and Ivan. They're both on the autism spectrum, but Ivan's powers of speech are far more advanced than Petra's, and on some level he seems to know this. He makes sure she's not overlooked when we're doing family things, and occasionally takes her hand to walk with her when we're out. If she pulls away he reaches out to grab her hand again, to make sure she doesn't get left behind!

Joanna and Luke

This is a picture I took of my son and daughter while hiking.

Brothers and sister through adoption.

Carly and Brooklyn

Carly helps little sister Brooklyn enjoy a lollipop. Brooklyn has a gross motor disability (Rett Syndrome) so she can't use her hands purposefully.

Riley and Benjamin

This picture was taken one Sunday afternoon when we were leaving Church. My daughter had been getting upset during the Mass because she was missing her Auntie who had passed away earlier that year from cancer. She told her brother how she was feeling as they were leaving. He put his arm around her, hugged her and kissed her forehead telling her that everthing was going to be alright. As they walked the remainder of the way to our car, they held hands. It was so precious. They did this all on their own. This is the true definition of sibling love at it's finest! I just walked quietly behind soaking it all in. (And of course taking a picture like any good mom would :)

JJ, Mr. Teddy, Jeter and Minnie

JJ (boy) Mr. Teddy (the white butt) Jeter (the orange cat) Minnie (the kitten) We just had to put Jeter to sleep yesterday after 15 years of warmth and sweetness :'(

Holli and Chelsea

This is me and my daughter, Chelsea. If I ever doubt that I am loved, this picture reminds me otherwise.

This is a picture of my then 16 year old son and his 12 year old sister about 6 weeks after she was diagnosed with a terminal brain tumor. It is the first day of school and I think it's easy to see the tragic love he feels. Hope Alizah Kimlee Fuller 6/26/97 born 7/29/09 diagnosed with DIPG 3/10/10 died

My sons... love how affectionate they are with each other.

Aiden and Ryan

Aiden gets wrestling tips from his big brother, Ryan

Emily and Elliot

This is a picture of my son, Elliot and I on his first birthday. He had just finished digging into his birthday cake and I was giving him a drink of water. We have a really special connection. I'm a single mom and he is the best thing that ever happened to me. Love!!

Caught this picture of my husband and (at the time) 2mo old son catching a cat nap. Look at the smile of pure satisfaction (love) on my son's face. Neither would have wanted to be any other place in the entire world.

Ben and Lucy

Elias and Jackson

Big brother (Elias - 2.5 yo) meeting baby brother (Jackson - 1 day old) for the first time.

Love is the first of many a newborn will take...first steps...

The moment I met my twins.

Angela and Dad

This image was taken moments after mom, who had been looking on, had *that moment* - that moment when you realize your entire world has changed – that moment as a new mother that takes your breath away. Her eyes filled with tears of overwhelming joy and love and got both of us, the dna photographers, and the daddy to well up – the only one not crying was the 8 day old little angel in daddy's arms.
Follow Kelly M. Flanagan on Twitter: www.twitter.com/DrKellyFlanagan