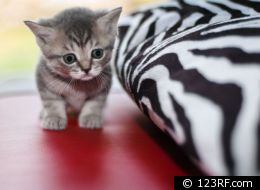 "I guess I just prefer to see the dark side of things. The glass is always half empty. And cracked. And I just cut my lip on it. And chipped a tooth."
-Janeane Garofalo, American actress
Close your eyes for a minute and think about the things in life that make you happy. What comes to mind? Long walks on a deserted, sandy beach at sunset? The smell of freshly cut grass on a lazy Sunday morning? These are the things that make life worth living...
We're sorry to burst your bubble, but life's not all puppies and ponytails--and even if it were, you'd still be out of luck. Turns out that even the purest, most innocent things in the world have a dark, sordid history of death, disease, and despair that's never been brought to light.
But that's all about to change. With this list of nine fluffy, cuddly, sweet, innocuous things that aren't quite what you thought, we'll take you on a fun-filled ride where the underbelly of everything you've ever loved is revealed.
Don't want to accept it? Well, we sympathize with you. What you're about to hear is rough, but it's for the best. This is but a small sampling of the 220 scary facts about the things you thought you loved that you'll find in our book, The Dark Side of Apple Pie, Baby Food, and Bunnies [Adams Media, $13.95] and you may as well prepare yourself for the disillusionment that's about to ensue.
And, in case you still refuse to accept the facts, chin up, the first stage of grief is denial. You'll come around soon enough. After all, there's a brave new world out there--and wouldn't you rather know the truth?
Everyone loves kittens, but these little fur balls aren't just fun and fluff. Up to 80 percent of all cats are infected with or are carriers of Toxoplasma gondii, a parasite which may cause encephalitis, eye disease, neurological disorders, and even death. Most people who become infected pick up the parasite when cleaning the litter box. Normally toxoplasmosis, the infection T. gondii causes, isn't a big deal, but if a pregnant woman contracts toxoplasmosis, the baby can suffer from blindness, hydrocephalus, and brain damage or the woman can suffer a miscarriage. The good news is only .01 percent of infected women pass this parasite on to their babies, and pregnant women can avoid this disease all together by washing their hands and by not cleaning the litter box. Great news for pregnant women. Not so much for dads-to-be.

Every summer, red, perfect strawberries show up at farm stands across the country. Unfortunately, this fruit, turns into a science fair worthy mold specimen before you can blink an eye. The culprit? Rhizopus stolonifer. This mold grows in damp places--like your fridge--and can cause mucormycosis, a life-threatening fungal infection that affects the brain, lungs, and sinuses. As the infection progresses, the fungus moves throughout the body, killing the skin and organs and wreaking havoc. And it's not just fresh strawberries either. With FDA approval, frozen strawberries are allowed to contain an average mold count of up to 45 percent... yes, really. Think of that the next time you're looking at the bag of strawberries sitting in your freezer.

Life's a beach, right? Well, if you're lounging on a gorgeous, white Caribbean beach, you should know that you're sitting in fish poop. Parrotfish scrape algae off the coral reefs with their "beaks" and some of the reef comes along for the ride. The coral is then ground up into little pieces and, after a short trip through the fish's digestive tract, is pooped out into the water. One single parrotfish can create more than a ton of sand a year. In addition, sand contains a high amount of E. coli--bacteria commonly found in human feces. You're actually 23 percent more likely to get sick after a trip to the beach. You may want to add some antibacterial hand gel to your beach bag--or face the consequences.

Nothing feels better under your bare feet than a brand-new Oriental carpet. It's beautiful. It's soft. In fact, 60 percent of Americans have carpeting in their home. But if you just bought your carpet, instead of luxuriating in that "new carpet smell" think about the fact that you're actually breathing in a chemical adhesive known as 4-phenylcyclohexene, which causes headaches and respiratory issues; 95 percent of new carpets are treated with 4-phenylcyclohexene. And once those chemicals wear off, you're still left with a carpet full of eight times its actual weight of dust mites, toxins, germs, pesticides, and chemicals. In fact, the Environmental Protection Agency says 80 percent of all exposure to chemicals and pesticides actually occurs indoors. Good luck sweeping that under the rug!

Kite flying is a fun activity to do on a windy day, but it's best that you keep an eye on the sky to make sure nothing happens. Your life may depend on it. Kites can touch and tangle on power lines while the user runs the risk of electrocution. This danger is intensified during stormy weather as the wet kite line only increases the chances for electrocution. Just because Ben Franklin did it, doesn't mean you should do it too! Stationing yourself in a wide-open space will ensure that any and all trip hazards are gone and that nothing will distract you in case your kite takes flight by itself. It's like you need an extra set of eyes in the back of your head!

Very few thing say "relaxation" quite like hammocks, but that wasn't always the case. At the end of the sixteenth century, hammocks became popular on ships because they swayed with the boat, reduced sailors' motion sickness, and didn't take up much space. But a sailor's hammock could also be his coffin. Sailors were--and still are--a superstitious lot and if a sailor died at sea, the dead body was often sewn into the sailor's hammock. Two cannonballs were placed by the sailor's feet to ensure that he'd sink when the body was thrown overboard and the hammock was sewn shut with thirteen stitches. The last stitch would go through the sailor's nose to ensure that he was actually dead. Think about that the next time you're lounging in yours.

Having a green thumb is a skill that can make all of your neighbors envious. If only there weren't so many unwelcome visitors in the ground below. That soil you're tending contains one billion bacteria per teaspoon. That's like one giant Petri dish! In fact, Britain's National Soil Resources Institute (NSRI) warns that E. coli can be present in soil that's contaminated with fecal matter. You may forget that animals do their business in this ground you're sitting on and working with your hands. Better wear gloves! If you don't, immediately wash your hands before you do anything afterward. It takes a lot of time to make that garden of yours look exquisite. Don't let a simple thing like not wearing gloves take the fun out of it.

Research has shown that chocolate is the food most commonly craved by women and it's actually the preferred flavor for 50 percent of Americans, who show their preference by eating up to 12 pounds apiece each year. But, as amazing as it is, the chocolate industry has a dark secret. Up to 75 percent of the chocolate consumed in the United States is imported from West African countries. There are more than 600,000 cocoa farms in the Ivory Coast alone and studies say that up to 90 percent of these farms use slave labor. And 15,000 of these slaves are reported to be children ages six to sixteen, the majority of whom have been stolen or lured into slavery from their homes. Where's that dopamine when you need it?

What can you use to sweeten your tea that has actually been in a bee's stomach? You guessed it: Honey! Female worker bees kiss their male drone husbands goodbye and spend the day collecting nectar from the flowers near their hive. When they return, all the worker bees get together to bitch about the drones who only want to have sex with new queen bees. That thought alone causes them to digest the nectar in their honey stomachs (yes, gross) and then vomit it out again and again. This vicious cycle of binging and purging continues until the honey's reached the right consistency and can be stored in a honeycomb for later use. Think about that the next time you drizzle some into your tea.