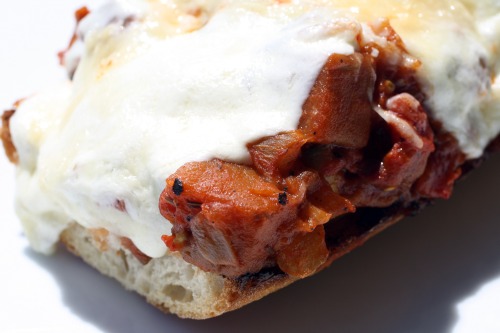 Food is definitely identity. It was a Frenchman after all who said: "Tell me what you eat and I'll tell you what you are." Really? He must have been incredibly talented in divination because I know what I eat at every meal, and I still have a hard time figuring me out.
I have two careers. Two backgrounds. Thankfully not two boyfriends or that would get to be a bit much to juggle. Let's face it: I don't really want to hear Brillat-Savarin's diagnosis. I'm happy doing it, and having it, all. In life, maybe not in love, but definitely in dinner. More is more.
That's why I wanted to write Franglais. I wanted to celebrate, not apologize for, how great things can be when they come together, instead of being kept apart. There are two great family food heirlooms in my life, both directly handed down from my parents. My mom raised me on ratatouille. What else does a woman born in Marseille give to her vegetarian daughter? And my dad, New York for generations, religiously evangelized the eggplant parmesan sandwich to me until I became an ardent follower.
So, being a mix of the two, I tried this Ratatouille Parm Sandwich. A slow-cooked stew of eggplants, and zucchinis, peppers, and herbes de Provence is piled on top of crusty, garlic-rubbed ciabatta, and topped with mozzarella and parmesan and broiled until the cheese runs down the sides and bubbles and crisps. The bread is pungent and crisp, just beginning to drink in the juices of that fresh, ebullient ratatouille that's enveloped in the mild, gooey cheese. C'est si bon! It's so good!
Although, I'm not sure I'm fooling anybody. I'm pretty sure that ol' Frenchman would have taken one look at this sandwich, scoured my face, and said: Provence-New York. I guess, at the base of it all, that is what I am after all.
THE RATATOUILLE PARM SANDWICH
serves 4
INGREDIENTS
1¼-pound eggplant (1 large eggplant), ½-inch dice
Fine sea salt
2 tablespoons olive oil, plus 2 teaspoons
2 medium yellow onions, diced
4 cloves garlic, smashed and chopped, plus 1, peeled and halved
1 teaspoons dried herbes de Provence
1¼ pounds zucchini (3 small zucchinis), ½-inch dice
2 orange bell peppers, ½-inch dice
Freshly cracked black pepper
1 28-ounce can San Marzano crushed tomatoes
1 teaspoon white wine vinegar (optional)
1 8-ounce ciabatta
1 8-ounce ball fresh mozzarella, very thinly sliced
1 cup coarsely grated Parmesan
PROCEDURE
Put the eggplant in a colander, and toss with ½ teaspoon salt. Allow to sit and drain for 40 minutes.
In a large, heavy-bottomed stockpot, heat 2 tablespoons of olive oil on medium heat. Add the onions, and season with salt. Sauté until soft and translucent, stirring often, for 4 minutes. Add the 4 cloves chopped garlic and herbes de Provence, and sauté another 1 minute. Add all the vegetables, season lightly with salt, and well with pepper. Cover, reduce the heat to low, and simmer for 15 minutes. After 15 minutes, stir in the tomatoes, and cover and simmer for another 15 minutes. Finally, remove the lid, add the vinegar, and simmer a final 15 minutes uncovered. If you can make this the day ahead, and refrigerate it over night, it tastes even better.
Preheat the broiler. Cut the ciabatta in half horizontally, and then again vertically, yielding 4 rectangles. Drizzle each with ½ teaspoon olive oil, arrange cut-side-up on a baking sheet, and broil just under the broiler for 2 minutes, until toasted. Rub the warm bread with the cut sides of the halved garlic clove.
With the bread still on its baking sheet, use a large slotted spoon to divide the ratatouille between the pieces of bread. Top with the mozzarella, and then the Parmesan. Broil about 6 inches from the broiler (the second position down in the oven) until the cheese is melted and slightly golden, about 6 minutes. Serve right now!

SUBSCRIBE TO & FOLLOW THE MORNING EMAIL
Start your workday the right way with the news that matters most. Learn more