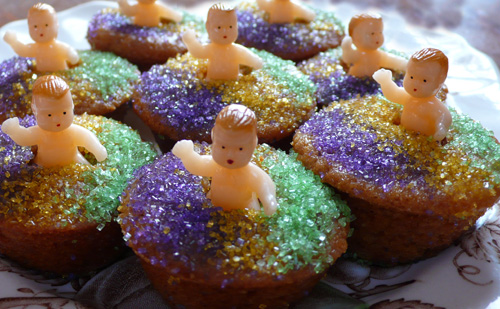 Who died and made corn King? Democracy, that's who. Amber waves of grain, my ass. We live in a cornarchy; our elected leaders elect to follow the lead of high fructose corn syrup-fueled lobbyists, and serve up we, the people, as serfs instead of serving our interests.
That's why, on the eve of our super fat nation's Super Fat Tuesday, I'm calling for a new culinary tradition that pays tribute to our fallen freedoms and the battle to reclaim them: the kingmaker cupcake.
You may be familiar with the traditional Mardi Gras "king cake," a braid of brioche-like dough covered in purple, green, and gold icing or sugar, with a plastic baby hidden inside (originally, the "prize" would have been a bean, or a coin, but as with everything else these days, plastic reigns). Whoever gets the piece with the baby is crowned "king." This ritual supposedly has its roots in Saturnalia, the ancient Roman festival held in honor of Saturn, the god of all things agricultural. Now, our gods of agriculture are Archer Daniels Midland, Cargill, and Monsanto.
Saturnalia also celebrated the winter solstice and the death and rebirth of nature; in its earliest pagan incarnation, the newly crowned king--as determined by who got the piece of cake with the bean or coin--got to reign briefly and was then sacrificed "in hopes of insuring fertility and prosperity," according to the website Mardi Gras Unmasked. Hey, if that $150 billion stimulus package doesn't work, maybe we could give this a try.
In its more enlightened, human-sacrifice-free version, Saturnalia called for a temporary subversion of social roles, allowing slaves to become masters. But as this medieval holiday morphed into the modern-day Mardi Gras we also call Carnival, its own significance was subverted. New Orleans writer Robert Tallant, author of Mardi Gras...As It Was, described Carnival as "a mock revival of monarch rule." (Fascinating footnote for the don't-eat-meat brigade: "carnival" is derived from the Latin "carnelevare," or, literally, to "lift up" from "flesh".)
But how can we have a mock revival of monarch rule when our democracy's been hijacked by the Bush family dynasty? King George the Second holds court in the West Wing, while muddy New Orleans has been martyred on a cross of incompetence and indifference. King of Crawford to Katrina victims--message: I don't care. Let them eat king cake.
"Vote with your fork!" is the progressive foodie's mantra, and you get to exercise that prerogative three times a day--or, actually, four, if you buy into Taco Bell's "fourth meal" ad campaign-- "the meal between dinner and breakfast." Ain't consumer freedom grand?
But tomorrow, on Super Fat Tuesday, some of us actually get to vote with our vote! In theory, this gives us the chance to be a king maker. So, instead of making the conventional Mardi Gras king cake with only one plastic baby, I'd like to propose a more populist pastry--the kingmaker cupcake. Be sure to insert a plastic baby in each and every one!
Eating Liberally's Kingmaker Cupcakes:
(makes 12 cupcakes or 24 mini-cupcakes, and, yes, they're totally egg and dairy free for our vegan friends)
1 1/3 cups whole wheat pastry flour, or spelt flour

3/4 cup agave, maple syrup, or honey
Preheat oven to 350 degrees F. Spray a muffin pan with nonstick spray or line with cupcake liners. Combine soymilk and cider vinegar and set aside for a few minutes to curdle.
Combine flour, baking powder, baking soda and salt.
In a separate bowl, whisk together the soy milk mixture, oil, agave (or maple syrup or honey), orange juice, zest, and vanilla. Add the dry ingredients to the wet ingredients gradually, stirring until the batter is smooth.
Fill cupcake liners or pan two-thirds full. Bake 20-22 minutes for regular cupcakes, or about 14 minutes for mini cupcakes, until the top springs back when pressed lightly. Remove cupcakes from muffin pan. Cool completely. Frost with citrus glaze (recipe below) topped with green, gold and purple sugar.
1 cup confectioner's sugar
Combine sugar with cinnamon and citrus juices, stir till thoroughly mixed. Apply after cupcakes have cooled. Sprinkle green, gold, and purple stripes on top of the glaze. Insert plastic baby. Cast your vote.