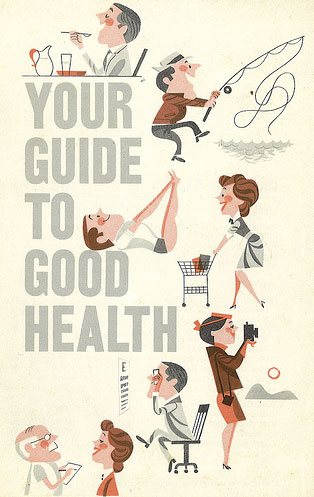 Every Monday brings another gloomy, doomy dispatch from the pessimistic prince of Sunday punditry, Paul Krugman. The Nobel-prize-winning Princeton economics professor and New York Times columnist is on the record--and the front of last week's Newsweek--expressing deep skepticism about the bank bailout and keeping grown-ups across America awake at night with a frightening fable, The (Too) Little-Stimulus-That-Couldn't.
But wait! This Monday, Krugman was feeling cautiously optimistic about the President's proposed health care overhaul. Is Obama's enthusiasm for reforming our health care system contagious? An uncharacteristically upbeat Krugman wrote:
...on Saturday, excited administration officials called me to say that this time the medical-industrial complex (their term, not mine) is offering to be helpful.
Six major industry players -- including America's Health Insurance Plans (AHIP), a descendant of the lobbying group that spawned Harry and Louise -- have sent a letter to President Obama sketching out a plan to control health care costs. What's more, the letter implicitly endorses much of what administration officials have been saying about health economics.
Are there reasons to be suspicious about this gift? You bet -- and I'll get to that in a bit. But first things first: on the face of it, this is tremendously good news.
And no wonder--Obama's proposal marks a sea change, effectively putting Big Pharma and Big Food on notice. No more of this laissez-faire "let them eat cake (and get sick)" approach--prevention may finally be getting its due. After all, we can only achieve so much cost-cutting through greater efficiency. The true savings will come from promoting wellness, not subsidizing illness.
Skeptics are focused, understandably, on the fact that the participants in this photo op have only pledged to voluntarily reduce costs. Was Monday's photo-op a turning point for the future of health care in America, or a pointless turn for health industry heavyweights trying to head off more stringent reforms?
What's the deal? Krugman sounding cheerful? Obama proposing real change? Health industry insiders tossing Harry and Louise off the cliff à la Thelma and Louise?
And all this on a Monday. Coincidence, or the handiwork of the Healthy Monday Mob? Call them the Cosa Just-Say-Nostra--you know, the folks who want you to jumpstart each week by going meatless, or smokefree, or passing up the passive tv viewing to get out and bike, or hike, or get your butt to the gym.
The Healthy Monday campaign--a non-profit public health initiative launched in collaboration with Johns Hopkins University, Columbia University and Syracuse University--has done the math. They've figured out that we could save billions, if only we could make a dent in all those chronic, preventable--i.e., self-inflicted--diseases whose rising costs will deliver the knock-out punch to our reeling economy if we don't shape up.
Ah, but what about Big Pharma, the "military-industrial complex" that's made a fortune peddling Lipitor, Prozac, Viagra, and other pricey prescription drugs for our modern day maladies? We may be the most medicated nation on earth; as Melody Peterson notes in Our Daily Meds, Americans doubled what we spent on cars from 1980 to 2002; during the same period, our spending on prescription drugs jumped by 17 times. Won't their bottom line suffer if we start taking better care of ourselves?
And then there's Big Pharma's best friend, Big Food, the cheap carb cabal whose primary purpose is to maximize shareholders' profits by encouraging Americans to load up on crappy processed foods full of empty calories and contaminants.
I don't want to say that unfettered capitalism is bad for your health, but, well, unfettered capitalism is bad for your health. And the planet's. Hence the current controversy over Annie Leonard's Story of Stuff video, which does a brilliant job of connecting the dots between our rampant consumerism and the toll it takes on ourselves and our surroundings.
Leonard's video, an inspired collaboration with clever animator/activist Louis Fox and his team at Free Range Studios (who also brought us The Meatrix series)--is "a cheerful but brutal assessment of how much Americans waste," as the New York Times described it.
The video has proven to be a powerful teaching tool about the perils of mindless consumption. But that message plays better in some communities than others; the Times article cites a school board in Missoula County, Montana that "decided that screening the video treaded on academic freedom after a parent complained that its message was anticapitalist."
I'm not quite clear on how pointing out the downside of our shopaholic culture infringes on academic freedom. But, as Raj Patel, author of Stuffed and Starved: The Hidden Battle For The World Food System, is fond of noting, what we've got here in America is not a democracy, but rather a "Mountain Dewmocracy"--that is, the illusion of choice.
Lehrer: I read that you don't vote, is that right?
Carlin: That's right, that's right...
Lehrer: You've been quoted saying that elections only give us the illusion of choice, that's how you feel?
Carlin: Yeah, I think Americans are led to feel free by the illusion of choice, all through this culture. The only choice you really have in this country is paper or plastic, cash or credit, diet or regular, Coke or Pepsi. We don't really have choices in this country.