Hi! Hello.
Kevin and Eric here again. You know us! The guys from a couple weeks ago. Best friends. One's gay, the other straight -- we go on quad dates with girls and their best gay guy friends. If not, then check out our earlier post Quad Dating.
Since our first blog post a couple weeks ago, the requests for dates have been POURING in. This is great news for us. Hottie duos from all over the tri-state area have been sending us so many flirty messages. We figured we'd share some of them here.
We created fake OkCupid usernames to protect identities, because let's face it -- most real one's are embarrassing. Like "falconnebula," what is that? (Note: that's our screen name. #LOL)
New Message - Feb 11, 2014 - 3:08 am
MightWannaCheckThat
Age 29. New York, NY
72% Match
"Ha! How's it goin bros."

"It's going great! Eric just finished making some weird breakfast quiche thing, and Kevin's
listening to that one Lorde song. Not Royals, but the other one." - Kevin and Eric

"Ha. Nice. Who's the gay one?"
New Message - Feb 8, 2014 - 5:48pm
Luvjamesf
Age 33. New Haven, CT
02% Match
"OMG Eric looks just like my hubby, James Franco!"
"After much research, we've concluded that Eric actually looks like a cross between Steve Buscemi and Angelina Jolie (but with the heart of a young Bette Midler)."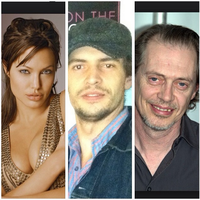 - Kevin
"Kevin looks like Carrie Bradshaw."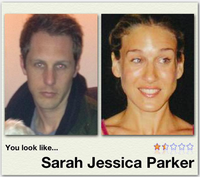 - Eric
"Eric, no I don't. I'm gonna change the password on the profile if you don't stop screwing around." - Kevin
"Whatever." - Eric
New Message - Feb 7, 2014 - 4:14pm
45mixertune
Age 25. New York, NY
23% Match
"Ever thought of expanding into an octodate? This is Bethany, btw."

"You mean like orgies and stuff? Of course we've thought of that! Acton? Only in our wildest fantasy world... - Eric and Kevin
"I like that! Which is the gay again. I hope it's Eric cause he's super hot."
New Message - Feb 6, 2014 - 6:02pm
thiswonthurtpromise
Age Unknown. Hoboken, NJ
100% Match
"Hi. Shannon here! What if I wanted to date both of you at the same time? I HAVE been told I fuck like a man! :) you guys make me smile. Hehe"
New Message - Feb 4, 2014 - 8:02am
partfunpartsexy
Age 38. Long Island, NY
45% Match
"What kind of guys are you into Kevin (the gay one, right)? I have mostly Asian guy friends but I enjoy all colors of the rainbow!"
"We DO NOT judge based on... you know, race and stuff. But if you look anything like this:

...then the answer is definitely yes! Give us them pot-o-gold rainbow kissies-n-huggsies!" - Kevin and Eric
New Message - Jan 30, 2014 - 8:23pm
Perfect1981
Age 32. New York, NY
87% Match
"Is this for real? If so, we're so in! My gay bestie, Kyle, is awesome! He loves space and orcas. Wait who's the straight in the profile pic?"
"It is real! We've been having a blast doing this. Dating with your best friend is the only way to date. I think our only issue so far is trying to convince people to come out to Red Hook with us. Where do you guys live? We should all meet up. Wait, Kevin's yelling at me from the living room. He wants to know what kind of orcas -- resident, transient, or offshore -- your gay bestie likes the best?! P.s. Kevin (gay) is the lighter haired dude. Eric's (str8) the darker haired guy.- Kevin and Eric
"Hey, it's been a couple of weeks. We're still down for that date!" - Eric and Kevin
Sorry Perfect1981 no longer has an account.
Tune into episode 2 of Besties!