StyleWeek
is a weeklong celebration of fashion, design and culture. At its core are daily formal, invitation-only runway fashion shows for buyers, press and stylists from the Northeast and major metropolitan areas throughout the country. Modeled on major Fashion Weeks in cities like New York, Milan, Paris and London;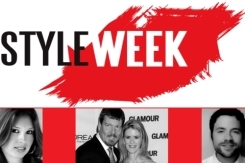 >

StyleWeek Providence is New England's only fashion week event that focuses on the business of fashion. StyleWeek's shows feature a range of designers, introducing both new talent and latest collections from internationally recognized fashion houses to buyers and media.

This week is destined to be a hit as designers, buyers, celebrities, media and the who's who of fashion and style assemble at it's central location all week at the Providence Biltmore, located in the heart of Providence. This dazzling show will feature designers:

-- Jessica Abernethy
-- Karen Beebe
-- Daniela Corte
-- Kelly Eident
-- Jennifer Greeke
-- Jimmy Guzman
-- Jeff Lahens
-- Sam Mendoza
-- Maria Del Carmen Mercado
-- Jonathan Joseph Peters
-- Sarah Prost
-- Philip Sawyer
-- Joseph Aaron Segal
-- Avni Trivedi
-- Andrea Valentini
-- Samuel Vartan
-- Kara Wickman

Style, fashion and design are nothing new for Rhode Island. However, Rosanna Ortiz Sinel is laser focused on placing her stake as visionary of a new form of showcasing talent - and people are noticing.

Rosanna Ortiz Sinel is the Founder and Executive Director of StyleWeek Providence. The former co-founder of a Washington, D.C. boutique public relations agency-she has specialized in fashion public relations since 2001. Rosanna created StyleWeek Providence as a vehicle to get Providence on the fashion destination map as well as form a path for fashion talent to reach the mainstream. Rosanna is originally from southern California but now considers Providence home and firmly believes that this city has the potential to showcase emerging and established designers.

With overwhelming success following the inaugural June 2010 StyleWeek, StyleWeek Providence will now be a bi-annual event allowing designers to debut their seasonal collections in June and January-closely echoing the industry standard. This season, Rosanna also reached out to fashion forward celebrities such Alex McCord and Simon van Kempen from the TV hit show, The Real Housewives of New York City on Bravo TV, and asked them to be the Ambassadors for Style Week.

Get ready for a week long event and stay tuned for what StyleWeek has in store for you as StyleWeek continues to stand alone as a runway launching pad for fashion, design and culture. This is reality. Are you watching Andy Cohen?
From left to right, Founder & CEO, Rosanna Ortiz Sinel, Style Ambassadors & Real Housewives celebrities, Simon van Kempen & Alex McCord, Designer from Project Runway, Jonathan Joseph Peters

A brief recap of Styleweek Providence's Inaugural shows 2010

Design: Jonathan Joseph Peters

Fashion Photographer: Daniel Gagnon

Handbag Designer: Andrea Valentini

Design: Jonathan Joseph Peters

Design: Jess Abernethy
For video highlights of the first night click here: StyleWeek Fashionable Starthttp://www.projo.com/video/?bcpid=221189328001&bckey=AQ~~,AAAAGXdrAiE~,GggrMDtPGfBs1MmoDfLm0fEJl1PgayBx&bctid=753114408001
Follow Kevin DeSoto on Twitter: www.twitter.com/Kevin_DeSoto