StyleWeek is a weeklong celebration of fashion, design and culture. At its core are daily formal, invitation-only runway fashion shows for buyers, press and stylists from the Northeast and major metropolitan areas throughout the country. Modeled on major Fashion Weeks in cities like New York, Milan, Paris and London;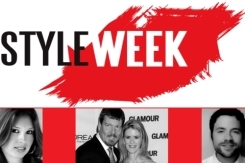 >

StyleWeek Providence is New England's only fashion week event that focuses on the business of fashion. StyleWeek's shows feature a range of designers, introducing both new talent and latest collections from internationally recognized fashion houses to buyers and media.

This week is destined to be a hit as designers, buyers, celebrities, media and the who's who of fashion and style assemble at it's central location all week at the Providence Biltmore, located in the heart of Providence. This dazzling show will feature designers:

Style, fashion and design are nothing new for Rhode Island. However, Rosanna Ortiz Sinel is laser focused on placing her stake as visionary of a new form of showcasing talent - and people are noticing.

Rosanna Ortiz Sinel is the Founder and Executive Director of StyleWeek Providence. The former co-founder of a Washington, D.C. boutique public relations agency-she has specialized in fashion public relations since 2001. Rosanna created StyleWeek Providence as a vehicle to get Providence on the fashion destination map as well as form a path for fashion talent to reach the mainstream. Rosanna is originally from southern California but now considers Providence home and firmly believes that this city has the potential to showcase emerging and established designers.

Get ready for a week long event and stay tuned for what StyleWeek has in store for you as StyleWeek continues to stand alone as a runway launching pad for fashion, design and culture. This is reality. Are you watching Andy Cohen?