In the world of the alcoholic beverage known as sake, I find myself at a loss every time I order. "What was the name of that sake that I liked that one time? Oh yeah, it was... wait... no, that can't be right... yes, that's definitely the... you know what, how about you just bring out the house bottle, I forget the name..."

I would say that I'm more advanced than your average American sake drinker, for the sole reason that I drink sake cold, and wouldn't dare touch the hot stuff. Someone once told me that it comes out of box and is the worst quality sake out there, hence the awful burn and massive headache usually to follow. I asked around and found that it's true, drinking hot sake is like drinking bad boxed wine. It's heated to mask all the impurities.

However, I, like many Americans constantly find myself at a loss every time I want to indulge in a bottle of cold sake on a night out with friends. The list of brands that I can name off the top of my head are... well zero. There seems to be a void between the Asian beverage makers and consumers in this country. You are in the mood for a premium beer, well that's easy... Peroni, Stella Artois, Heineken. Pick your poison. Top shelf vodka... well that is painless as well. Grey Goose or Belvedere. But when it comes to sake, I just don't know where to start.

That is until I discovered Rock Sake on a recent night out at Geisha House in Los Angeles. Just as I was going through the usual process of trying to figure out the name of the sake I liked before I ordered, I glanced over at a table across from me and saw something that caught my eye.

Rock Sake?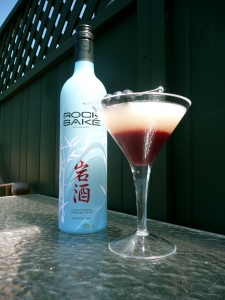 Was I reading that right?

"Waiter -- one bottle of Rock Sake please." Well that part was simple. I ordered a bottle I could actually pronounce and five minutes later before the waiter poured it I could still remember the name. Off to a good start. Now, let's actually see if this thing is the real deal.

As my friends and I skeptically took the first sip we all looked at each other and had the same look on our face. "That was really, really good."

A sake that had a smooth taste and a cool name... I was sold.

I did some research and put myself in touch with the owner of Rock Sake, Seth Podell.

Just over a year ago, Seth introduced Rock Saké -- the first ultra-premium American named, American-made sake (in Junmai Ginjo and unfiltered Nigori varieties). In that short time, Rock Sake has become available in over 200 restaurants, bars and markets in California, Nevada and Illinois -- including Michael Mina's XIV, Thompson Beverly Hills, Danny Masterson and Gerard Butler's Shin Hollywood, Geisha House, Koi, Katsu-Ya, Katana, RockSushi most California Whole Foods and even Chicago's Wrigley Field.

Podell says, "Our goal is not only to be the sake of choice in high-end Asian restaurants, but the one sake available in every restaurant."

He sees sake as complementary with every type of cuisine and is looking to expand the company's presence in 2011 with plans to be in all 50 states by the end of the year.

He loves to emphasize the sake's strength as a cocktail mixer and is slowly changing consumer perceptions about the usual way to indulge in sake.

Some of the great Rock Sake-based drinks they've created include The Blue Cloud (happens to be the best selling cocktail at the Wynn resort in Vegas), Blackberry Fizz (at the W Hollywood) and the Cucumber Saketini (at Geoffrey's in Malibu). It also goes quite well in mojitos, caipirinhas and saketinis.

Rock Sake has a huge advantage brewing its sake -- made from Sacramento valley rice, Oregon mountain spring water, Japanese koji mold and yeast -- in the US. The company guarantees it is fresher than imported sake by as many as six months.

And for all of you health nuts, Rock Sake also has 50% fewer calories than Vodka, is gluten and sulfite-free.

It is safe to say I have this name stored in my memory and I won't be caught for a loss of words next time the waiter asks me for my sake preference. Rock on.
FOLLOW HUFFPOST