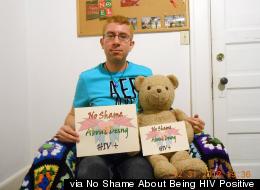 The "Rise Up to HIV" campaign was inspired by an image of Chelsea Clinton holding a sign for the Global Fund to Fight AIDS, Tuberculosis and Malaria. My vision for this campaign is to mobilize people across the United States and the world who are willing to stand up in an effort to reduce HIV stigma. Participants are empowered by the act of pairing a simple statement with their personal story and photo. In turn, these stories inspire hope and empower others to fight stigma. This campaign identifies and mobilizes individuals who are making a difference in their communities. When you are engaged in your own care, you'll engage others, which will in turn create healthier communities.
This is not the first anti-stigma campaign, and it certainly won't be the last. Since receiving my HIV and hepatitis C diagnoses nearly three years ago, I have seen some amazing campaigns doing good things in communities across the country and the Web. But in my opinion, not enough awareness and education campaigns can exist to tackle this issue.
As stated, the purpose of this campaign is to create an overall healthier HIV/AIDS community by reducing stigma through the mobilization and engagement of individuals in communities across the world to proclaim that there is no shame about being HIV-positive. How is this being accomplished? Through the power of social media, and through an army of caring and compassionate individuals, either infected with or affected by HIV/AIDS, who choose to take part in this campaign. Organizations are strongly encouraged to become involved in this campaign.
I will keep this campaign going for as long as possible, helping eradicate stigma one picture and one story at a time. This campaign will carry on, evolve and grow and will help in bringing an end to this epidemic. We know that stigma adds fuel to this epidemic, and I will keep on going until we see the end of HIV/AIDS. In the end all the participants will have helped make this campaign the success I feel it will be. This sign-focused campaign is the first phase of a multi-phase approach. Details will be forthcoming in the coming weeks and months.
We hear the word "stigma" thrown around a lot, but do we all know what it is? AIDS-related stigma refers to prejudice, negative attitudes, abuse and maltreatment directed at people living with HIV and AIDS. The consequences of stigma are wide-ranging: being shunned by family, peers and the wider community; poor treatment in health care and education settings; an erosion of rights; psychological damage; and a negative effect on the success of HIV testing and treatment.
Are you currently facing stigma? Well, know this: You matter, your life matters, and you are filled with purpose! You are no less of a person because you have HIV, and if you are treated and adhere to your medication schedule, you can live a very normal and productive life (like many you see in the photos in this campaign). You can still dream big and live out those dreams, because your dreams are not infected. Don't let HIV take away your power; instead, become empowered and rise up to HIV!
How to join the campaign:
On Facebook: Simply tag Rise Up to HIV or send a message to Rise Up to HIV containing your photo and a sentence or two about yourself, or a longer bio if you have one, or links to any of your blogs, videos, etc., that you would like for us to feature. Visit the event page to see who else is participating, and you may visit the Facebook album of folks who have already submitted their photos.
On Twitter: You can tweet an image and a sentence to @RiseUpToHIV, and use the hashtag #TeamNoShame.
If you are not on Facebook or Twitter, you can email your photo to noshame@riseuptohiv.org, and I will be sure to place it in the album on Facebook.
I realize that not everyone is able to be public about their HIV status. I have received many messages stating as such, and many words of encouragement. Their support is equally precious. My reassurance to those who live in a state of fear and repression is a promise: We will keep on keeping on until everyone is free to be able to openly declare that there is no shame about being HIV-positive.
We need to get people talking about HIV/AIDS again -- in schools, at the dinner table, in the car, on the radio, TV and all throughout social media and with foot soldiers on the ground. We need all hands on deck if we are going to finally realize the end of this epidemic.
There is no greater feeling or power than being able to stand up to your fears, not being held hostage by your diagnosis, being amongst people who understand and being knowledgeable or gaining greater understanding of something you may have thought you had no control over but actually do. Rise up to HIV and help end the stigma! Be part of #TeamNoShame.
PHOTOS:
No Shame About Being HIV +
My name is Josue HIV+ since 2009, 29 years old, homeless, living in the U.S. on my own without any family. I am hoping and working towards a better life in the US.

I am Brother Barnabas-Francis n/SSF (novice in the Society of Saint Francis) and I was diagnosed in 2001. I joined SSF in 2008. I am not ashamed of my status and believe that those who can should stand up and be counted so that we can end the stigma!

Maria's Journal, started by Maria Mejia has leveraged social media via video blogs, blogging, public speaking, and press interviews to continually combat HIV/AIDS stigma, answer questions, and advocate for the poor and disenfranchised. During the ongoing Florida ADAP crisis, she used her online presence to spread the word to the state's Latino community, and others, to help galvanize support for the AIDS Drug Assistance Programs. Maria has been HIV-positive since she was 18 years old. Maria's Journal can be viewed online here.

Bishop Joyce Turner Keller has lofted the term "southern hospitality" to an entirely new level. She is not only the founder and CEO of Aspirations, a non-profit faith-based community service organization, but someone who is living with HIV/AIDS herself, and has dedicated herself to educating, supporting and inspiring others living with HIV/AIDS throughout the nation.

We are the Lorain County Aids Task Force . An all volunteer HIV Social Service Agency & we agree there is No Shame About Being HIV Positive. We are a community that cares and together we WILL make a difference.

Sonya rises up to HIV to let the world know "have no shame about being HIV +" Though, HIV negative Sonya has experienced the tragic toll of this epidemic. She lost many friends. She takes on AIDS Awareness and Activism in memory of all of her friends who have died from AIDS and all who continue to live with this disease. She was featured in an article regarding her awareness initiative.

Mark (left) and Michael are HIV+ and enjoying life and love together. Mark chronicles life with HIV on his popular and funny blog, www.MyFabulousDisease.com

My name is Zee. I have been HIV positive for 25 years now and I had a daughter born with aids. I had to learn how to deal with this virus me and my child could have a happy live. I caught the virus from an iv drug user that did not tell me that he had the virus and I found out about it when she was born. I was 30 years old when I found out and I am now 54. My child who was born with aids is now 25.

K came to see me in the hospital on my 31st bday!!! This was taken on My 31st birthday 3 days after I was diagnosed with AIDS on Nov 4, 2010. I love this picture!!! You can feel the love between me and my daughter. I have since become undetectable, I am an avid advocate, I am working on my activism. Most importantly, I am still here to make great memories with my beautiful daughter!!! She is not ashamed to have a MOMMY who is HIV+ and I am not ashamed to be living with HIV!

Originally from Kenya, Africa Anthony age 25, has been HIV positive since 2008. He currently resides in Seattle, WA and is a LGBT and HIV Activist.

28 years and still thriving, NO shame here!

My name is Ryan Kelly. I contracted HIV in April 2010. I was a crystal meth addict at the time I contracted the disease. I thought my life was over and my positive status drove me deeper into my addiction. Against all odds, I rose above and stopped using drugs. I now live a fulfilling life. I used to say I had to "deal" with having HIV. Now I know it is simply something I am "living" with and I am not ashamed to say that I am HIV positive.

Dona Lackey is a single mother, a Medical Massage Therapist, a Massage Instructor and a Pharmacy Inventory Manager who was diagnosed HIV + in 2006. She refuses to let the Positive diagnosis become a life-style detriment and instead chose to inspire others through blogging and artwork. Dona is turning 40 years old in July 2013 and she lives in the Kansas City, MO Metro area.

My name is Joey Pineda, from NYC and I was diagnosed with HIV in 1990 at the age of 19 when I had no clue what HIV was I thought it was a simple cold virus. Today I've educated myself and try to help others educate themselves about sex, condom use, medications use and their possible side effects. I'm an open book if you like to ask me a question please do.

I was diagnosed December 13 2001 and was knowingly infected by my ex-husband who failed to tell me his status. I have known him since I was 14 years old and married him when I was 30 years old. I trusted his word which evidently was not enough. I am a native of Philadelphia Pa but currently reside in NC. I have been an open activist in my community since 2004.
A supporter of this campaign is Community Access National Network, a national 501(c)(3) dedicated since 1996 to improving access to care and treatment for those living with HIV/AIDS and hepatitis C.
If you would like to be an additional supporter, or if you are part of the media, you may contact Kevin Maloney at 202-290-2019 or via email at kevin@riseuptohiv.org.