As a self proclaimed news junky I am disappointed that we continuously listen to the media discuss polls instead of 'real' stories that capture the public's imagination. I truly believe we should be reporting on both the good and bad news, but the media is solely focused on the dire news of the day. There are many good news stories out there -- these stories offer hope, which will help us rebuild our economy.
Contrary to what you might hear in the media there are employers out there that want to help! To assist with the alarmingly high unemployment rate faced by veterans, my colleagues and I at UBM Studios Milicruit have created a virtual career fair platform designed to bring veterans and industry leading employers together as if in person, but from the comfort and convenience of their home or office. Our upcoming Veterans Day Virtual Career Fair alone represents over 5,000 job openings from the employers who will be participating.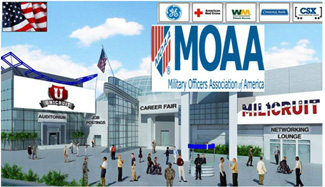 I was quite pleased to see that the U.S. Chamber of Commerce and the Department of Labor last week have come together so they can assist members of the military transitioning to the civilian workplace. That's not an easy adjustment for these young veterans in a sagging economy.
I am a strong believer that it is not only our moral obligation to help veterans who have sacrificed on our behalf, but it is also great for an organization's bottom line to look to veterans first for employment given all they bring to the table. What better way to say thank you to veterans for their service than with an opportunity to find suitable employment?
Milicruit is partnering with the Military Officers Association of America (MOAA) to deliver the Veterans Day Virtual Career Fair where we bring the career fair to Fortune 500 employers as well as veterans, military personnel and spouses. The event is supported by Colonel Coots at the Walter Reed Army Medical Center and we are also working closely with the Department of Labor (DOL) -- Vets and VA -- Vet Success. The virtual career fair will take place on November 4 and is FREE of charge for veterans to attend.
The career fair will bring more than 50 Fortune 500 employers -- GE, Verizon, P&G, Amazon, Waste Management, IBM, Citrix, Medtronic, Comerica and Bank of America -- together along with several government agencies such as USDA, FBI, DOE, among others. These employers bring all types of jobs from manufacturing to retail to telecommunications. We anticipate over 25,000 veterans will attend the event.
The virtual career fair is just like a live career fair, except that it will take place virtually! It allows veterans to visit employer booths, view and apply for jobs, upload resumes, chat with recruiters, network with peers and video interview, all from the comfort and convenience of home. Because the career fair is virtual, it is cost effective, time efficient and environmentally friendly. And since no travel is required -- a virtual fair opens the opportunities for individuals all over the country and provides employers with a wider talent pool to choose from. Because the career fair is virtual, it proves extremely beneficial to the veteran or spouse with a disability given they can attend from home and only need a high speed internet connection.
Additionally, UBM Studios' Unicruit is partnering with the Big East Career Consortium to deliver an interactive, 3D virtual career fair for students of 16 colleges and universities that represent the Big East Career Consortium. Participating schools include Cincinnati, Connecticut, DePaul, Georgetown, Louisville, Marquette, Notre Dame, Pittsburgh, Providence, Rutgers, St. John's, Seton Hall, South Florida, Syracuse, Villanova and West Virginia. This event will take place on November 10 and is also FREE of charge for college graduates and alumni of the Big East schools to attend.
The Big East Virtual Career Fair presents an excellent opportunity for participating employers to showcase their organizations to thousands of students and alumni. Each employer will have a customized virtual booth that will include full branding, videos, presentations, job postings, chat, resume exchange and video interviewing. A partial list of employers already signed on to participate include Procter & Gamble, Hertz, Aon, Memorial Sloane Kettering, General Electric, Waste Management, Sears Progressive, Vanguard, ADP and dozens more.
Imagine being able to recruit at 16 campuses in one day. Now imagine being able to do so without spending one dime on airplanes, rental cars, or hotels. What would that do to your bottom line, your work/life balance, and the environment? That is exactly what the employers who participate in this revolutionary approach to recruiting college talent will be able to achieve.
We know how difficult it is to find suitable employment in such a tough economic climate, but we are hopeful that in reporting news such as the virtual career fairs above, that it makes the search a little easier on all.
Here's a link to a short video that show you how it works If you are a veteran or a Big East college student or alumni, I hope we'll see you at one of our upcoming events! If you are an employer wishing to participate in this revolutionary approach to recruiting, simply send an email to kobrien@milicruit.com