No need to go overseas for a European experience, an evening at the Getty will do. Being elevated above the city immediately puts you in a "dream like" state of mind. A place that's infused with German, Italian and French, along with Neo-Classic art which transports you to somewhere else.
Orientalism, another scent of a place far far away... that's what brought me to the Getty in the first place. The Spectacular Art of Jean-Leon Gerome is on display until September 12th. My love for this subject has always been a sublime guide in my artistic direction.
Gerome who was a populist artist in his time, often painted with the aid of photography. A method which was both embraced and criticized. I can relate to the process of looking at a photograph and being inspired by it. Such as with this painting by Gerome.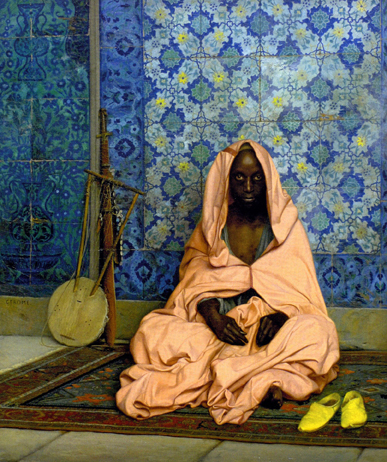 (Jean-Leon Gerome "The Black Bard" 1888)
When working on my own 1929 Spanish style house and on a client's Brentwood residence, I was inspired to sink the tile into the plaster finish walls to create a beautiful backdrop for the mirrors, cabinets & sconces.... Much like a Moorish bath house.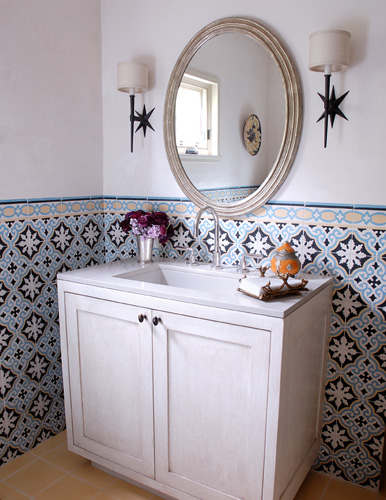 (Kim Alexandriuk Interior Design. Photo Credit: Yossi Sasson)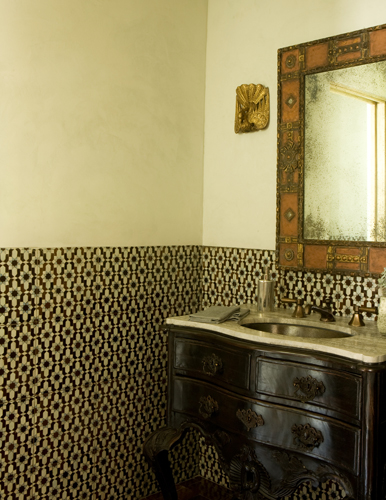 (Kim Alexandriuk Interior Design. Photo Credit: Miguel Flores Vianna)
Part of the criticism that Gerome received at the time was his subtle manipulations of the Oriental way of life. He was meticulously correct in his portrayal of detailed realism, but the scene or event was his interpretation and often subject to cultural stigmas of the time. His detailed paintings allow me to pull from a well of visual abundance, as I revert to these paintings for reference of tile, pattern, colors & textiles. What I find interesting is that the western world's obsession with Orientalism goes back to the 1800s and it continues to come back every so often. It garners new interpretations each time, and it's never redundant. One of my design idols is Alberto Pinto. I very much admire his contemporary interpretations on this subject as seen in these images.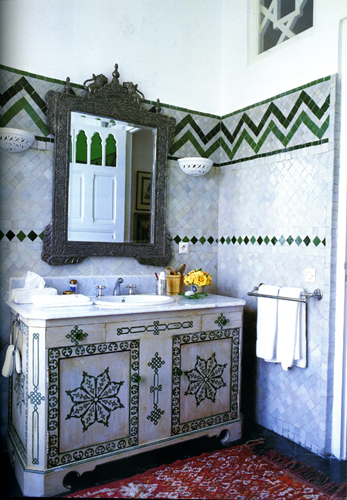 (Alberto Pinto, Orientalism)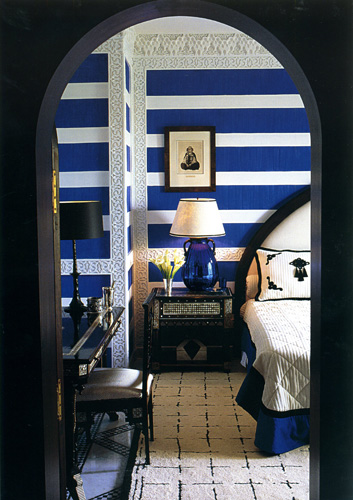 (Alberto Pinto, Bedrooms)
Pinto plays on the boldness of color and exaggerated graphic lines. When I was doing research for my "Modern Primitive" carpet collection with Doris Leslie Blau, I dove into my books on this part of the world. Much like a girl searching for her Aladdin prince on the Arabian horse, I was immersed in the details of organic patterns, trellis grids and geometric lines. I noticed the mixture of the strong graphic lines with the overlay of intricate layers of pattern. I found that play with strong (or straight) lines is very much existent in Moorish design. See the pool tile in Gerome's Moorish Bath.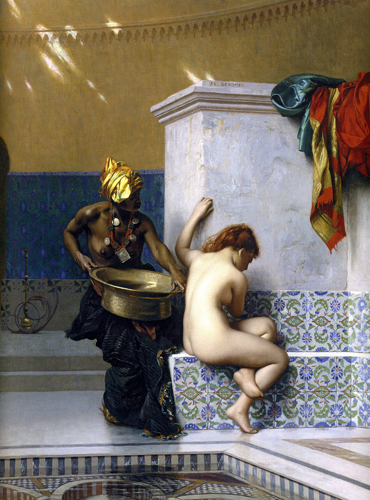 (Jean-Leon Gerome "Moorish Bath: Lady of Cairo Bathing" 1872)
"Berber Hills" one of my carpets, is my interpretation of a play on the overlay of lines and "Tattoo" carpet, has an interesting play of circles... very organic.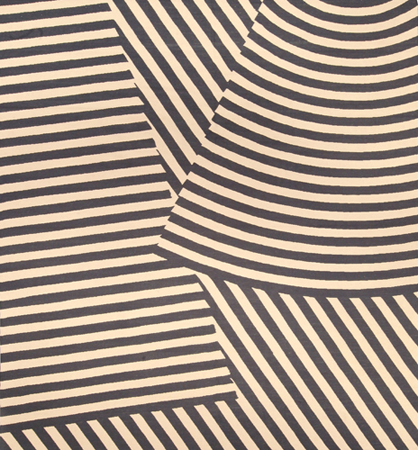 (Berber Hills carpet by Kim Alexandriuk for Doris Leslie Blau)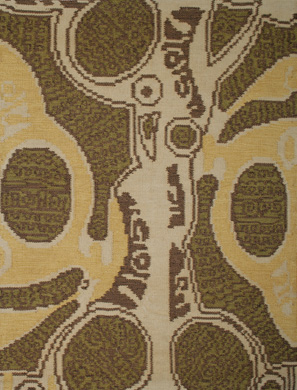 (Tattoo carpet by Kim Alexandriuk for Doris Leslie Blau)
In that regard, Southern California with it's fabulous Spanish Architecture is a wonderful platform for anything Spanish, Moorish or Arabesque. I like to take elements from this style and strip them down, much like SoCal is: Simple, light, warm and approachable.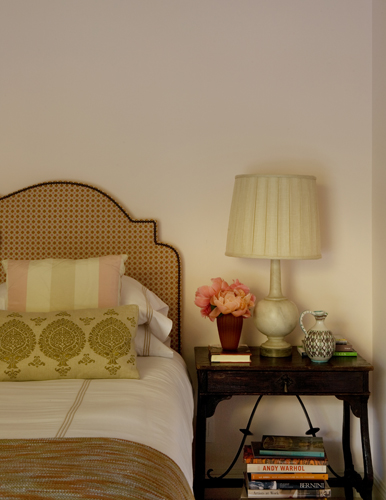 (Kim Alexandriuk Interior Design. Photo Credit: Miguel Flores Vianna)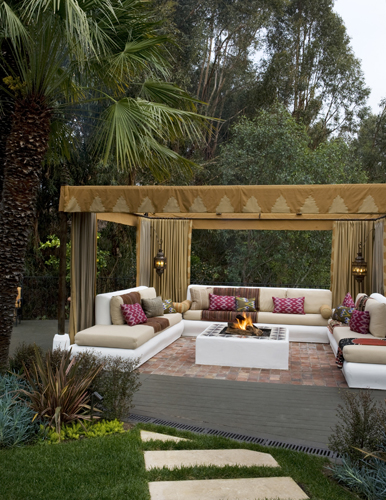 (Kim Alexandriuk Interior Design. Photo Credit: Miguel Flores Vianna)
Luckily there is much to choose from in that department and new products are springing up every season. Galbraith and Paul have brightly colored fabrics and Villa Romo and Jim Thompson contemporized the small geometric pattern.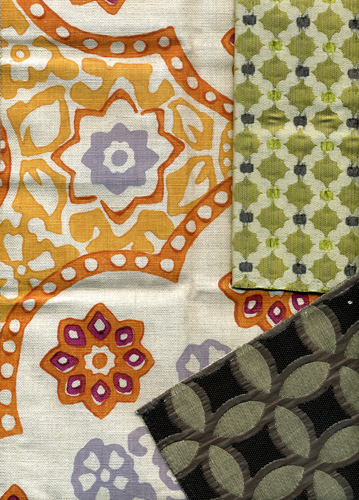 Your bed should not to be neglected either so check out Ankasa Marrakesh bedding (shown in Platinum)

http://www.sachinandbabi.com/bed/titanium-marrakech/
and lastly, we do need something to eat on... (Bongere Melamine Tangier)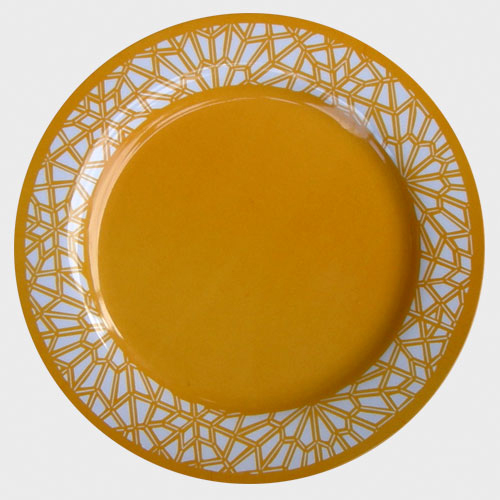 http://www.bongenre.com/patterns_detail_tangiers.html
SUBSCRIBE TO & FOLLOW CULTURE SHIFT
Every Friday, HuffPost's Culture Shift newsletter helps you figure out which books you should read, art you should check out, movies you should watch and music should listen to. Learn more