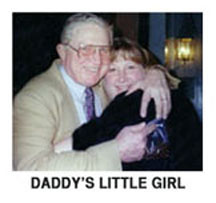 When I started my "bajillionth" and last diet in 2001, I didn't tell anyone except my girlfriend Cathy, my husband Mark, and my children that I was starting something new. I had started so many times before and stopped that I just didn't want anyone knowing right away. Besides, if I really did stick with it, it would be fun to surprise everyone, especially my parents who were so concerned for my health.
But surprising my parents was not to be. Just three days after joining Weight Watchers® for the last time, my wonderful, beloved father had a heart attack and died the next day. He never knew his prayers for his little girl had finally been answered.
In the midst of deep grief, and without much practice in counting POINTS® or planning my days--and surrounded by an overwhelming quantity of catered food and other people's cooking--I did my best to stay with it. I don't know why. I was so full of grief, I didn't care very much at that point, and no one even knew I was dieting.
I kept telling myself that it would have been so easy to put it off for another time. No one would blame me. With all the stress and grief, who would expect me to keep dieting? The timing just wasn't right, right? But something inside me had changed. I was ready to try again for the first time in ages, and I quietly stuck with it.
In the days that followed, we traveled to Massachusetts, Maine, and back home to Connecticut to get plans and affairs in order. We drove for hours. We ate out. Friends brought meals. A week later, on the morning of Daddy's memorial service, with a house full of extended family and catered food, I crept down the stairs. It was very early in the morning and I was planning on eating whatever I could that was on the table. I was tired of trying to figure out POINTS® and I missed my dad. Who could blame me for giving up after all this? I was ready for a serious binge.
I walked toward the table, plate in hand. The first dish I reached for was an apple crisp, nestled in among all the other goodies. There was a note on top: "Low-Fat Apple Crisp: only two points per cup."
I don't even know how it got there or where it came from, but it was all I needed to stick with it. I had two cups of Apple Crisp with my coffee and I was ready to face the day.
I Corinthians 10:13 says, "God will not allow you to be tempted beyond what you are able, but will with the temptation also make a way of escape that you can bear up under it." That apple crisp was my "way of escape," and it was exactly what I needed at that moment.
Two weeks later I returned to Weight Watchers®--and I'd lost more than seven pounds. That was just the beginning.
Through it all, I found something I never expected. Sticking with my diet was one of the things that brought me peace and joy during those grief-filled months following daddy's death. Many of you are faced with difficult, challenging, stress-filled circumstances and may be afraid that because of them it isn't the right time for you to work on the weight you want to lose. Well, it may not be. BUT you may find an inner happiness you didn't expect to find that comes from knowing that you're doing something for yourself that you want and need to do. You know that feeling, when you lay your head on your pillow at night with a smile because you "did it" one more day.
Let the success of your diet give you some small measure of joy and strength when you face tough times, instead of letting the difficult circumstances pull you away from your diet.
I often wonder--if I had given up right after daddy died, would I have ever gone back? Where would I be now?
Follow Kim Bensen on Twitter: www.twitter.com/kimbensen