Every weekend morning, my friend, writer Karen Clark and I take our dogs for a long walk along Ocean Avenue in Santa Monica. We talk about our work, listen to each others dreams, talk about our children, our families, the meaning of life.
This Saturday, as we walked I recounted the most vivid dream. In it I was walking through a sprawling house with a view of the ocean. There was a party going on, like a show opening. Robert Graham was in the bedroom very sick.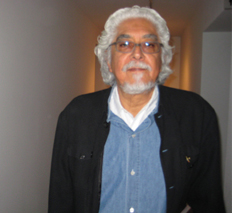 I surely dreamt this because I had recently heard he was in the hospital. As Karen and I walked past Wilshire and Arizona, I described the dream in every detail and resolved to write him a note and maybe even visit. My studio is blocks away from his. The art community in Venice is a small. I wanted to wish him well and felt the urge to tell him what it is like as a younger artist to have him as a shining star within the constellation of artists among us in Venice.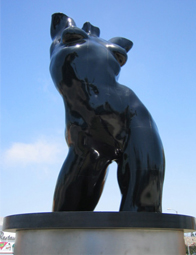 Venice Torso, 2007, Anodized aluminum, 6 feet (height). Venice Torso was installed at the Windward Circle in Venice, California in 2007. A gift to the City of Los Angles from Carol and Roy Doumani.
The first time I met him was years ago at one of his art openings at his studio. I was an art student at the time. Going to such an accomplished artist's studio for an opening was a big deal. It was on a small street where you can see the ocean half a block away. The place was packed, and there were several sculpture installations. In the center atrium, there was a striking army of busts, many of well-known actresses, nude from the waist up. The spots were lit from above. The figures, mostly women, were rendered with great prowess, slightly smaller than life size. What stood out was their strength. They were not objectified or fetishized -- they were beautiful and powerful. He re-introduced the nude to the world in a major way and I know of only a few collectors who don't have a bronze statue of his in their house. Eventually he appeared, with his mane of white hair, and took a group of us to an adjoining room where he showed us this massive sculpture of an athletic headless torso. It was a breathtaking sight.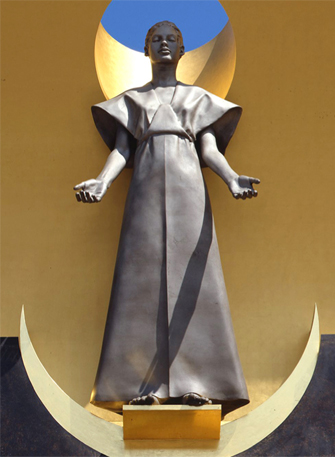 Figure from The Great Bronze Doors of the Cathedral of Our Lady of the Angels
In the intervening years, I met him enough times that we recognized each other, usually with beautiful Anjelica Huston by his side. He was usually quiet and always looked to me like an icon but when I got a chance to talk to him about art and painting, he spoke with the passion of someone who had just started. Once we sat next to each other at a dinner over perhaps too much wine he confessed that he couldn't stand landscape paintings. Really couldn't stand them. I was in the midst of preparing for a show that featured a lot of nature. We had a good laugh. I had just read an interview of Peter Doig where he said how a landscape without a figure or some kind of man-made structure rarely did it for him either.
Robert came to my most recent show and left a note in my gallery's book. He singled out my biggest gutsiest painting and said it was his favorite. It meant a lot to me. My husband and I went to his show opening at Bergamot Station a couple months later. He agreed to allow me to interview him for this column in the new year. He said we should come see his new studio. I was looking forward to it. That was the last time I saw him.
I just learned that he died on Saturday, the same night I had my dream. Far too young. We will miss him. Like many of his sculptures, he was a giant. In his work, he lives forever.
FOLLOW HUFFPOST