Marie Antoinette Gets a Royal Makeover at the Chateau Versailles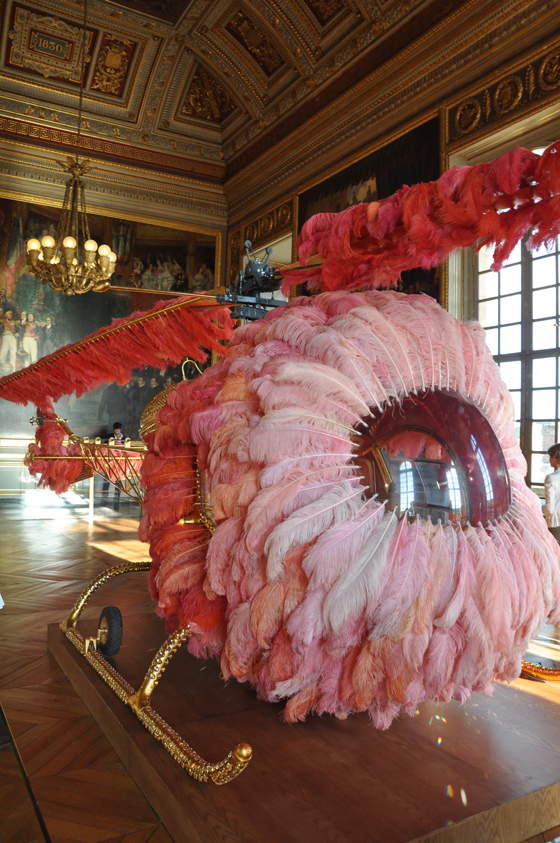 Joana Vasconcelos - Lilicoptère
at the Chateau de Versailles, 2012 Photo: Kisa Lala
The Château de Versailles was aflame with the fanfare Marie Antoinette would have expected had she arrived there in a chopper festooned with pink ostrich feathers, throwing cake-crumbs out the window. That's the way artist Joana Vasconcelos envisioned her entrance in her homage to the rock-star princess at the Sun King's former residence.
Vasconcelos has become one of the few contemporary artists since 2008 to be showing at Versailles (Jeff Koons in 2008, and Takashi Murakami in 2010 have preceded her).  As guests poured in to the Chateau's grand entrance and stairway, the patched, stuffed and tentacular "Mary Poppins," a trademark Vasconcelos construction of kitsch and pop, dominated the baroque setting of Versailles.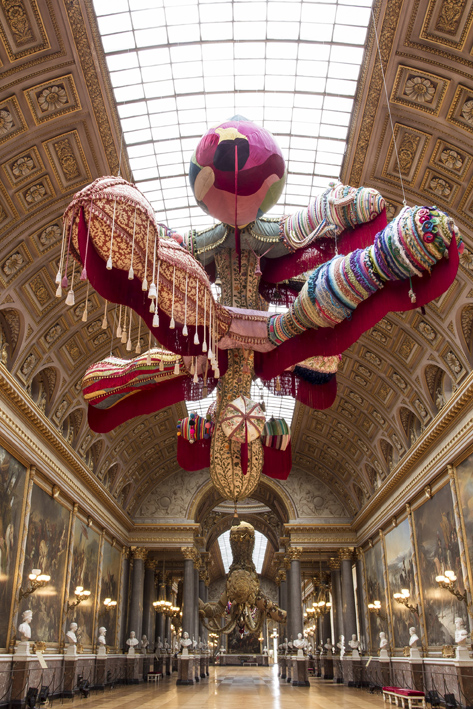 Joana Vasconcelos - Galerie des Batailles [The Battle Gallery] Royal Valkyrie, 2012 and Golden Valkyrie, 2012, and Valquíria Enxoval [Valkyrie Trousseau], 2009 - Photo: Luís Vasconcelos © Unidade Infinita Projectos

Vasconcelos told me that the chopper she designed was conceived in part after watching Kate and Prince William on their wedding day get into a Cinderella-carriage, while the family followed in modern buses. "The carriage of Marie Antoinette if she were alive today would be a super wonderful heli. This is the transformation of tradition -- an old tradition into a new object," the artist said.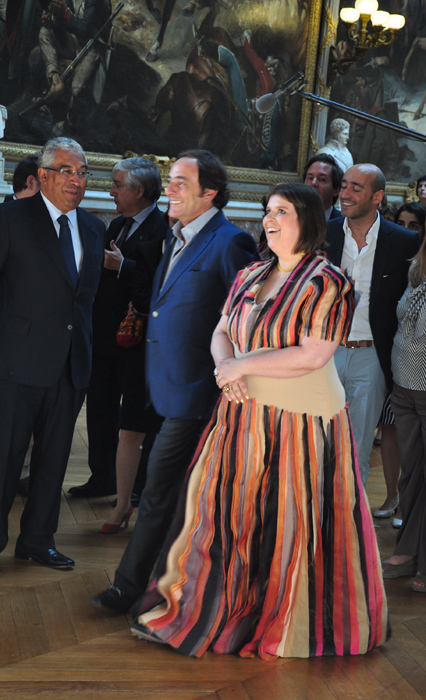 Joana Vasconcelos - enjoying the spotlight with her guests on opening night
at the Chateau de Versailles, 2012 Photo: Kisa Lala
Her artwork conspires and contrasts with the operatic extravagance of the pre-revolution era that sent its former residents to the chopping block. The Portuguese artist made an infectious splash at the Venice Biennale (at "World Belongs to You") with "Contamination," whose soft tentacles encroached with toy-like stealth into every orifice of Pinault's palazzo, and blossomed into a gigantic and monstrous threat.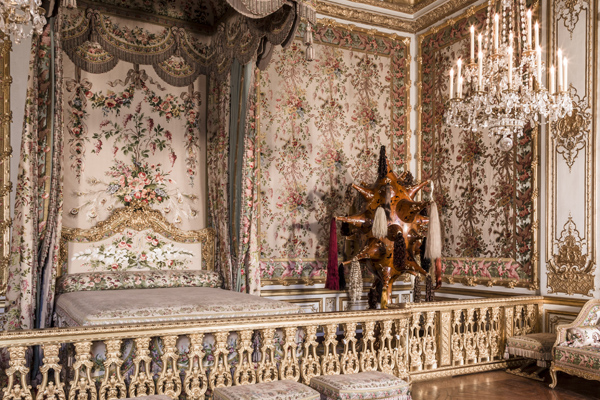 Joana Vasconcelos - Appartement de la Reine [The Queen's State Apartment]
Perruque [Wig], 2012 - Photo: Luís Vasconcelos © Unidade Infinita Projectos
Vasconcelos says she felt entirely comfortable with the ornate setting because her art has always made backstage references to European style. In Marie Antoinette's royal bedroom she displays a wig [Perruque], inspired by the coiffured courtesans that primped and promenaded through the palace halls. "I used materials that were in use at Versailles; instead of contrasting they integrate and communicate with the space, but with a very contemporary look and concept.  I used a Portuguese handcraft foundation to work in the same style as in Versailles -- the wood pieces in Marie Antoinette's room are exactly like the furniture there."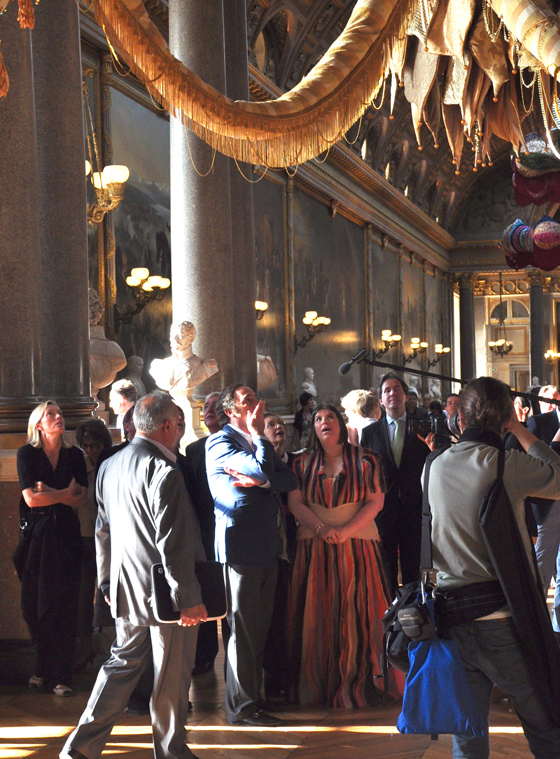 Joana Vasconcelos - Looking up at the Valkyries on opening night
at the Chateau de Versailles, 2012 Photo: Kisa Lala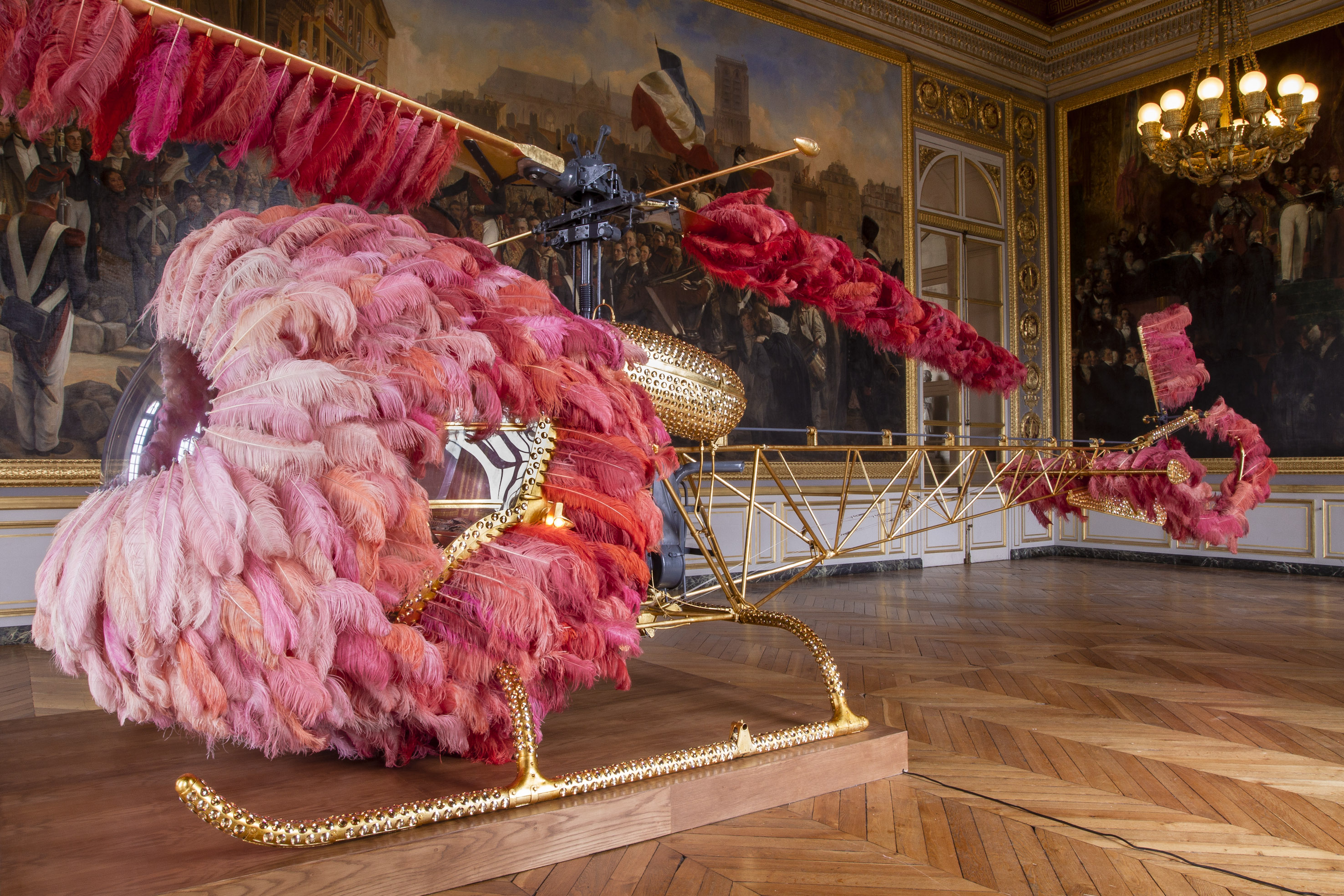 Joana Vasconcelos - Salle 1830 [The 1830 Room] Lilicoptère, 2012 - Photo: Luís Vasconcelos © Unidade Infinita Projectos
In "Coração Independente Vermelho" [Coeur Indépendant Rouge], she uses plastic cutlery to create mobile hearts that move to the melancholic notes of the Portuguese Fado diva Amália Rodrigues, which the artist says is a demonstration of the "traditional Portuguese heart, and a showing of Portuguese feeling."
Joana Vasconcelos - Salle des Gardes de la Reine [The Queen's Guardroom]
Gardes [Guards], 2012 Photo: Kisa Lala
Vasconcelos uses wools and textiles to mummify and render her artifacts tame. She feminizes the lion "Gardes" in The Queen's Guardroom, and smothers their power with delicate lacework. "The purpose of crochet is to protect and decorate furniture. It protects it from use and then decorates it," explained the artist.
Vasconcelos recently became a mother, and I wondered if the playfulness of children came into her work. "The truth is I don't make them playful. I do want the art to have an interaction with the public, but people no longer interact with art. They leave it to children, which I think is a problem. Adults should keep on interacting -- [playing] is not synonymous with childhood."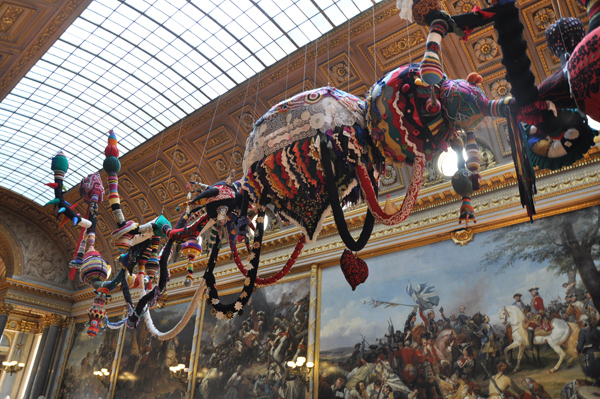 Guests stroll under the giant Valkyries, Joana Vasconcelos -Galerie des Batailles [The Battle Gallery], Royal Valkyrie, 2012 Golden Valkyrie, 2012, Valquíria Enxoval [Valkyrie Trousseau], 2009 - Photo Kisa Lala
Snaking across the vaulted ceiling of the Galerie des Batailles are the dragon-like wooly Valkyries, (female figures in the Norse myths that guided men in battle). Noting that textiles rarely left behind archeological traces, while surviving armor and metal weaponry created more of a masculine historical record, I asked Vasconcelos whether she had embedded signs of women's labor in these room that displayed the legacies of male war weaponry.  "Exactly, and my ideas were also to connect with the feminine world through the women's apartments and Marie Antoinette' rooms," said the artist. "In Versailles, the interior is feminine with jewel-like details, and over-accessorized with lots of paintings, fabrics and woodwork; a feminine environment while the outside is more masculine, with strict designs, and even political."
Of course, in the era of the Sun King, the men were also flamboyant dandies, flaunting extravagant wigs and excessive finery. What about her tampon chandelier, I ask, referring to an earlier piece of hers, "The Bride" [A Noiva] -- an overtly feminine piece, which would have had fantastic resonance in Marie Antoinette's own intimate chambers within the palace -- the real bastion of male power and wealth. "They censored the tampons, which is interesting because the director is a woman, the tampons would have been my central piece, and I was censored completely. Tampons are not a threat anymore, and it's stupid that you can't use something as common as tampons in an artist's work," said the artist, disappointed. Even so, Vasconcelos has adapted to the palace's grand designs -- and not lost her head -- while having a tremendous poke at the era's outrageous sense of pomp and pageantry.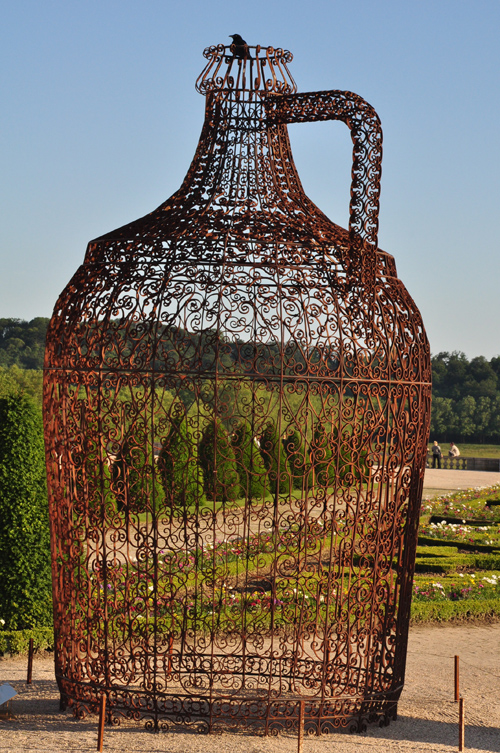 Joana Vasconcelos - Parterre du Midi [The South Garden], Pavillon de Vin [Wine Pavilion], 2011 Photo: Kisa Lala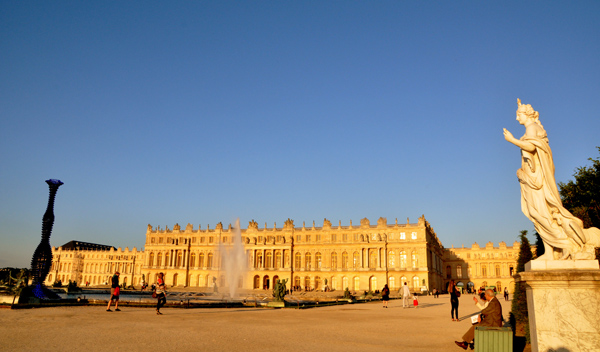 Joana Vasconcelos sculpture - in the gardens outside the chateau Photo: Kisa Lala, 2012
Text & Interviews: Kiša Lala Website
Huffingtonpost.com/kisa-lala
Follow Kisa Lala on Twitter: www.twitter.com/kisa_lala