 As Black History Month comes to a close, I thought I would share some resources for talking to kids about racism, in terms of both the historical context of our country and the present-day issues of prejudice.
I am a firm believer that we should be talking to our kids about racial differences from a very young age. At a certain age, all kids are prone to leaving others out based on external factors. This can be gender, race, disability, etc. I think kids need help to overcome this natural tendency to seek out "sameness." I also think they need intentionality, especially when living in non-diverse areas. Kids do see color -- and when parents ignore it, the lesson children learn is that diversity is something too scary to talk about.
I don't know that there is a universal timeline that fits every child, because maturity levels vary. But below I've listed some suggested books for each stage that can help parents start the conversation. I really believe that children are never too young to start learning about racial difference and the importance of fighting prejudice.
Books That Teach Kids About Race
The Colors Of Us By Karen Katz

The Skin You Live In, Written by Michael Tyler and Illustrated by David Lee Csicsko

A Rainbow of Friends by P.K. Hallinan

Shades of People by Shelley Rotner and Sheila M. Kelly

We're Different, We're the Same, Written by Bobbi Kates and Illustrated by Joe Mathieu

Chocolate Me! Written by Taye Diggs and Illustrated by Shane Evans

I Love My Hair! Written by Natasha Anastasia Tarpley and Illustrated by E. B. Lewis

It's Okay To Be Different by Todd Parr

Black is Brown is Tan, Written by Arnold Adoff and Illustrated by Emily Arnold McCully

Dancing in the Wings, Written by Debbie Allen and Illustrated by Kadir Nelson

Almond Cookies & Dragon Well Tea, Written by Cynthia Chin-Lee and Illustrated by You-Shan Tang

Whoever You Are, Written by Mem Fox and Illustrated by Leslie Staub

God's Dream, Written by Archbishop Desmond Tutu and Douglas Carlton Abrams, and Illustrated by LeUyen Pham

Snow in Jerusalem, Written by Deborah da Costa and Illustrated by Ying-Hwa Hu and Cornelius Van Wright

One Green Apple, Written by Eve Bunting and Illustrated by Ted Lewin

My Name Is Yoon, Written by Helen Recorvits and Illustrated by Gabi Swiatkowska

The Story Of Ruby Bridges, Written by Robert Coles and Illustrated by George Ford

If A Bus Could Talk: The Story of Rosa Parks by Faith Ringgold

My First Biography: Martin Luther King, Jr., Written by Marion Dane Bauer and Illustrated by Jamie Smith

Cassie's Word Quilt by Faith Ringgold

Sit-In: How Four Friends Stood Up by Sitting Down by Andrea Pinkney and Brian Pinkney

Heart and Soul: The Story of America and African Americans By Kadir Nelson

Meet Addy: An American Girl, Written by Connie Porter and Illustrated by Dahl Taylor

Martin's Big Words: The Life of Dr. Martin Luther King, Jr., Written by Doreen Rappaport and Illustrated by Bryan Collier

I Am Rosa Parks, Written by Rosa Parks and Jim Haskins (Author), and Illustrated by Wil Clay

Sojourner Truth's Step-Stomp Stride By Andrea Pinkney and Brian Pinkney

Henry's Freedom Box: A True Story from the Underground Railroad, Written by Ellen Levine and Illustrated by Kadir Nelson

Roll of Thunder, Hear My Cry By Mildred D. Taylor

Let the Circle Be Unbroken By Mildred D. Taylor

Chains By Laurie Halse Anderson

Elijah of Buxton By Christopher Paul Curtis

Lottie's Courage: A Contraband Slave's Story By Phyllis Hall Haislip

Narrative of the Life of Frederick Douglass By Frederick Douglass

Kira-Kira By Cynthia Kadohata

The Book Thief By Markus Zusak

The Diary of a Young Girl By Anne Frank

Esperanza Rising By Pam Munoz Ryan

8 Books For Black History Month And President's Day 50 Children's Books With A Positive Message 9 Patriotic Books To Read With Kids
I really want to emphasize that the books I've listed above are not just suggestions for African-American families or transracial families. I think all of us should be introducing these concepts to our kids. A study outlined in the book NurtureShock discovered that most white parents don't ever talk to their kids about race. The rule is that because we want our kids to be color-blind, we don't point out skin color. We'll say things like "everybody's equal," but find it hard to be more specific than that. If our kids point out somebody who looks different, we shush them and tell them it's rude to talk about it. It's kind of like the sex talk; if we never talk to our kids about sex, they are gonna have to figure it out on their own. Which will probably lead to some not-so-great influences filling in their gaps of knowledge.
Here are a few practical suggestions for developing an environment in which diversity is valued:
1. Take an inventory of your home's diversity. Are your toys sending a subtle message? Make it a point to buy dolls and action figures of every race. Watch how your kids react.
2. Be intentional in showing your children positive examples of other races in the media they watch. Some great examples are Go, Diego, Go!, Little Bill, Ni Hao, Kai-Lan, Dora the Explorer, and Cooking for Kids with Luis.
3. Take inventory of your own racial biases. Be careful with the language you use around your children. Avoid making stereotypical statements or racial jokes in front of your children (or better yet, don't do it at all).
4. Look for opportunities to immerse your family in other cultures. Try to find situations where your family is the minority. This is a great stretching and empathy-building opportunity for you and your kids. Try attending a minority church event or a cultural festival. Again, observe your child's reactions and open a dialogue about how that feels.
5. Read books that depict children from other races and countries. For an incredible list of multi-cultural children's books, check out Shades of Love at Shelfari.com.
6. Just observe. Watch how your children play with children who are different, whether that difference involves skin color, gender, disability or physical difference. Talk about it. Let your child know that you are a safe person to process their feelings and reactions with, while at the same time guiding them to accept children with differences.
7. Talk to your children about racial prejudice. Ask them to recall any they have observed. Encourage them to be advocates against bullying towards children who are different.
8. Lead by example. Widen your circle of friends and acquaintances to include people from different backgrounds, cultures and experiences.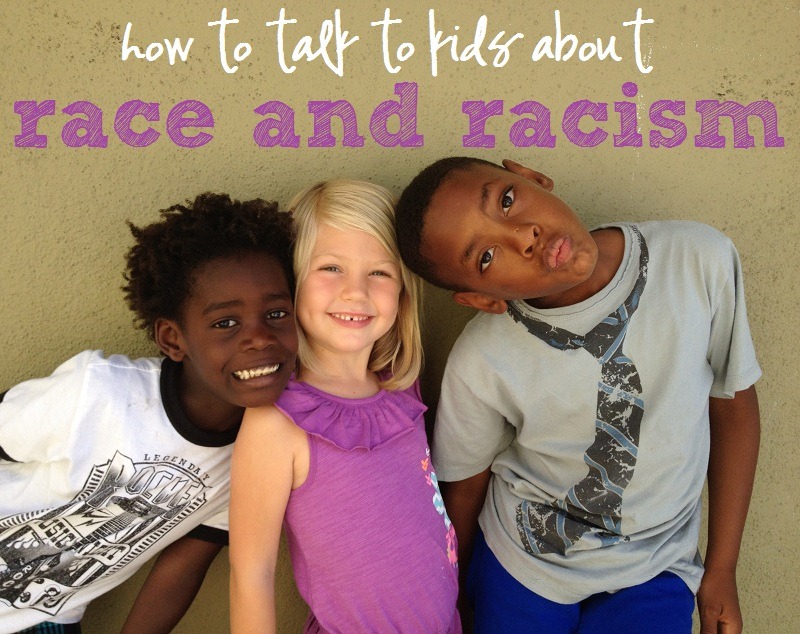 How do you talk to your kids about race? What books have you found to be helpful?
Follow Kristen Howerton on Twitter: www.twitter.com/kristenhowerton