If there were ever a week for a midcentury music revival in L.A., this must be it.
Wednesday marks what would have been rock and roll pioneer Buddy Holly's 75th birthday, and to commemorate the occasion, the late singer's widow, Maria Elena Holly, along with Phil Everly of the Everly brothers, Peter Asher of Peter and Gordon and actor Gary Busey (who played Holly in The Buddy Holly Story biopic) will be on hand to celebrate the famously bespectacled rocker at a special ceremony on Hollywood Boulevard.
Holly will be posthumously awarded a star on the Walk of Fame at 11:30 AM on September 7th, and the City of Los Angeles will declare the day "Buddy Holly Day."
The day before the event, on September 6, an album of Holly remakes called Listen To Me: Buddy Holly featuring Ringo Star, Brian Wilson, Jeff Lynne, Stevie Nicks, Jackson Brown, The Fray, Natalie Merchant and others, will be released.
And, on Thursday evening, September 8, legendary L.A. club The Troubadour (which opened its doors in 1957, the same year Buddy Holly's "That'll Be the Day" went to Number 1 on the charts) features a much-anticipated gig by Hollywood hipster favorites The Hopelessly Devoted.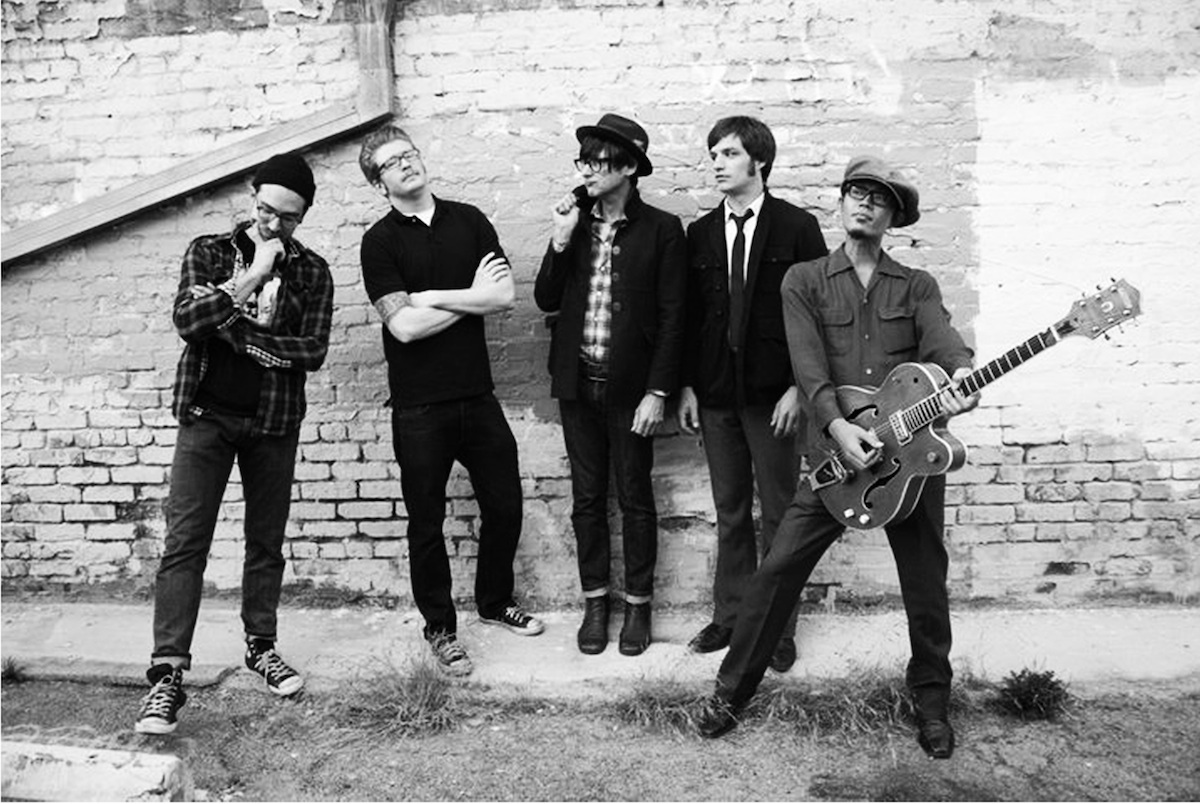 The Hopelessly Devoted (Photo credit: Phil Sufficool. Photo courtesy of The Hopelessly Devoted.)

Finally, here's a band that won't be offended when journos use the word "retro" to describe their music. Great thing is, as much as their clean rockabilly style recalls Buddy Holly, Elvis, and other heroes from the late 1950s and early 1960s, The Hopelessly Devoted produces a decidedly modern take on the classic looks and sounds that remind us why Los Angeles was the place to be in the middle of the 20th century.
Just to be clear, The Hopelessly Devoted is NOT a 1950s cover act or a Buddy Holly tribute band. Theirs is original, post-millennial rock which pays homage to the recording techniques of a bygone era, but the melodies and rev-ups are all about now.
The band's singer/songwriter (and resident Brit) Ian Webber says a combination of a childhood love for the records of Liverpool crooner Billy Fury combined with his recent stint as a booker for an L.A. club owned by the Stray Cats' Slim Jim Phantom resulted in a creative way to spend a forced hiatus from his other popular indie band The Idyllists, during which a few of his bandmates must tend to daddy duty and law school.
"It freed me up to start a side project," Webber says. "I always loved 50s music, and Elvis and Buddy Holly were the first things I was into as a kid."
Webber, a stickler for aesthetics and one of the auteurs behind The Tender Idols in the 1990s, knew he'd found the right guitarist for The Hopelessly Devoted when he saw Japanese player Eitaro Sako play in a rockabilly band on the Sunset Strip.
"He was playing an old 50s Gretsch, and when I tried to ask him what current bands he was into, he said he didn't know any of them.' I only listen to music from the 40s, 50s, and 60s,' he told me."
Webber and Sako, along with upright bassist Derek McGill, and drummer Sam Gallagher (both Idyllists alums), have nearly half a dozen homemade videos circulating on YouTube (see slideshow below), and hope to produce one for each of the 14 songs on their eponymous debut CD, for which The Troubadour appearance will serve as an official release party. (Joining the core members of The Hopelessly Devoted onstage Sept. 8 will also be Daniel Dempsey on organ and Nick Logie on piano.)
Standouts from the CD include "Crocodile Tears," "Watch That Girl," and "I Can Get Away With Anything," which serves as a perfect intro to the band's blend of old and new; it feels like you already know it by heart, but its "No, no, no" chorus will embed itself into your brain with the same vengeance as any current Top 40 hit.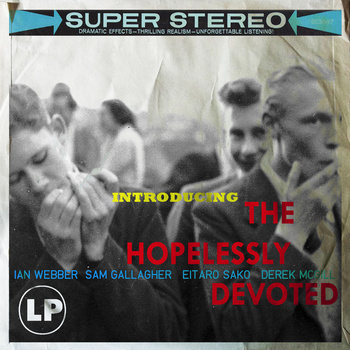 If the CD cover art feels authentic, it is; when Webber searched Flickr for an appropos 50s image, he ended up with a black and white shot from amateur photographer, Allan Hailstone.
"It was taken in 1958 when he was a boy at school," Webber says. "He happens to be from England, too, so we connected when I visited there recently, and I took him a copy of the CD. He loved it."
For more information about The Hopelessly Devoted's performance at The Troubadour, click here. For more information about Buddy Holly Day, click here.
The Hopelessly Devoted: A Sampler