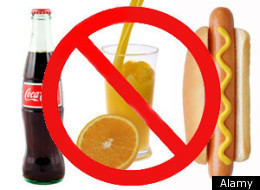 I remember it like it was yesterday. I was seven and, after school one day, my mom agreed to take me to my favorite fast food joint for a burger, fries and a cola because I did well on a test. As we pulled into the parking lot, my mouth started to water. I literally imagined putting the food in my mouth and the sweet taste of every chew. I was a picky eater and ordered my burger "plain." Since it was 1983, we were given a small yellow tent to put on top of our car because we had to wait for the "specially made" sandwich to come out. Those minutes seemed like hours. Obviously, this wasn't my first time eating fast food at my favorite place; the emotions I felt were conjured up from past memories that my stomach, brain and digestive hormones weren't soon to forget. Throughout the years, I appreciated my fast food treat more often than I should have and, by the time I was a teenager, I had a weight problem and needed to change my habits for my health. I saw a dietitian at Cleveland Clinic and the rest, as they say, is history. But I often wonder -- had I never been introduced to fast food, would I really have become so excited waiting in the car for my fat, sugar and sodium? Would the years have been a bit easier on my waist size and my insulin levels? Would I still say, "Man, I miss (insert favorite fast food item here)" every so often when I pass my old favorites places?
Today, I often get questions from parents regarding the healthiest foods to give their children. More often than not, they don't like my answers. Do you ever wonder about how the foods you're giving your child today may affect him or her tomorrow? Here are five to steer clear of.

Last March, the FDA probed whether there was a correlation between food dyes and hyperactivity in children. They discovered there was a lack of evidence to support the idea that food coloring contributed to hyperactivity, but found that it may contribute to hyperactivity in children with ADHD. A study out this month in the Journal of the American Academy of Child & Adolescent Psychiatry, found the effects of food colors were notable in regards to behavior in ADHD kids, but that further research was needed due to bias and sample derivatives. In addition to behavioral effects of food coloring, let us not forget that many foods containing added colors tend to be processed leaving them loaded with sugar, fat, sodium and empty calories for your little one. The UK and EU recently banned the use of some food dyes in food manufacturing. You can at least consider banning it in your own household, right?

Cola tops the list of foods consumed by America's youth that have the most sugar. Regular cola is high in both sugar and caffeine and, according to a 2003 study, drinking cola may also lead to excessive caloric intake (derived by this sugar). To give you some perspective, consider this: a typical 12-ounce bottle of cola has about 40 grams of sugar or about 10 teaspoons. That's the equivalent of 2.5 chocolate glazed doughnuts or three servings of vanilla ice cream. Furthermore, a 2008 study in the journal Hypertension found a direct relationship between salt intake and sugar-sweetened soft drink consumption. Bone health also becomes a concern when cola is consumed in excess amounts. One study found that long-term use of soft drinks was associated with poor bone health. This could be partly attributed to the fact that these soft drinks may be consumed in place of milk. Introducing cola early in life may encourage life-long cola consumption, increasing a person's risk for developing obesity and other chronic illnesses.

While fruit juice can surely be incorporated into a healthy diet, excess amounts may not be the best choice for your little one. A recent study in the journal Pediatrics found that fruit juice consumption was associated with weight gain in high risk (already overweight or at risk for weight gain) kids. I recommend parents give their child water, milk or whole fruit instead of fruit juice. If your child still requests fruit juice, mix three parts water with one part juice to help reduce the amount of sugar he/she is consuming.

Processed meals can be quick and easy to make, but not without a price to your health. Sodium is the culprit here; many pre-packaged, processed foods have an extremely high sodium level. Studies show that reducing overall sodium consumption may lead to a decreased risk of heart attack and stroke. You're probably not thinking of these two conditions now while your child is young; however, the food choices you make for them today will affect them later in life. Providing your child with high-salt foods during childhood effectively "trains" the taste buds to recognize -- and crave -- salt. A 2012 study in the American Journal of Clinical Nutrition looked at children ages zero to six months receiving starchy foods (a significant source of salt) during the time they were weaned off breast milk or formula and again at 36 to 48 months. The babies that had the greatest consumption of starchy foods had a preference for salty foods at pre-school age. What's fascinating about the outcome of this study is that early dietary experiences (two months months of age) really shaped the taste buds later on in life.

If the phrase "Nitrates and Nitrites... Mmmm Yummy" have never flown out of your mouth, why would you put them in the mouth of your child? Hot dogs and processed lunch meats -- frequent favorite kid foods -- often contain nitrates, a preservative added to prevent the growth of bacteria, add color or preserve flavor but also can increase colon cancer risk. A 2010 study in the journal Circulation found that consumption of processed meats was also linked to a higher incidence of both coronary heart disease and diabetes. That means tone it down on the hotdogs, mom! At the end of the day, the greatest gifts you can give your child are the tools to develop healthy eating habits that will stay with him/her forever. By modeling healthy eating habits yourself, you can significantly increase the chance that Junior will grow up with taste buds that yearn for whole, non-processed foods.
Follow Kristin Kirkpatrick, M.S., R.D., L.D. on Twitter: www.twitter.com/KRISTINKIRKPAT