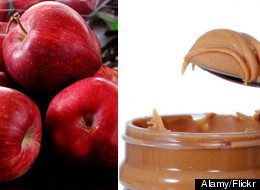 Losing weight and keeping it off has never been easy. Oftentimes, it seems that every corner you turn, there are obstacles to keep you from your goals. Many factors are to blame, from the company you keep to the line of work you're in. Increased variety in stores plays a role in our obesity epidemic, as does the increased availability of getting from point A to point B (motorized scooters, elevators, etc.) One of the biggest mysteries surrounds food -- what to eat, what to avoid, when to eat and how much. Deceptive food labeling, which can make unhealthy food seem healthy, adds to this confusion, as do so-called "diet foods," with their multitude of ingredients, many only recognizable by a chemist. What if there were a few diet-friendly, or, rather, diet-perfect foods that helped you lose weight? What if we all went back to the basics and ate food with fewer ingredients? Here are six foods that can help you to satisfy your cravings, keep you full and ultimately arm you with the tools you'll need to finally fight the biggest battle of them all!
Foods That Promote Weight Loss
Who doesn't love cheese? In fact, many of my patients start off with a common plea -- they could give anything up, but please, don't ask them to give up cheese! Well, there may be a happy medium. With just 80 calories, no carbs, portioned-controlled, easy to transport, and 100 percent satisfying, string cheese is perhaps THE perfect dieter's snack. A 2011 study in the Journal of Nutrition found that increasing consumption of dairy foods and protein during weight-loss efforts promoted fat mass loss and lean mass gain. Additionally, a 2005 study in the journal Obesity Research found that consumption of three dairy servings per day was associated with reduced belly fat in African-American women. String cheese is my only exception to the one ingredient rule due to the addition of enzymes in the processing of skim milk.

A 2003 study in the journal Nutrition found that women who consumed either three apples or three pears a day were more likely to lose weight and have better blood sugar control. As an added bonus, many studies have linked apple consumption to improved bowel function, as well as reductions in the risk of breast cancer and stroke. Flickr photo by little blue hen

Looking for a way to spice up your weight-loss efforts? Why not ditch the salt and use more pepper on your food? A new study in the Journal of Agricultural and Food Chemistry found piperine, a component in black pepper, may block the formation of new fat cells. That means adding pepper to food will not only spruce up your dish, but it also may spruce up your body's ability to literally block the formation of weight's losses biggest foe -- the evasive fat cell.

Ever heard of something called piceatannol? If you haven't yet, you may soon. A new study in the Journal of Biological Chemistry found that piceatannol, a component found in peanuts, grapes, and red wine, is similar to the compound resveratrol, and also had the ability to block a process in the body that allows immature fat cells to progress to mature fat cells. Peanut butter may be one of the best ways you can not only prevent fat cell growth, but also to curve your cravings. Nuts in general are high in protein and healthy monounsaturated fat. They can help to control your hunger by adding in a boost of protein, they can help to reduce your lousy LDL cholesterol and most importantly, they can lead you to lasting weight loss. A 2008 review in the British Journal of Nutrition found that nuts helped to lower body weight and fat mass. Additionally, nuts were found to have a positive effect on insulin sensitivity as well, thus helping with the prevention of Type 2 diabetes. Word of warning though, I'm talking about 100 percent peanut butter where the only ingredient is peanuts. You won't find the same effects with "traditional" peanut butter, or even reduced-fat versions that are often loaded with sugar.

What is one thing that the healthiest individuals in the world have in common? They all eat legumes. What's so special about this slowly-digested carbohydrate when it comes to you losing weight? A 2012 study in the Journal of Nutrition found that low-glycemic foods (those that are slowly digested, like lentils) helped to increase a hormone that assists in regulating metabolism of fat and sugar. In addition to this, low-glycemic foods were found to significantly reduce inflammation markers in obese adults. Flickr photo by Maggie Hoffman

High in fiber and low in calories, popcorn is a great example of nutrient density at its best. Nutrient density is getting the most amounts of nutrients with least amount of calories. So, for example, you can have three cups of popcorn for 100 calories, or you can have three licorice twists. While the calories are the same, the popcorn will give you fiber (making you full) as well a tons of antioxidants. In fact, a 2012 study found that popcorn could have even more antioxidants than some fruits and vegetables. The licorice, well, it will give you a big boost in blood sugar and insulin followed by a crash, followed by yet another craving. See where I am going with this? If you're going to snack while trying to lose weight, why not snack on something that will ensure you get the most bang for your nutritional buck? A snack that, after you're done eating it, actually makes you feel satisfied. Imagine that. Flickr photo by eddie.welker
For more by Kristin Kirkpatrick, M.S., R.D., L.D., click here.
For more on weight loss, click here.
Follow Kristin Kirkpatrick, M.S., R.D., L.D. on Twitter: www.twitter.com/KRISTINKIRKPAT