There's often a moment during fashion week when we -- the royal we meaning the editors of Bazaar -- look at one another and say, "Where are the clothes? The real clothes?" We haven't said that yet this season, and I wonder if it's because we've gotten accustomed to seeing editors trotting around in sheer jogging pants with purple knickers in full view; neon-orange gazar cocktail frocks at noon; and shoes without heels, by which I do not mean flats, I mean shoes that literally require all of one's body weight to teeter on the ball of the foot while there's air where the five-inch heel should be. What is real anymore? Does throwing a cotton mac over a pair of ruffled pantaloons make them real (see Marc Jacobs)? Does layering a T-shirt under a tulle dress that could do double duty in a ballet studio make it real (see Vera Wang)? Does putting two pant looks on the runway erase the fact that almost every other look was destined for a cocktail party (see Rodarte)?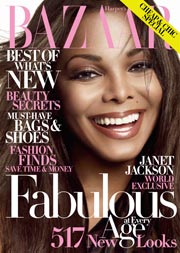 Maybe we're entering an era of the unreal. Case in point, Lady Gaga. Last night, she turned up late to the Marc Jacobs show and even later to the V magazine party in Marc's honor. The crowd was throbbing, and so were my feet. At 12:30, she took to the stage for two acoustic versions of her hits "Poker Face" and "Just Dance." And after that, I danced my way home.
For more from Bazaar on what did catch our attention at Fashion Week, see all of our Fashion Week coverage here.