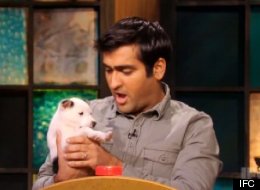 All the great game show hosts have a signature "look," from Bob Barker's year-round Brazil Nut-hued tan to Monty Hall's oversized lamb chop sideburns. As the host of IFC's new comedy game show BUNK, I, too, have worked to develop a style signature by being the first man or woman in TV history to host every show in my bare feet!

Why you ask? Well, first it eliminates the pesky problem of matching my socks and shoes with my parade of stylish suits. Second, it's about saluting the many, many fine entertainers who have come before and inspired me, the ones who left an indelible mark on their art and the world sin zapatos y calcetines."

So what are the five greatest barefoot moments in entertainment history, the ones that have inspire me to leave my loafers as I take to the stage? Well, here goes...
The Top Five Barefoot Moments In Entertainment History
Before Beyonce, actually way before Beyonce's Grandma was born, this famed American ex-pat was sexy-fying and shocking audiences with her gyrations, most often performed barefoot, on the stage at Paris's Folies Bergere and in film shorts of the 1920s and 30s. Without a doubt, the immortal Ms. Baker was the fountain from which other barefoot song and dance stars like Shakira, Taylor Swift and Joss Stone have sprung.

It was the greatest album that never was, Brian Wilson's art-pop follow-up to Pet Sounds, the lush and eclectic Smile. The by-then psychedelicized Wilson composed tunes like "Surf's Up" for the album with his bare feet in a huge sandbox, a 30-foot edition that was constructed to encircle the grand piano in his L.A. home. Set for a 1967 release, the original album was never finished and shelved for decades when The Beatles outdid him by unleashing their opus, Sgt. Pepper's Lonely Hearts Club Band. Another fun fact? Wilson's dogs, Louie and Banana, left "contributions" of their own in the sandbox, leading to its inevitable deconstruction!

Fred Flintstone was America's original hardworking caveman, the animated answer to The Honeymooner's loud-and-proud Ralph Kramdem, who even powered up and propelled his auto with bare feet. And whether he and his cohorts were in formal dress going to the "Rockpera," chasing down their next animal meal with spears or shilling their program sponsor, they did it all with bare feet to terra firma.

Dance in the movies was on life support since the days of Astaire and Kelly... until Quentin Tarantino brought the romance and kitschy steps back, along with rapid-fire dialogue and buckets of blood, in Pulp Fiction. In the famous dance contest scene at Jack Rabbit Slim's, Uma gets serious by kicking off her shoes before taking to the floor barefoot to rock to Chuck Berry's "C La Vie" with partner Travolta and win the prize. It's an action and sentiment that Bunk's barefoot host Braunohler repeats in tribute before each taping.

You're 27 and handsome as hell. You're the most successful songwriter of all-time, in the biggest-selling band ever. You're an icon who can change the styles and thoughts of your generation with a few words. You've just recorded your last album and are about to go solo. You're the greatest, the richest, so you can do whatever the hell you want. Beatle Paul helped create one of the most memorable album covers by crossing the street in front of Abbey Road, the studio where they recorded most of their work, in a smart blue blazer san shoes and socks. Sure it was a hot late-August day, but really it was a bit of inspired genius, which created a style moment that is still tops in the catalogue of cool.
Follow Kurt Braunohler on Twitter: www.twitter.com/kurtbraunohler