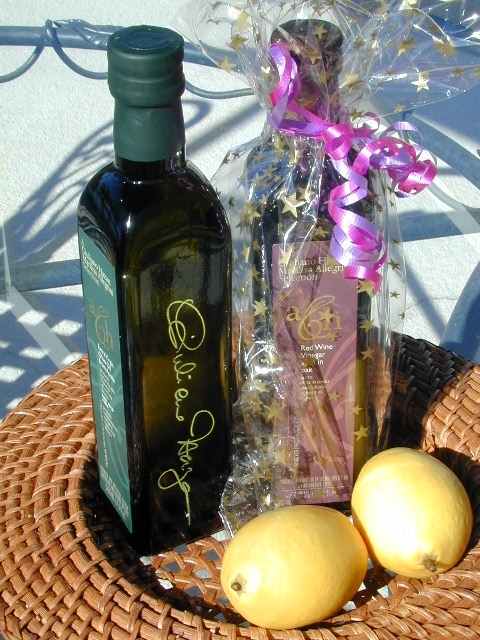 Extra virgin olive oils have been mentioned a lot in the news lately, and Giuliano and I are often asked, "How do you choose an olive oil"? Which ones do you like best? What does "extra" mean? Unless you are Madonna, how can you be a "like" a virgin? Extra virgin refers to olive oil that has no more than an .8% acidity level and comes from the first cold pressing of the olives. It's a great marketing idea, didn't the name make you stop and think? Giuliano and I import our own line of extra virgin olive oil A & H selections from the most southern region of Italy, Apulia. Made from 100% Ogliarola olives it is to olive oil what a single varietal estate reserve bottle is to wine. However, I also like oils from Liguria and the Veneto, makes lovely oils too. Our oil can be found on the Internet through cybercuccina.
When Italians use olive oil in cooking it is for the flavor it gives a dish. It is not just a base lubricant; therefore, the highest grade or extra virgin is always used. If you want to use a good quality olive oil, you should always look for extra virgin. Preferably, one with less than .3% acidity. All good olive oil (EVOO) is first/cold press. They have to be, otherwise heat is used to extract the oil, then often the acidity is too high and it needs to be lowered by the use of chemicals. That kind of oil isn't used by the Italians (I know) for human consumption. To put cold press on the label is redundant, which is why it never appears on labels of oil sold in Italy. True extra virgin olive oil is made with olives that were picked just at the ideal degree of ripeness and then immediately taken to the mill for processing. It is a labor intensive product that is expensive to produce. Please don't compromise, good olive oil is critical to good cooking.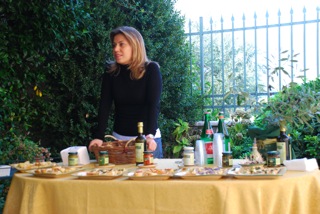 Ssllurrp, ssllurrp, a violent intake of air and oil into the mouth are the only sounds you hear from the serious olive oil tasters when they are concentrating on evaluating extra virgin olive oils. In Italian, the technique is called strippaggio, and it helps the aromas of the oil reach the inner parts of the nose. Because it is possible to chemically disguise oils and "pretend" that they are truly extra virgin, teams of taste panels evaluate olive oil for their texture, flavor, and aroma. Some unscrupulous manufacturers mix olive oils from various countries, while others mix nuts, most often hazelnut, or sunflower seed with their olive oil. Apparently it is hard to detect lower quality oils if they are less than 5% of the total volume; therefore, the well-trained panelists are vital in assessing extra virgin olive oil quality.
Olive oil is healthy! Even the FDA makes a qualified health claim that it reduces heart disease. This is because olive oil contains mono-unsaturated fatty acids, which reduces low-density lipoprotein (LDL), known as the bad cholesterol. It also appears to keep the inner lining of the arteries clear and reduce inflammation that can lead to heart damage.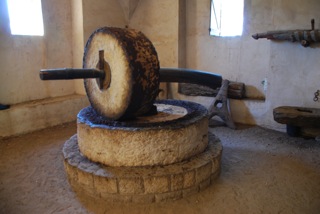 Some people believe that most olive oil comes from Italy. Not true. Most olive oil is produced in Spain. In fact the International Olive Oil Council (IOOC) is based in Spain. However, since most people think the best olive oil comes from Italy, manufactures go to great lengths to indulge us. Some will mix their oil with low grade Italian oil; others will ship their oil to Italy for bottling. The FDA realized this and in 2009 required all oil sold in the states to indicate country of origin. You can find it by looking at the back label; it is often in microscopic print. Unfortunately, the oils only have to be listed in order of importance, not percentage of the mix.
According to a July, 2010, University of California, Davis report, 69% of the imported olive oils tested and 10% of domestic oils did not meet the current international standards for EVVO. In fairness, they only tested 19 popular brands. Also, much of what they tested, oxidization and levels of peroxides could have occurred in their samples because of poor storage and bottle choice. Smaller premium producers were not tested. Also interesting in the July 6th, 2010 USDA Foreign Agricultural Service report, which states that Italy produces 500,000 metric tons (MT) of olive oil a year, of which 300,000 is the extra virgin olive oil (EV00) that we all so dearly love. Somehow, Italy manages to consume 700,000 MT a year. The report points out that Italians are only able to produce half of the demand, an obvious problem. Does this mean Italians are consuming a substantial amount of imported oil or that much of what we get isn't really Italian?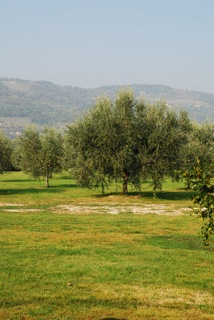 What to do? As new markets demand the highest quality olive oil the production can't keep up with demand and the potential for fraud increases. Only 10 years ago, Italy, Spain & Greece consumed 90% of the worldwide market, now they are down to 60% with consumption rising in Japan, South America and the US. In an effort to combat the issue in 2011, Unaprol, the association of Italian olive oil producers, in conjunction with Gambero Rosso, one of Italy's foremost wine and food guides, will publish a comprehensive handbook listing the highest quality extra virgin olive oils. However, until that comes out, choose EVOO like choosing a wine. There are hundreds of varieties of olives and single varietals are prized. It is important to trust your vendor and read your label. Look for clues of where the olives come from and if it is an estate bottled oil. Simply "bottled in Italy" should be considered suspect. Lastly, although you may not be a trained sensory panelist, you too can develop your taste buds. At your next dinner party, suggest that your guests bring a bottle of premium olive oil. As host, boil, peel, and slice some red potatoes (bread has flavor and potatoes are used because they act as a more neutral base). Serve the potatoes as an anti pasto, that way you will have fun discovering some previously unknown oils and learn what appeals to you. In the end it really is the taste that matters.
We will be hosting a giveaway of our extra virgin olive oil from Apulia on our blog: The Educated Palate from March 1 -March 14th 2011.
Read more from Lael Hazan at her blog: The Educated Palate.
SUBSCRIBE TO & FOLLOW THE MORNING EMAIL
Start your workday the right way with the news that matters most. Learn more