Last October, for the first time, Komen featured a woman with Stage 4 disease in its awareness-month ads, but the wording carefully emphasized the positive: "Although, today, she has tumors in her bones, her liver and her lungs, Bridget still has hope." (Bridget died earlier this month.)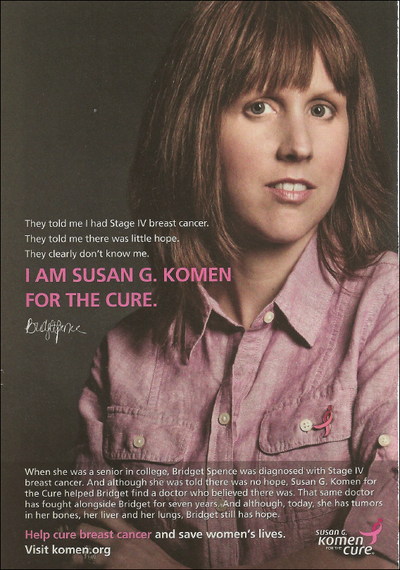 For Stage IV patient Kimala Clark, 47, of Fort Wayne, Ind., it feels like a betrayal to walk into a grocery store and be "bombarded with pink."

"I can't celebrate because I'm not a survivor," said Clark, who was diagnosed in 2010 with an aggressive Stage III cancer that quickly advanced. "There's not a cure."
In addition to questionable product endorsements, late-stage patients protest what they believe are unfairly limited funds for metastatic breast cancer research and a cursory focus on the end stages of the disease.

In all of October, for instance, only Oct. 13 -- Metastatic Breast Cancer Awareness Day -- focuses on late-stage disease, Clark says.

"I really would have liked to see that be more than one day. I think it's sad that there's 31 days in October and we have one day," she says.
Metastatic women? Almost nothing. I believe there are fewer than ten support groups for advanced cancer listed in the U.S. Despite our differing needs, we are lumped in with all breast cancer groups, and worse, we have, in droves, been turned away from early stage groups, pulled aside and whispered to by coordinators, saying "you will frighten the early stage women." There are very few books for metastatic women as compared to the hundreds for early stage. Even online support groups end up with women fighting about whether early stage women should be allowed to post in the Stage IV sections. Many argue that they should be allowed there because they could have metastatic cancer any time, as if that means they understood what it is like now. There seems to be little available for our emotional needs.

We don't fit in with our "pink sisters." Our concerns are very different, yet we are expected to be just like them, after all, it's breast cancer. Alone, we are left to deal with real issues of life and death.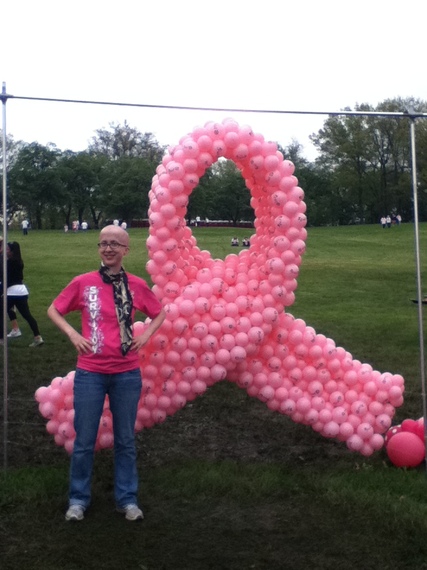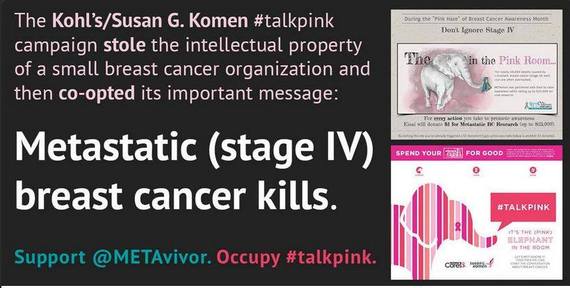 The Elephant in the Pink Room is not merely a clever slogan, it represents the core of our work and what we stand for. In our campaign, which originated in 2012, the pink room represents the primary breast cancer community which has more funding, recognition and attention than any other disease. Primary breast cancer is hardly a pink elephant -- women cannot escape that breast cancer conversation. The real elephant is metastatic breast cancer, the dark side of breast cancer that no one wants to acknowledge or talk about. As our Elephant in the Pink Room campaign states: "In the 'pink room' of the breast cancer conversation there's an elephant being ignored -- we the 30 percent of patients with breast cancer who metastasize."
Sue Prom helped organize the "Mush for a Cure" sled-dog race to raise money to fight breast cancer five years ago, a fundraiser that was humming along nicely until it received a letter from an attorney for the organization Susan G. Komen for the Cure.

Komen, best known for its pink ribbons, Mother's Day runs and other mega-fundraisers for breast cancer research, asked Prom to stop using the phrase "for a cure" and to halt its request for a Mush for a Cure trademark.

"It was like, 'You've got to be kidding,'" said Prom, whose all-volunteer fundraiser outside Grand Marais, Minn., raised about $30,000 last year.
Komen dropped its objection to the dog-sledding fundraiser earlier this year, Prom said, shortly after NBC News highlighted the plight of Mush for a Cure and a New York group called Kites for a Cure. In April, a certificate arrived in her mailbox giving her the trademark for "Mush for a Cure."
Last year, [Mary Ann] Tighe's Uniting Against Lung Cancer got a letter from Komen requesting it change the name of the charity's "Kites for a Cure" fund-raiser, a beach event featuring hand-decorated kites, to "Kites for a Cause," or another name. Komen later warned her against any use of pink in conjunction with "cure."

Ms. Tighe dug in her heels. She refused to change her group's name or declare pink off limits even though, she says, her group hadn't used the color. "We don't want to be the color police," says Ms. Tighe, who didn't feel she was poaching Komen's slogan.

But as the legal battle ensued, her group agreed to a truce where it would limit the use of the event name to lung-cancer activities, and it promised to stay away from the pink ribbons made popular by Komen. [Jonathan] Blum [Komen's legal counsel] characterized the negotiations as "cordial and productive."
Nancy G. Brinker promised her dying sister, Susan G. Komen, she would do everything in her power to end breast cancer forever.
The nonprofit's latest 990 IRS filing shows that Brinker, founder and CEO, made $684,717 in fiscal 2012, a 64 percent jump from her $417,000 salary from April 2010 to March 2011.

The filing says Brinker devoted 55 hours to the cause each week, giving her an hourly rate of $239.40, roughly twice the salary of Komen's chief financial officer Mark Nadolny or former president Liz Thompson, who left the organization in as a result of the brouhaha.
Ken Berger, president and CEO of Charity Navigator, which evaluates and rates charities, called Brinker's salary "extremely high."

"This pay package is way outside the norm," he said. "It's about a quarter of a million dollars more than what we see for charities of this size. ... This is more than the head of the Red Cross is making for an organization that is one-tenth the size of the Red Cross."

The American Red Cross had revenue of about $3.4 billion, while Komen's was about $340 million last year. Red Cross CEO Gail McGovern makes $500,000, according to the most recent financial documents available for the charity.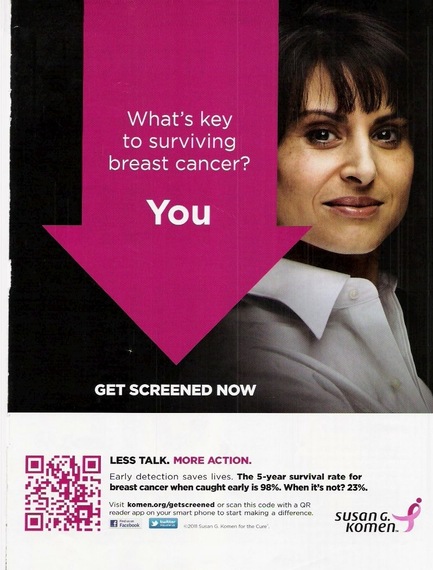 How dare Komen so FALSELY suggest that a screening mammogram is all it takes to avoid metastatic breast cancer? How dare Komen so CRUELLY suggest that "not getting screened for breast cancer in time" would be THE reason and the FAULT of the person with metastatic disease who misses out on all the experiences and joyous events of a long and healthy life that so many others take for granted? How dare you, Komen? How dare you?
Komen isn't wrong to encourage women to consider mammography. But they're dead wrong to imply that "the key to surviving breast cancer" is "you" and the difference between a 98% survival rate and a 23% one is vigilance on the part of the victim. This message flies in the face of basic cancer biology.

Between 2004 to 2009, Komen allocated 47 percent of it $1.54 billion toward education and screening. Much of its education messaging promotes the same false narrative as its ads, which means they are not only not furthering the search for a cure, they are harming the cause. By implying that the solution to breast cancer is screening, Komen distracts attention from the real problem, which is that way too many women (and men) are still dying of breast cancer, and screening is not saving them. We still can't prevent breast cancer, because we don't know what causes it.
SUBSCRIBE AND FOLLOW
Get top stories and blog posts emailed to me each day. Newsletters may offer personalized content or advertisements.
Learn more