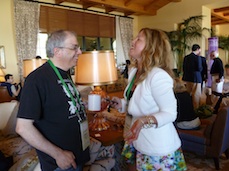 Wired senior writer Steven Levy and PR guru Brooke Hammerling at the D schmooz-fest
Technology luminaries from around the world are gathering at the posh Terranea Resort in Rancho Palos Verdes, California, about an hour from Los Angeles. The event, which is sponsored by the Wall Street Journal is hosted by Wall Street Journal personal technology columnist Walter Mossberg and AllthingsD.com blogger-in-chief Kara Swisher.
The conference always attracts impressive speakers from the worlds of technology, media and entertainment. Although neither are expected this year, Microsoft Chairman Bill Gates and Apple CEO Steve Jobs have made multiple appearances at "D" including a memorable evening in 2007 when the two appeared on stage together.
The roster of speakers at this year's conference includes Netflix CEO Reed Hastings, Disney CEO Bob Iger, Google Executie Chairman (and former CEO) Eric Schmidt and Hewlett Packard CEO Leo Apotheker.
One of the things I like about D is that it's a PowerPoint free zone. The general format is for one or both co-hosts to interview the speakers. Having two world-class journalists on stage assures that presenters are heavy on addressing real issues and light on marketing hype.
And like major Hollywood events, attendees are treated to a schwag bag full of goodies, which this year includes a Sony Bloggie pocket-sized HD camcorder, a new Palm phone (with a months worth of AT&T service) from HP and a PogoPlug, which provides access to your personal data from anywhere.
FOLLOW HUFFPOST