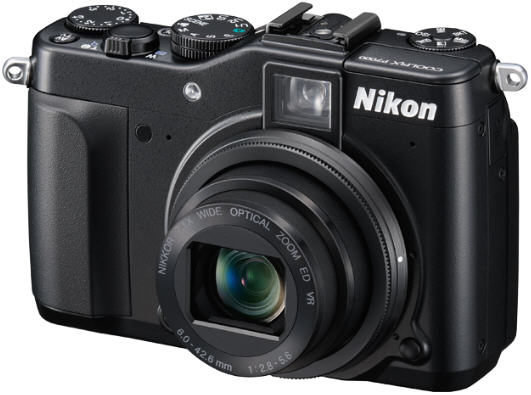 Nikon Coolpix P7000 (Credit: Nikon USA)
While I love my DSLR, it stays home when I hit the road for a vacation or business trip because it's too big to lug around. While I often see tourists with big cameras strapped around their necks, I prefer a camera that I can carry in a pocket or stuff in a pouch attached to my belt.
Fortunately, there are now smaller cameras with many of the bells and whistles of DSLRs without the bulk.
Canon, which pioneered this "hybrid" category with its popular G series, has refreshed its line with the G12, a $470 camera with a 10 megapixel sensor, a 5x digital zoom and the ability to record 720p high-definition video. It also has an excellent lens, a larger-than-normal sensor for better quality pictures in low-light conditions, and a ton of controls.
I sometimes see this camera in the hands of professional photographers who carry it as a backup camera or when they don't feel like lugging around a big DSLR.
Nikon's new high-end compact camera
Nikon, Canon's rival, hasn't had an entry in this category for a while but now has the Nikon Coolpix P7000 (about $430). I've been testing one for the past week. I'm impressed by both its ease of use and optional settings that make it useful for novice and professional photographers.
One thing I like about the new Nikon (and the rival Canon) is that it has an optical viewfinder. Like compact cameras, it also has an LCD screen that you can use to frame the photo, but I still prefer viewfinders. They don't wash out in bright light and holding it up to your eye also stabilizes the camera. Most new cameras have image stabilization to compensate for shaking but a steady hand (or eye) is still a good thing.
Other highlights of this camera include an excellent 3-inch, high resolution (921,000 pixel) LCD screen, a lens mount for after-market wide angle or telephoto lenses, and several easy to access dials. I especially like the exposure compensation dial that makes it easy to adjust for various lighting conditions.
Like the G12, the new Nikon can shoot in "raw" format which gives the photographer a lot more control over the final outcome when editing in programs like Photoshop. Both cameras can produce standard JPEG files.
The P7000 can also take 720p video and has a built-in microphone. It's one of the few cameras that also offer a standard input for an external microphone. I plan to take full advantage of this at the upcoming CES trade show where I will use the P7000 to record interviews. On a noisy show floor, it helps a lot if the subject is "miked" for optimum sound quality.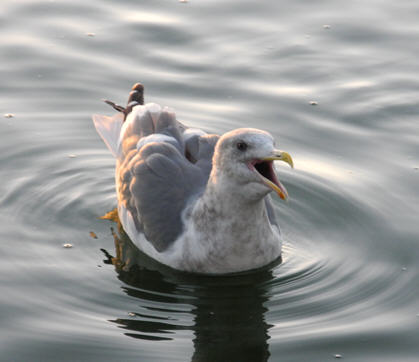 Bird swimming at the Palo Alto Duck Pond could care less about the Nikon P7000 used to take its picture (Credit: Larry Magid)
Although it has lots of manual controls, the P7000 also works in auto mode where the camera makes the decisions for you. Based on my experience, it seems to make pretty good decisions. I rarely use manual controls, though I know some photographers who just love to tinker with the settings.
The 7.1x digital zoom isn't as extensive as other cameras but it still gives a wide range, with the equivalent of 28mm to 200mm. And at 3.1 by 4.5 by 1.8 inches and weighing 12.7 ounces, it's a bit too big to slip into tight jeans pockets, but it fits OK if you're wearing loose trousers.

FOLLOW HUFFPOST