The Droid X from Motorola and Verizon is right up there with the Apple iPhone 4 and the HTC/Sprint Evo as one of the coolest and most useful smartphones on the market, but it's not without its flaws.
The new smart phone is available as of Thursday July 15 for $200 with a two-year service contract.
Its 4.3 inch (854 by 480 pixel) screen is the biggest you'll find on a smart phone which, of course, makes the Droid X an very big phone. Some people might find it too big but, at 2.6 by 5 by .4 inches it fits nicely in my pocket and my relatively small hands. Still when sitting next to the 2.3 by 4.5 by .4 inch iPhone 4, it seems gargantuan by comparison.
As for screen resolution, while the Droid X has a great screen for watching video, Apple's 960 by 640 resolution iPhone 4 screen looks better at close range. Whether that matters is another issue; I care more about high-resolution video on a TV than on a smartphone. All modern smartphones have screens good enough for video. Not that anyone is likely to do it, but, if you want, you can plug your Droid X into a high definition TV thanks to an HDMI interface on its side.
One important by-product of a larger screen is a larger onscreen keyboard.
Unlike the original Droid, the Droid X doesn't have a physical keyboard but the onscreen keyboard is not only larger but has more space between keys which cuts down on errors. The HTC/Sprint Evo has exactly the same size screen but the keys are closer together so even when compared to that other excellent phone, I prefer the Droid when it comes to typing. Maybe HTC will get the hint and make the keyboard a bit more spacious in a future software release.
The Droid X also has what Motorola is calling a multitouch keyboard which means that you can press more than one key at a time. For the most part that's kind of useless but it does allow you to hold down the shift key and a letter at the same time instead of using the shift key as a toggle between lower and upper case the way most other onscreen keyboards work.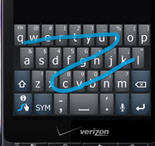 Swype Interface Can Make Typing Faster
The biggest innovation to the keyboard is the option of using the Swype interface where instead of lifting your fingers to press each key individually, you slide your fingers around the keyboard from one key to another without having to lift it between keys. It takes getting used to before this has any potential value but even after lots of practice, I'm still not convinced it's all that faster than just tapping the keys.
One difference between the Droid X and most other Android phones is that the X has physical buttons below the screen instead of virtual or "soft" keys. Like most phones there is a Home, menu, back and search button. Unfortunately, there isn't a dedicated physical button for the phone -- I wish smart phone makers would realize that placing, answering and hanging up phone calls are still the most important uses of their product and make it easier to accomplish those important tasks. One nice thing about the phone is that there are three microphones including a noise canceling microphone that improves sound quality in phone calls and also when recording audio or video. Call quality is generally good but, as with all cell phones, it depends on signal strength.
Great pictures but Slow Shutter Speed
The phone's 8 megapixel camera produces excellent stills and impressive 720p high definition video. Instead of an onscreen shutter button, there's a physical shutter button on the side of the phone. My only complaint about the camera is slow shutter speed. It's not nearly as quick as an iPhone 4 or other Android phones I've tested.
Like the HTC Evo, the new Droid can create its own WiFi hotspot so you can use it to provide internet access to up to 5 devices (the Evo supports 8). That can be handy but if you're using this feature be sure to have a charger with you. It's a major drain on the battery. Like most smart phones the Droid X lets you use an available WiFi signal for data access and it supports Bluetooth. It has a fasts 1 GhZ processor and comes with 8 gigabytes of onboad memory plus a 16 gigabyte microSD card (expandable to 32 GB).
In my two weeks of testing, battery life on the Droid is slightly better than the Evo but still not great. If I make a lot of calls and check email frequently during the day, I tend to need to recharge it by mid-afternoon. Using the GPS, WiFi or as a WiFi hotspot drains the battery even faster.

FOLLOW HUFFPOST