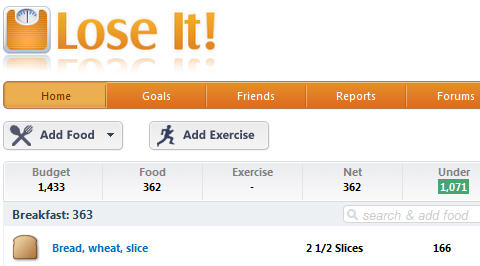 Lose It! for the web and iPhone make it easy to track your food and exercise
Twitter, Facebook and a website/iPhone app called Lose It! are helping me lose weight. I'm not about to write a diet book, but if I were, I think I'd call it the Social Media Diet (though "Twitter Diet" might be more marketable.)
Three weeks ago, I started measuring all the calories I'm consuming and burning and am posting my progress on Twitter, Facebook and at NoBellyPrize.com. I'm even using a $159 electronic scale from Withings that automatically tweets my weight every time I step on it.
The mere act of posting doesn't cause me to lose weight -- the social commitment of being public about it certainly does. I'm not sure if it's the positive feedback from friends or the fear of public shaming, but it works. So far, I'm on target at two pounds a week.
This is hardly the first time I've gone on a diet. In 2002 I started writing a weekly column about fitness for the Palo Daily News, after losing 50 pounds. My weight stayed reasonably stable during the column's run, partially because it would have been humiliating for a fitness columnist to gain weight.
Since the column's end in 2006, I've put some weight back on. I don't want to get as skinny as I was last time, but I do want to drop down to 165 pounds, 21 pounds lighter than I was three weeks ago.
The weight-loss diet that worked so well for me in 2001 was supervised by a nutritionist. But the reason it worked wasn't simply because she was more knowledgeable than I about nutrition, but because I had someone to report to each week.
On my Social Media Diet, I'm reporting to and getting feedback from a wider community on Facebook and Twitter.
Lose It!

Of all the tech tools I'm using, the most useful is Lose It!, which is both a website and iPhone App. The free site and app exchange data between them and are easy to use. It can also be configured to share your progress on Twitter and Facebook.
It has an extensive food database as well as a tool to add foods or recipes. Lose It! also lists many exercises and the calories each burn.
The application and website estimate the calories you've burned based on your weight. The program is based on the scientific fact that 3,500 calories equals a pound. Although there are other health factors to consider, from a pure weight-loss perspective it doesn't really matter whether you load up on fats, carbs or protein, as long as the calories you burn exceed the calories you take in.
With Lose It, you start by entering your age, height and current weight and your goal weight. You then say how many pounds you want to lose a week (for health and sustainability reasons, the maximum is two pounds) and the service calculates your calorie budget. Then you log everything you eat and every time you exercise. It tracks the calories you consume as well as your net calories (intake minutes calories burned in exercise) and tells you how many more calories you can consume that day. It couldn't be more simple or more scientific.
For example, I went to Costco one day this week and made the mistake of eating one of their $1.50 hot dogs that comes with a free drink. It might be a great bargain when it comes to cost, but at 550 calories, it put a strain on my day's food budget. So, instead of feeling guilty I did an extra half hour on my indoor bicycle, which added 257 calories to my budget.
SUBSCRIBE TO & FOLLOW THE MORNING EMAIL
The Morning Email helps you start your workday with everything you need to know: breaking news, entertainment and a dash of fun. Learn more