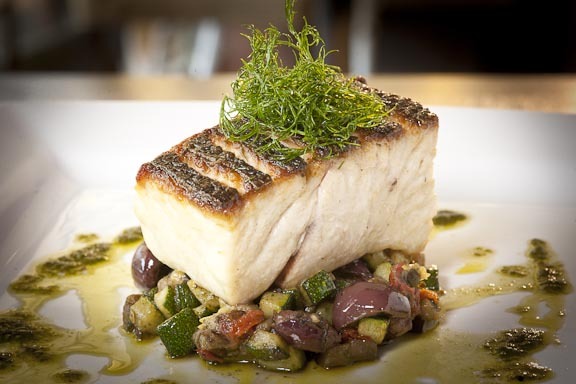 Great Greek food is tough to come by in Los Angeles. In my opinion, most Greek food in LA is greasy and far from authentic. Have I had authentic Greek food? Yes. My husband and I took a tour through the Greek Islands, and got engaged on the island of Santorini. We share yummy memories of eating some of the best seafood we've ever had. They know how to cook calamari and it's never rubbery, always soft and tender. The fresh Greek salads are simply delicious and the 3am gyros oozing with traditional Greek yogurt, cucumber, dill sauce are still burned in my brain.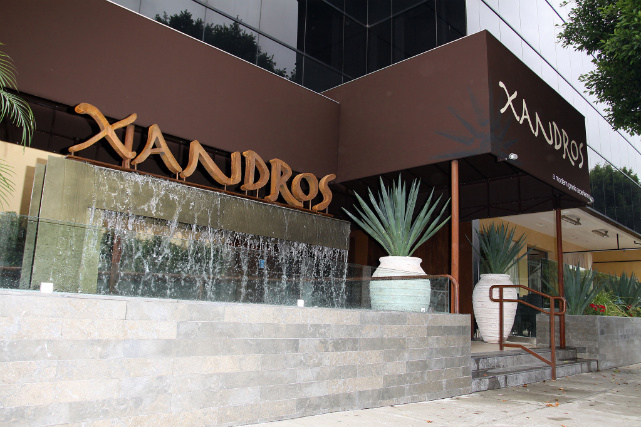 So when I had a chance to try a modern Greek cuisine at Xandros that's serving up organic and sustainable fare in LA, I jumped at the chance. We were treated to a delicious four course dinner. We started with a sampler of five dips served with oven fresh pita bread. Each one was deliciously unique. The Melintzanosalata, a simple puree of roasted organic eggplant, sheep milk yogurt, oregano and mint danced with bright flavors and immediately brought my palate alive. The traditional Tzatziki made with Greek sheep's milk yogurt Kefir, grated organic cucumbers, chopped garlic, lemon fresh dill and Greek olive oil took me straight back to my 3am gyros. The Taramosalata Mousse, is divine with a blend of smoked fish caviar, panko, lemon, Greek olive oil and herbs.
We then moved onto the Karpouzosalata one of Xandros signature salads. Made with organic local watermelon, heirloom tomatoes finished with sheep's milk feta, fresh mint and drizzled with honey and golden balsamic, this tasted like fresh summer on a plate!
Next came the entrees. Pasture raised lamb shank and striped bass. The lamb is slow cooked with red wine, tomatoes, and herbs served with market vegetables and Gigantes. If you don't know what Gigantes are, they are oversized beans that are commonly found in Greek and Mediterranean cuisine.
The tender lamb fell right off the bone and oozed with flavor from its delicious sauce. The striped bass was a little overcooked and somewhat dry. The ragu of farm fresh veggies served with the fish were a delectable delight.
Dessert: house made Greek fritters. One word: scrumptious. These perfectly cooked fritters boasted a slightly crispy exterior with light and fluffy interior. Served with strawberries, bananas, vanilla gelato and side of rose water. Many might be scared of the rose water, but it is really delicious and a beautiful twist. Something you'd be hard pressed to find somewhere else.
Xandros is fine dining, entrees start at $18 and go up to $45, so you'll need your wallet. If you're looking for a fresh take on Greek cuisine and don't mind the prices, this is your place.

SUBSCRIBE TO & FOLLOW THE MORNING EMAIL
The Morning Email helps you start your workday with everything you need to know: breaking news, entertainment and a dash of fun. Learn more